There's this random scene in Gilmore Girls where Loralai and Rory are telling Emily that they love shopping online — but then Emily reminds them of the ~magic~ of shopping in-store, and they take back their statement and declare that online shopping is overrated.
Need some gifting inspiration? No matter who you're shopping for, we found a slew of exciting gifts that are bound to leave them speechless.
That was the day I realized I will never be a Gilmore Girl.
Truth is, I looooove online shopping. I love picking out a new wardrobe, reading up on skincare trends, and stocking up on home essentials — all from the comfort of my rattiest sweatpants with a plate of enough cauliflower pizza to negate the fact that it's cauliflower pizza. And I'm not alone — shopping online has become so popular that you can get just about aaanything from the push of a few buttons.
Here, we share everything our own editors are buying online this month — from Amazon Prime and Target to Abercrombie and Sephora (and everywhere in between).
Replica
I love travel perfumes — the best way to try ~ fancy ~ scents without spending your rent money. This one is called "Beach Walk" and I can't wait to buy it and live out my Diane-Keaton-at-a-lake-house-in-a-Nancy-Myers-movie persona.
Christina Lauren
I pre-ordered this because there is nothing I love more than laying in a patch of glorious sunshine and reading about two hot people in love. GIMME.
Sam Edelman
These are the perfect wear-everywhere shoes for summer. My friend recently got them and told me they're the most comfortable espadrilles she's ever worn, so they've been on my list since.
Charlotte Tilbury
Everyone says this is the Instagram pretty filter in a jar, so I figured it's time to finally take the plunge and buy it (for extra glowy skin this summer). Our makeup expert Beth Gillette said it's the best makeup product she's ever gotten, so this will be my first summer makeup buy!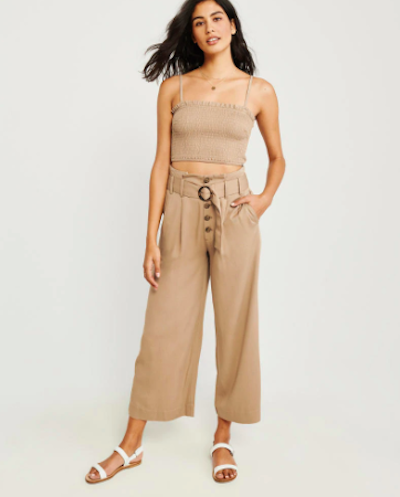 Abercrombie
These pants are perfect for work and I love the tan color. They'll be a perfect alternative to tight jeans on a hot summer day, and are an effortless way to take a "jeans and tee" look up a notch.
A New Day
I own these strappy Target pumps in black and they're SO comfortable and cute — I just had to buy them in a cute color for spring and summer!
Cuyana
I bought a monogrammed set of these in black for my mom for Mother's Day and now they're No. 1 on my birthday wish list!
OPI
I had to buy this nail polish after it was recommended to me by a friend. I think it'll be the perfect pale pink shade for spring!
Madewell
I bought this in black last month and have worn it so much that I have a white one sitting in my cart. It's fitted without being too fitted and looks great with jeans or flowy pants.
Makeup Eraser
I was a little skeptical when I first tried the MakeUp Eraser last summer, but it's legit magic. It makes the makeup removal process so much easier and there's no longer a need for eye makeup remover. Just follow with your favorite cleanser and skincare routine!
IGK
I have very fine hair that always looks flat. One night, I was perusing the Sephora app before bed (a daily occurrence honestly) and found this shampoo, and I can't stop thinking about it. It's basically supposed to give the look of second day hair immediately after you wash it. I just have a feeling this is about to change my hair life.
What Do You Meme?
I'll be real, I'm not one for board games. I didn't play all the popular games until they were basically out of style. However, I saw this on Twitter, and I think this is exactly what I need to make me a game person. It has everything I love — you get to roast your friends (in a healthy way!) and drink at the same time! Bonus points for that two-day Prime delivery because I'll probably spontaneously pick this up for a night with friends.