Our latest FabFitFun review is here! Read on for our thoughts on the latest box.
Taking care of ourselves seems like a no-brainer, right? Pop on a sheet mask during your lunch break. Watch episodes of Shadow and Bone over and over because every character is hot. Wear your comfiest sweatpants. It sounds so easy, but I'll be the first to admit it's not that simple.
To make self-care easier when I feel like I'm a mountain of stress, I made a list of things that bring me joy when I feel the anxiety and stress coming on. The first things on that list were things that made me feel like myself again, that brought a sense of normalcy to my life when things still feel so up in the air. Thankfully, my FabFitFun box was delivered right after that epiphany, and I realized it has pretty much everything I was looking for. FabFitFun is a seasonal subscription box with full-size beauty, fashion, fitness, and lifestyle products, and if you don't know (I've shared quite a few FabFitFun reviews in the last few years), I've been into it for quite a while now.
Want to know a little more? Here's why I've fallen head over heels for the brand:
#1. FFF supports female-founded brands, first and foremost.
Many of the brands included in my box are created or run by women, which I love. As an employee at a company founded by women (yay!), it's amazing to see FFF want to promote small businesses and brands by women, especially during this time at home.
#2. Each FFF box is in support of a non-profit organization.
This really hits home for me, and it feels especially important right now when organizations are being hit very hard. The summer box is in support of Make A Wish—an organization that works with children with critical illnesses to grant them their greatest wishes. They grant 15 wishes a day, helping over 500,000 children since 1980. As much as I love the products in my FFF box (more on that later), I feel pretty good knowing they're supporting an organization close to my heart like Make A Wish.
#3. The box is customizable, so you get products you'll actually love.
There are tons of options to choose from every season, so you can get exactly what you want and not products you wouldn't use, making the value even better. For annual members, the entire box is customizable, and seasonal members can choose up to four customizations for their box and the rest is curated by FabFitFun's team (and trust us: they know what they're doing!).
#4. As a subscriber, you get access to so many member benefits.
FabFitFun has various member benefits you can take advantage of as soon as you sign up. Beginning Summer 2021, FabFitFun launched their Swap for Credit program, a way subscribers can skip a box but still purchase that season's credits and use it on add-ons, FabFitFun member sales, and more. FabFitFun recently launched ReFills, a way to re-up on your fave items from your box at 55-75 percent off retail value, and you can use those box credits here too. So when you fall in love with something, you don't have to worry that repurchasing it will cost you much more than you're able to spend. Also, Boost My Box allows subscribers to purchase extra luxury items with their box at a super discounted price, doubling up on the box's amazing value.
Subscribers also get access to FabFitFunTV, which has hundreds of free videos on workouts—from yoga and pilates to dance cardio and HIIT—cooking, meditation, lifestyle, beauty, and more. Bonus: there's even a "Cooking With the Housewives" section so you can learn classic recipes from your favorite housewives (Dorinda, Ramona, and Sonja included!).
#5. You get all of this, and you can save with our code below.
I'm paying close attention to where my money is going right now, so this value feels extra special. I know I'm getting my money's worth. Generally, one product alone pays for the price of the box, and the rest are my little extras. Want it even better? Use our code THEEVERYGIRL for a little extra off!
Scroll down for a sneak peek at the box (it's one of my favorites, y'all), or sign up here to keep it a surprise!
Inside My FabFitFun Box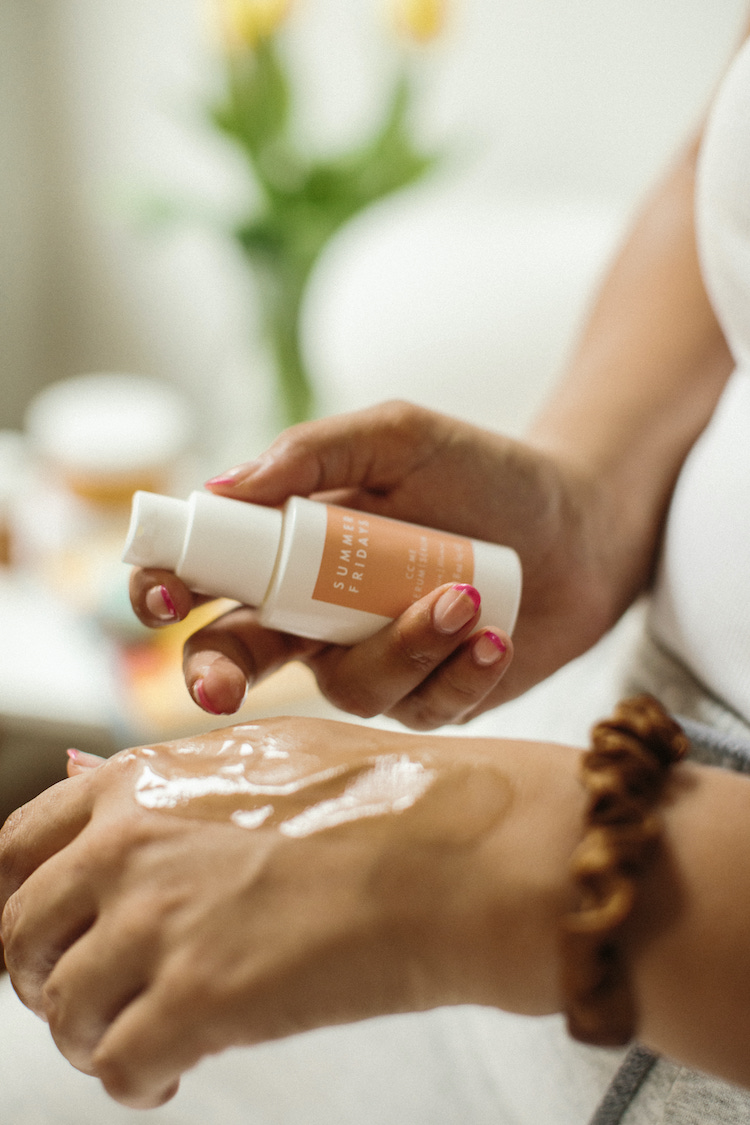 Supergoop!
This is a matte sunscreen, but don't let that fool you—it's the perfect sunscreen for practically all skin types. And because it's clear, any skin tone can wear it without worrying about a white-cast.
Summer Friday's
The summer FabFitFun box is filled with brands and products our editors already love. I was elated when I saw this serum from Summer Fridays in my box after our Editor in Chief has raved about it since it came out. A lightweight, gentle vitamin C serum that boasts brightening and evening skin tone, this is a must-have for glowy, summer skin.
OUAI
Ouai's shampoo and conditioner are my favorites I've ever tried, but they're a little pricey—so I couldn't believe my eyes when I saw this shampoo and scalp scrubber in my box. Perfect for getting all the buildup and residue in your hair, this detox shampoo will make you feel like you just left the salon. Plus, the scalp scrubber is so relaxing to use and makes my hair feel cleaner and more volumized.
African Botanics
Want a shimmery, radiant look this summer? This moisturizing body oil has gorgeous gold shimmers to make your shoulders, legs, and chest shine (in a good way).
SOAR
The best selfies and Zoom calls of your life are on their way with this selfie light. Clip it onto your phone, tablet, or laptop to look your best, regardless of the lighting in your apartment.
Kate Spade
These socks are such a game-changer for anyone who loves yoga, pilates, or barre but hates how it feels to slide all over a yoga mat. These have a grippy bottom, so you can do all the planks and plies without a care in the world. And for the perfect self-care night at home, these eye gels are so relaxing and cooling, making them perfect for after a day out in the sun.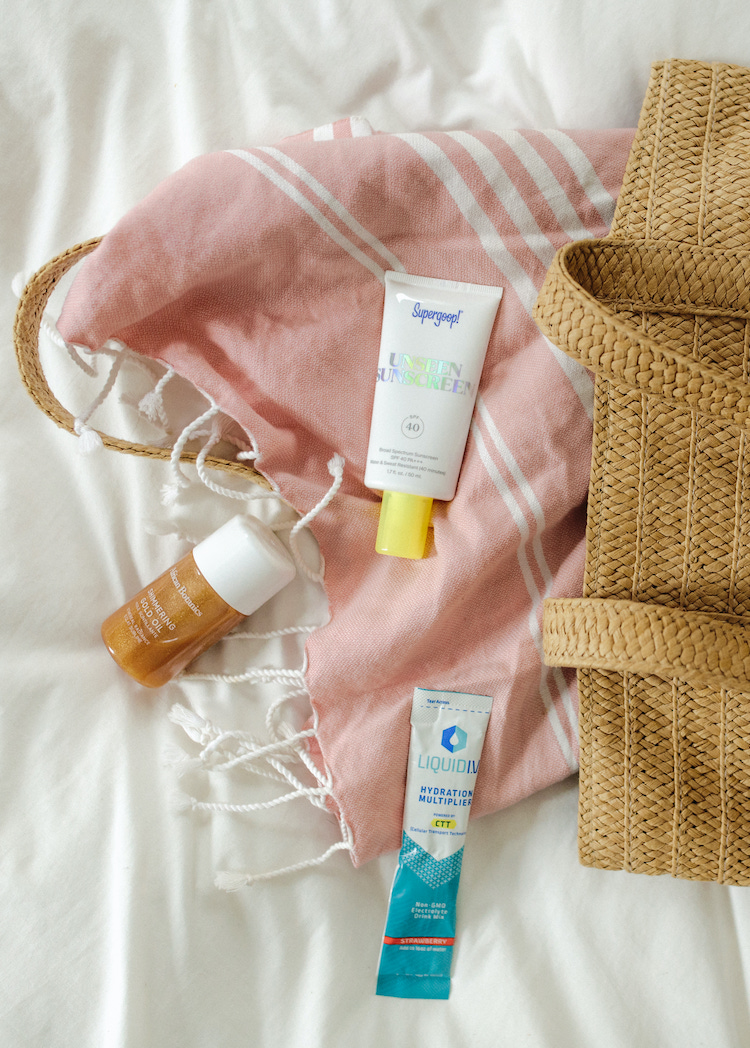 Additional FabFitFun Box Options
Business & Pleasure Co.
I am the most excited about this item, hands down. I got this cooler bag in my box last summer, and I used it endlessly. FabFitFun heard me and put it back in this summer's box so everyone can try it too. This item alone is worth more than the box even costs! Not to mention, this cooler bag is actually cute AF. I used it for every picnic, beach day, trip to the pool—basically anywhere I'm bringing food (which is everywhere).
This post is sponsored by FabFitFun, but all of the opinions within are those of The Everygirl editorial board.