I'm basically a servant to my own desire for instant gratification — when I want something, I want it immediately. I think several of you feel the same; otherwise Amazon wouldn't offer their amaaazing deals on free shipping. Thankfully, they do — which is why I'm able to stock up on fall essentials basically the minute the temps start to drop (and you are too!). Here, our team is sharing the fall staples we've been buying (or are eyeing) from Amazon. Happy autumn, and happy shopping!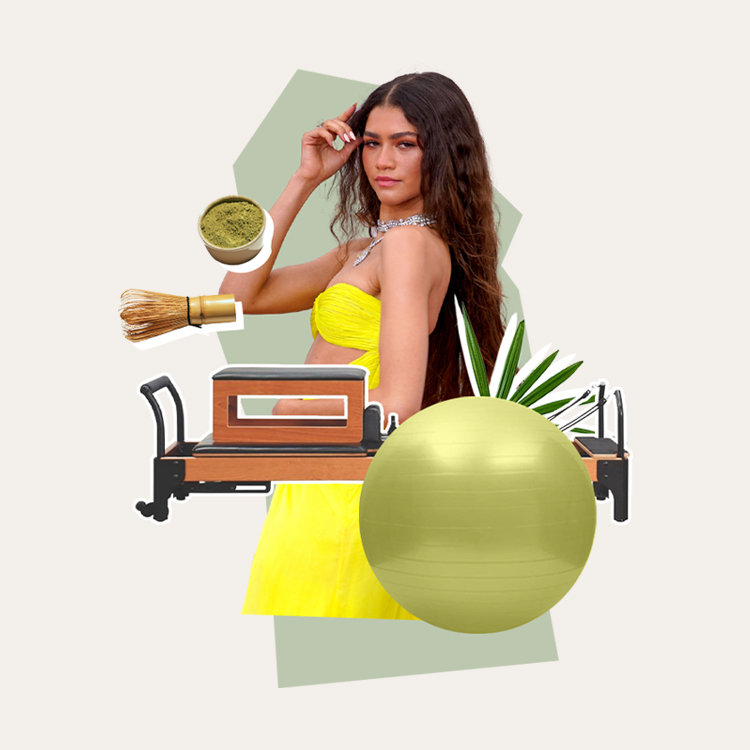 she's (kinda) just like us!
HomeIdeas
I'm a Total Slipper Person(TM), meaning that I'm constantly on the hunt for the coziest, most delightful pairs my feet can find. I saw an expensive version of these at Nordstrom — and while my toes deserve the best, my wallet can't always hang. This budget-friendly pair is going to carry me all through the winter.
Yogalicious
I've heard SO many good things about these leggings — they're similar to Lululemon Align pants, but come at a fraction of the price. I'm pretty hard on my leggings (regular spin classes leave a lot of sweat stains, and I always put them in the dryer... Shhh!), so it makes sense for me to get an inexpensive pair I can wear to death.
Half Baked Harvest
I am a huge fan of Half Baked Harvest and the slow-cooker overnight oats from the last cookbook is one of my fall staples. I pre-ordered this book (arriving in October) as it is jam-packed with slow cooker recipes perfect for fall and winter.
Beautural
Last year, my mom freaked out on me because all of my sweaters (inexpensive and splurge items alike) looked like a bear had mawled them. Listen, I barely do my laundry every two weeks, let alone actually give my garments the star treatment they deserve. Instead of replacing all of my beloved sweaters this year, I opted for this ultra-budget-friendly sweater shaver to get them all looking new again!
Monadicase
I saw a picture on Pinterest of the most gorgeous living room decorated for Halloween, and I genuinely haven't stopped thinking about it since. I've decided to emulate it as best as I can (imitation is the best form of flattery, people), and I've started with this Halloween banner above my TV stand. Everyone's invited to my Halloween party except not everyone because I live in a studio that probably has a capacity of eight!
Century Scarf
I live in the deep south and have spent the last six months drenched in sweat, so as soon as it became socially acceptable (September 1), I transitioned my entire life and soul over to fall. Pumpkins? Yes. Scarves you can't wear? Yes. I am 100 percent over summer and willing fall to be here — weatherman be damned.
Nest Fragrances
I love a candle as much as the next basic b, but reed diffusers are the key to season-long scent wafting through your house.
Saro Lifestyle
Buffalo plaid is one of my favorite patterns for the fall/winter season. Buy it now and enjoy it draped across your couch for the months to come.
Jason's Brothers
In an effort to make my studio apartment feel cozier for fall, I ordered this very on-trend basket to store throw blankets next to the couch. Not only does the basket material and stylish shape look like the stuff of Instagram dreams (I mean, these baskets are so trendy, they're usually crazy expensive, right!?), but I love turning on "When Harry Met Sally," lighting my pumpkin spice candle, and knowing a cozy throw blanket is only a reach away.
HELLO
It's officially PSL season, and you know what that means… a lot more of your weekly budget is going to Starbucks. But why spend your hard-earned $$$ when you can DIY your own (or a much healthier version?). As soon as iced coffee season was over, I knew I had to order an easy, hand-held milk frother to recreate the lattes of my dreams. For the perfect fall treat, I'll add almond milk to coffee, some nutmeg, and a few dashes of cinnamon (more on that below), and simply whisk it with the frother to get a luxurious, fall latte in under a minute. You can also add collagen or other superfood powders like maca for a health boost that blends easily with the milk frother. Can your PSL do that?
Pinzon
Nothing is more fall than lighting all the candles in your apartment, wrapping up in the most ginormous faux-fur blanket you can find, clutching a hot coffee while the steam heats your face, and gazing moodily out your windows while contemplating the vastness of the universe (and also if pumpkin-spice-flavored anything is actually good or has just bamboozled us all.) ANYWAY, this blanket is perfect for such scenarios and also just general life. I like to be the most extra and open all my windows so my apartment is freezing, then cuddle under my down comforter and throw this faux fur on top of the whole shebang to sleep in the fall and winter. Perfect, burrito-level coziness.
Amazing Grass
I'm all about a morning smoothie to get my day going on a nutritious start, and I ordered this to throw into my fruit smoothies for a boost of greens (when I don't feel like making a green smoothie). The berry flavor of this blends right in with the rest of the smoothie, so I don't taste it at all, and it's packed with antioxidants to take me into cold season strong.
Shauna Sever
I own more cookbooks than any other books, but I just cannot resist them. This book is one of the ones I'm most anxiously awaiting. Shauna's recipes always work and are always delicious and I absolutely cannot wait for a fall full of Midwestern baked goods (and I bet the rest of the Everygirl office agrees).
R. Vivimos
I totally succumbed to the recent Amazon Nightgown frenzy and, honestly, it didn't disappoint. I bought the pink (one of the most popular colors purchased by bloggers I follow on Insta — I was clearly influenced!) and throw it on with sandals or flats almost every weekend to run errands or grab coffee with a friend. The quality of the dress is great and you seriously cannot beat the price. I'm planning to snag the dark blue to pair with booties!
Homemory
I randomly ordered this 24-pack of flameless, battery-operated tea lights to make my apartment feel a bit more cozy for fall and they are seriously so great. They flicker just like real candles and I don't have to worry about burning my place down when I inevitably fall asleep on my couch watching Netflix before bed. Can't wait to incorporate them into my Christmas decor too!
DII
I cannot resist anything with a skull on it. Is that weird? Luckily, it's fall again, which makes all skull-bearing decor now seasonally appropriate. If it's Halloween-themed, it's likely in my house already, because even my kids love "the spookies," as they affectionately call their skeletal pals. But, our Halloween dish towels needed a refresh and these fit the bill exactly – and they were on our doorstep in two days thanks to Prime. The only downside is that I lost one towel to my toddler, who took it to polish off the Halloween decor on his own play kitchen.
Minetom
There is nothing like twinkly lights in the fall – something about them just brings warmth and coziness all around. These budget- and energy-friendly string lights are a great way to, quite literally, lighten up your seasonal decor. I love the copper wire for adding an orange-ish tint when placed with Halloween items, while still maintaining a simple, classic glow to holiday decor come December. Win, win.