"French-girl style" sounds like a clichéd catchall, but you can't deny there's something distinct (or je ne sais quoi) about French style that women around the world have attempted to emulate for centuries. And the truth is that French style was kind of made for this extra time spent at home. Think: slightly unkempt hair, smudgy makeup that begs the question, "Did she sleep in it?" (in my case, she did), and comfortable, classic basics. Check, check, and check!
your one-way ticket to your cool, calm, and collected era
The key to French girl style is investing in fewer pieces of better quality and fit while mastering the whole "effortlessly-chic" thing. What better way to look effortlessly chic than pieces that are just as comfy and cozy as they are stylish? Pieces this pretty and comfortable (luxurious knits, neutral colors, tailored fits, and lots of silk) might have the power to make you feel a little bit better than the same old sweats and camp tee you've been wearing for four weeks straight. After all, the secret to "French-girl style" is not really about what you wear, but how you feel when you wear it.
https://www.instagram.com/p/B9mmR6uqls2/
Cashmere or Knit Joggers
French women know that even loungewear pieces should feel like luxury. There's nothing wrong with the same old sweatpants you've been wearing since sophomore year of college, but why not spoil yourself by opting for fitted joggers in a luxurious fabric like cashmere or knit? They'll be even more comfortable than your favorite leggings and, trust me, you'll never want to take them off.
1.State x Jaime Shrayber
2 colors available and 40% off!
Silky Pajama Sets
Because what screams "self-care" quite like lounging in elegant silk? Whether you pair a set with your favorite heels and jewels or slippers and bedhead (TBH, you'll only ever see us in the latter), wearing silk pajamas might remind you to indulge in yourself a little more. Put on a face mask, pour yourself a glass of wine, and get ready for the most luxe night-in of your life.
The Sailor Stripes (or la Marinière)
Just because you're staying at home doesn't mean you can't also be très chic while being comfortable. Lucky for us wannabes, the signature pattern à la Française also happens to come in the coziest fabrics and breeziest tees. Wear with your favorite relaxed-fit jeans or joggers for an updated version of your basic work-from-home uniform.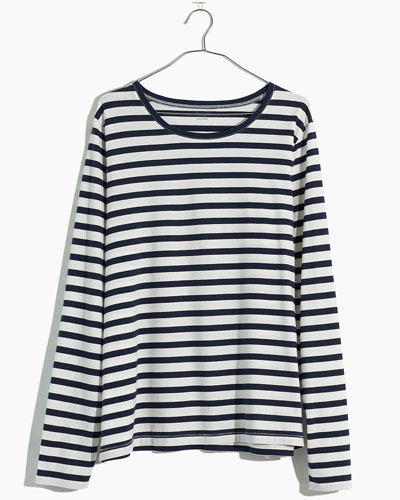 Cozy Knitwear
You're much more likely to find Parisian women sporting buttery cashmere and cozy knit than a cotton sweatshirt when lounging at home (read: even loungewear pieces should feel like luxury). The key to knitwear that feels more comfortable than your favorite hoodie is all in the details: look for a relaxed fit with ribbed details.
Madewell
5 colors available and 40% off!
Silk Robes
Imagine this: you're taking a bath with rose petals, luxurious bath milk, and candles, while reading your favorite romance novel. You've officially submerged into ultimate self-care and relaxation. When it's time to get out and dry off, what do you want to put on? That's right: you do not want to put on your fluffy old robe that's worn out. You want to put on silk. Luckily, even the most luxe robes don't have to break the bank. Treat yourself to what you really want and invest in a silky robe for all your self-care moments.
Stretchy Ponte Pants
Some days we want to dress a little more professionally (for both our Zoom meetings and our productivity), but putting on jeans or work trousers just feels a little too restraining after weeks of comfy clothes. The fix? Stretchy Ponte pants that feel like your comfiest leggings but look like professional work pants. Bonus: you'll want to wear them every day once you're back at the office for a work uniform you won't want to take off when you get home at the end of the day.
Slips
If nightgowns are more your style, make like a Parisian and opt for a short slip in a silky material (are you starting to see a theme here?). Even what you wear to bed or around the house can boost your pleasure, mood, and confidence. Think about it: how differently would you feel wearing an old camp T-shirt versus a silky slip to bed? Would you maybe feel just a little bit more … French? Indulge in a silky slip for warmer weekend days at home or as your new go-to pajamas to wear to bed.
Menswear Button-Downs
Holly Golightly may not have been French, but she certainly mastered French style. Exhibit A: she rocked an oversized button-up to bed, creating a look that was so iconic, I recreated it for last year's Halloween costume (and only a few people asked me, "who are you supposed to be?"). Holly Golightly certainly started a loungewear revolution that French girls have been following for years. If you want to feel more dressed up while still being comfortable, a classic button-down in an airy material should be your go-to.