I have been in an absolute makeup rut. With staying at home and living through the bitter winter months, I haven't had much motivation to cake products on my face. This is where Glossier comes in. For years, I have been a fan of the millennial-focused, pink-packaged brand, and with the recent release of their Lash Slick film, I am back to being totally obsessed. In my time of need, I knew I could rely on this brand to get me out of my makeup rut.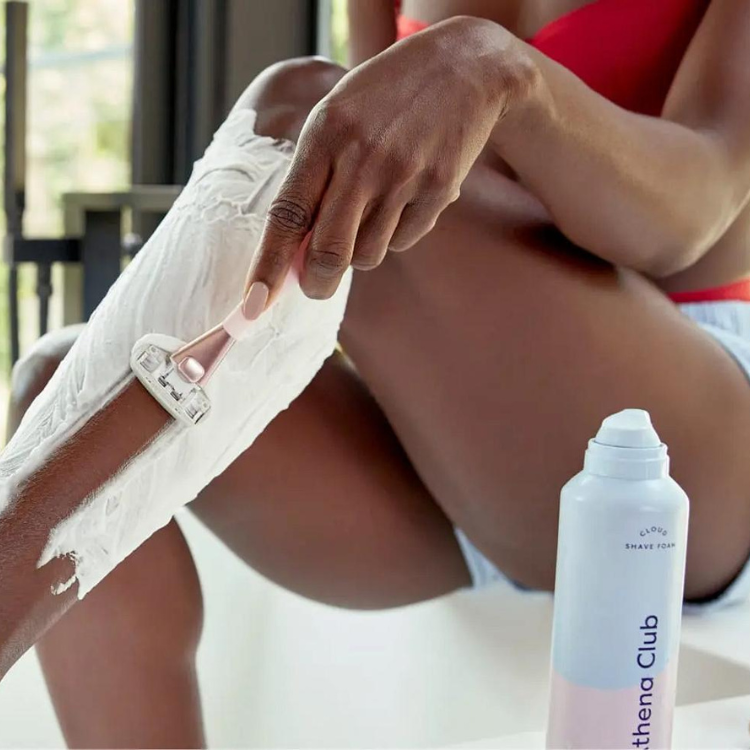 "This razor gave me the silkiest, smoothest shave I've ever had! I never get any cuts or scrapes, even on those hard-to-shave places."
I went into my Glossier-testing challenge saying I would wear a full face of makeup every day for two weeks, which I found a bit unattainable. However, I definitely have rediscovered my old appreciation for a medium to full face of makeup and am back to glamming it up at least four days a week.
The Routine:
During my first week of getting back into wearing makeup, I went all-in with my tried-and-trues. Here's what my most "glam" routine looked like during this experiment:
1. Skin Tint
The Perfecting Skin Tint is one of my go-to repurchases. As I said, I am not a huge fan of caking on makeup, and I like to let my natural skin shine through. This product allows me to do just that. A few drops of the liquid lightly cover imperfections and even out your skin tone overall. Since this product is so light, you won't see much transfer onto your mask, as you might see with a heavier foundation. Every day I wore this product, my skin looked glowy and even!
2. Cream Blush
Cloud Paint is definitely one of the cult-classic products Glossier fans always talk about—and for good reason. The liquid blush adds a perfectly natural flush and comes in several shades to compliment your skin tone. I used the deep berry rose-tone called Storm on my cheekbones and across my nose. This added color made me look like I had been a bit sunkissed, which I am definitely not!
3. Eyeliner
In doing this experiment, I discovered Glossier had discontinued their Play line, which featured funkier, more glam products like glitter and the Colorslide eyeliner (my favorite item). I have the eyeliner in the neon orange, hot pink, and minty-blue shades. During my experiment, I alternated between the three and loved them all. They are all creamy, pigmented, and user-friendly. This simple step made my eyes and overall makeup look really pop and I definitely stood out on all of my Zoom calls. If you are looking for a way to elevate your beauty routine for spring, a funky-colored eyeliner is perfect! Since Colorslide is no longer available, NYX's Epicwear Liner sticks are a great alternative and come in a ton of different colors from teal to purple. Glossier also has Skywash, a liquid eyeshadow that provides a light wash of color if you are looking for a more toned-down look.
4. Highlighter
Haloscope is a lovely mix of dew and shimmery highlight. I dab it on my cheekbones with my fingers for the perfect glow. This also stands alone well on its own if you aren't wearing any other makeup but want to liven up your face.
5. Brow Gel
With naturally bushy, crazy eyebrows, I always need a bit of help shaping and evening out the shade. Boy Brow is the perfect brow gel that you can easily swipe over your brow hairs for a natural but better look. Glossier's product comes in several shades to match your brow hairs, and the tube lasts forever!
6. Mascara
You may have seen Instagram ads and commercials for Glossier's Lash Slick promotional film, and you won't be disappointed. Lash Slick mascara coats your lashes for a longer, lifted look without being over the top. P.S. I've never met a mascara that is so clump-free!
7. Lip Balm
Now for my favorite product that I could never live without: Glossier's Balm Dot Com! I'm a bit of a Balm Dot Com hoarder and have several flavors, including coconut, berry, mango, and fig. These lightly-scented balms glide over your lips to add a glossy tint, delicious scent, and added moisture! I promise if you try it, you will never leave the house without it.
How I Felt
To be honest, I really needed a boost—and just by adding a bit of makeup into my routine, I was able to freshen up my life. By changing up my routine slightly, my mornings were automatically more exciting. I woke up looking forward to lining my eyes with neon colors and popping on my yummy, coconut lip balm.
I definitely noticed a confidence boost, especially on my Zoom calls. Sometimes it's hard to notice any makeup on Zoom, but you could really see the Glossier highlight and neon eyeliner! And anytime I caught a glance of myself in the mirror I thought, 'Dang girl, you look good!'
On another note, I realized I don't need makeup every day to feel good too. It really is just a way to elevate your daily life when you want to. And with these Glossier products, I have a wide range of options. I can add one product like Haloscope for a bit of a glow or go all-in with colorful eyes and vibrant cheeks for an amped-up look. I love makeup and it's so fun to use, but sometimes letting your skin breathe is just as exhilarating as a vibrant eye shadow.