Hannah Grace Alford's New Orleans home is equally as interesting as the city itself. With a background in design and as a lover of style, Hannah has managed to make her rental unique and create the perfect space for a creative mind. Pulling on her experiences designing and planning events in the Hamptons, every corner of the 1,800 square foot space is curated with intention, giving high-end vibes to an eclectic environment.
In addition to some style tips, checkout Hannah Grace Alford's interview — we discussed her veritable career, leaving the fast pace of New York City for the sleepy South, and dove in to her experience finding and designing her home all while honoring her unique creativity. Plus, find out her fail-proof tips for keeping your house guest-ready and hosting an amazing evening with friends and family.
Name: Hannah Grace Alford, Community Specialist
Location: New Orleans, Louisiana
Sq. Ft.: 1,800
Years Lived In: 1 year
Rent or Own: Rent
What was your first job, and how did you land it?
My first job was shooting and styling social media and website content for a Vintage Shop called the Revival Outpost. The owner of the shop found me through Facebook.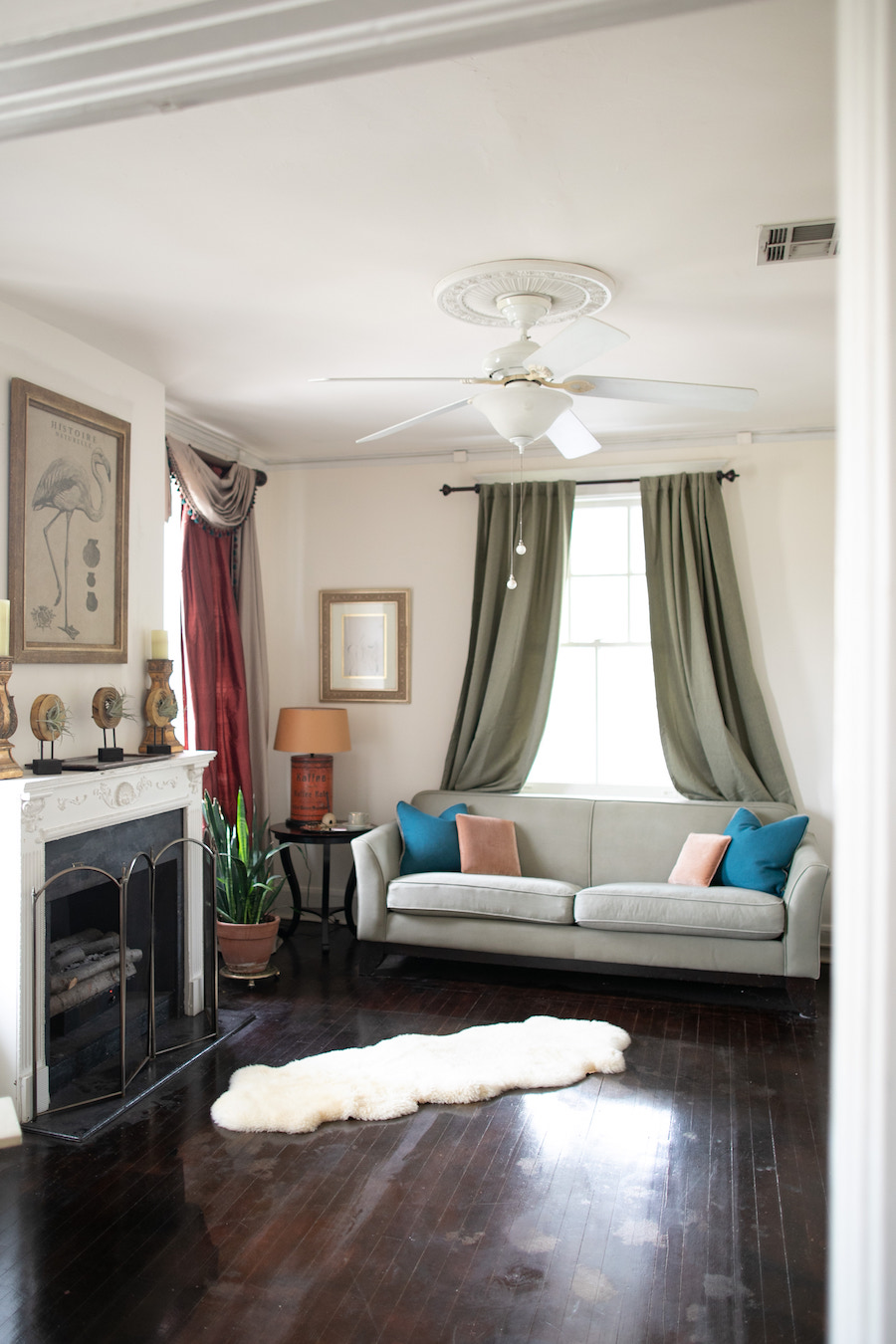 You have an incredible resume with a lot of varied skills and experiences. Can you touch on which of those professional experiences were the most valuable to you and how they lead you to your current position as a stylist?
My experience from the Vintage shop taught me how to take a risk — that black does go with brown and prints should be mixed.
The homes I had the opportunity to live in in the Hamptons had a bright, white farm vibe in one corner of the house; but then switched to romantic, royal blue walls to go along with the peacock-feather chandelier in the drawing room — it was full of risks.
Being surrounded by the confidence and boldness of patterns, textures, and colors has taught me the importance of how it can affect your mood, how you treat your body, and how you live.
Tell us about styling for runway — what was that like?
I was given the opportunity to work behind the scenes of production at a young age. I didn't know what I wanted to do, but I knew I just wanted to make things pretty. The fast-paced movement of garments flowing, pallets upon pallets of the most beautiful colors lying at the makeup station, and beautiful women anxiously waiting to walk gracefully down the runway really made me excited. As silly and dramatic as it sounds, it felt like I was floating through my favorite world in slow motion with classical music in the background.
You are clearly a very creative individual, so it's not surprise that you found your way into interior design. What was it like working in the Hamptons (jealous) as a design assistant?
I went in knowing nothing about interior design, so it was a raw canvas moment. I was given the opportunity to live in the owner's summer home called Conscious Point, and a winter home called the Manner.
Conscious Point was a farmhouse that gave the surrounding view of beautiful trees, chickens, and a pool. The inside was all bright whites and airy with a pop of color here and there — so surreal. The Manor was just another world — gardens, a pool, rooftop deck, and romantic corners with the most unique antique details.
The clientele taste of the Hamptons is very high-end and deadlines were tight. Massive estate homes with the outside view muraled on the inside were just breathtaking. The events we would throw, the hosting we did, and the high attention to detail were things that prepared me for my future.
So after you lived in New York, you moved back to the South. What was that transition like?
Transitioning from the super high-end, fast-paced life to back down South was beautiful. I feel like I left as a curious little lady to becoming a driven and inspired woman. The slow pace of the South made me remember how important it is to stop, look around, and really enjoy the beauty of your surroundings, your people, and your culture.
What is your favorite thing about living in New Orleans?
The cultural diversity and the openness to creativity and collaboration.
You've lived in a few places in New Orleans and have a deep appreciation for the architecture and decor of that city. What would you say is biggest difference, architecturally, between New Orleans and New York City?
New Orleans possesses an abundance of historic architecture constructed over a period spanning 300 years. Almost half of the buildings New Orleanians call home were built before World War II, the earliest dating from the 18th century. As a result, the city has a diversity of architectural styles and types, and of buildings both grand and small. As importantly, New Orleans is home to architectural styles and types that are closely tied to the image of the city. Because of our preservation of historical architecture, I feel New Orleans is a timeless design.
You moved into your current home almost a year ago, how did you find your current space?
I previously lived in this neighborhood and would run past this house on my morning jogs and always loved it. I wanted to stay in the area and diligently searched online platforms until I found what suited my needs.
What element of your house spoke to you the most when you first saw it?
The tree-top-like view that pours in natural light from windows in every room.
How would you describe your style and design aesthetic?
Diverse. I would describe my current home fashion as a fun mix of transitional, western, victorian, mid-century modern, and slightly rustic.
For those of us that love a good antique, where do you recommend finding those unique pieces that make a home special?
Exploring and sourcing out antique stores or thrift shops in smaller and older towns outside of your area. They tend to have the good stuff.
What are your favorite pieces in your home?
My green drum lamp, antique New Orleans luggage trunk, Mexican leather chair, antique sewing machine, and baby wooden ladder.
As an event coordinator in your past life, can you tell our readers your fool-proof approach to hosting friends and family in your home, and to throwing an amazing party?
Setting the standard that the house is always company-ready, the pillows are always fluffed, and the bar is always stocked with a good wine or champagne.
What advice would you give to your 22-year-old self?
Remember it's OK to slow down and take care of yourself.
Hannah Grace Alford is The Everygirl…
Which historical figure do you most identify with? Lady Agnew of Lochnaw
What is something that you feel is underrated? Good bath towels
Ideal Friday night? Home cooked meal and cocktails with friends.
What was the last podcast you listened to? Creative Differences on Hidden Brain.
If you could have lunch with any woman, who would it be? Solange Knowles
COP HER STYLE