I can vividly remember filling out my first dating app profile. I was in my early 20s, and as I selected my preferences, I pictured my dream partner: 6'2, great job, loves working out, lives in my neighborhood. Bonus points if he had a picture with a dog. Automatic "no" if he had a picture with a fish. As you may have gathered, I did not know much about dating at that time. I hadn't given any thought to the things I truly valued in a partner or the type of relationship I really wanted. I was still meeting a ton of people in person, so the apps were more of a fun add-on to my dating life.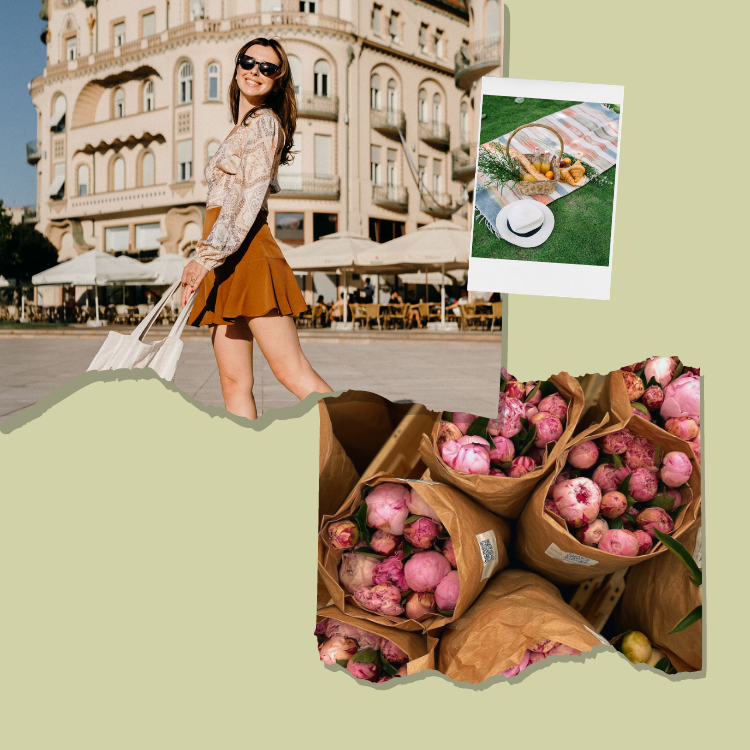 read this if you're in your saving era this summer
Now, years later, *a lot* has changed in the dating world. Apps are the primary driver of romantic connections, and if we want any shot at meeting someone we are interested in dating, we have to use them right. While my preferences used to be height, proximity, and flashy job title, I now value qualities like passion, commitment to personal growth, and a healthy communication style. Thankfully, I'm not alone in my shifting priorities. As the dating world has continued to change, so have the conversations around things like mental health, personal development, and self-care.
With the rise of things like #therapytok, therapy dates on The Bachelor, and more companies putting a focus on mental health, I wasn't exactly surprised to learn that mental health is important to daters today—but what I didn't realize is how important it is. Internal data shows that 97% of Hinge users would prefer to date someone who actively takes care of their mental health, and 91% of users would prefer to date someone who is in therapy. What used to be a red flag or taboo is now actually a must-have for many of us.
In honor of Mental Health Awareness month and to help singles showcase their own priorities, Hinge just dropped a whole set of self-care-focused profile prompts. According to Hinge's Director of Relationship Science Logan Ury, these new prompts were created to "inspire vulnerable conversations and promote mental health awareness." TLDR, use these prompts the right way, and you'll be well on your way to meeting someone whose values are aligned with your own and who is willing to put in the work on themselves and the relationship.
Want to put these new prompts to use? Get out your phones, because Ury is giving us all the insider info on how to use Hinge's self-care prompts to get more potential matches. Plus, she's going to help us all get off the app and on more dates IRL. Read on for her expert advice—and actual response recommendations for you to copy and paste.
It Starts With The Photos
We'll get to the prompts, but (as we all probably guessed) a good dating app profile begins with good photos. "Your photos make the first impression," Ury said. Instead of just selecting the last six pictures you took, "choose six that tell your story."
My profile leads with a picture of just me, where you can see my face clearly (no sunglasses!), and is followed by a picture from my last marathon (showcasing my love for running), me with a few friends, me with a pizza (another love of mine), and a few more travel-related photos. Ury recommended having "at least one photo of your full body and one that shows you doing an activity you love."
Invite Conversation
Hinge is not about the mindless swiping you might get sucked into on other apps. Instead, the only way to match is by liking or commenting on something specific on another user's profile. There is nothing more frustrating for me than finding a guy on Hinge who I want to match with but who hasn't given me much to work with on their profile. We all want more matches (dating is a numbers game!), so why not make it easier for people to match with you?
To do this, Ury advised answering the prompts "in a way that encourages more in-depth conversations." She wants everyone to skip the one-word answers and write something that invites people to respond.
Decide What You Want To Express About Yourself
When it comes to designing a great profile, one of Ury's "key tips" is to "think through three things you want to express about yourself and use your photos and prompts to get those messages across." Be thoughtful about what you want to say and the conversations you want to spark. Most importantly, take the prompts seriously. In fact, Ury said not doing so could be a red flag, specifically for these self-care prompts. "While your profile should be a mixture of humor and vulnerability, these self-care prompts deserve a genuine response," she said.
Here are a few of Ury's suggestions for the new prompts:
A boundary of mine is: Mutual respect. I'm looking for a teammate!
I feel most supported when: My partner makes an effort to get to know my friends and family. I'll do the same for you!
My therapist would say I: Have worked hard to become securely attached.
Therapy recently taught me: I'm ready to find someone for a good time and a long time.
And Finally, Get Off The App
Again, the point of using an app like Hinge is to meet someone who you actually want to meet in real life. We're not looking for pen pals here! Ury has seen "over and over the negative consequences of messaging too much before a first date." She said "four to five days of chatting" is the "sweet spot." After that amount of time, you should have planned to meet up in person. Reason being: "It gives enough time to build that foundation of trust, but it's not so long that the momentum drops off."
Personally, if someone continues to chat with me but hasn't asked me out, I wait for their next question and hit them with a "good question—should we talk about it over drinks/coffee/(insert your desired activity here)?" There are two outcomes here. Either they will say yes and you'll have a chance to meet them IRL, or they'll say no or avoid the question. If either of the latter, I kindly un-match and put my energy into someone who does want to get off the app.