Winter may be swiftly coming to the end, but we are still dealing with the lasting effects on our hair and skin. Between the cold air you've soldiered through and the dry heat circulating through your apartment and office, your hair has had the hardest time surviving the winter and you may be experiencing lack of moisture, breakage, and damaged ends.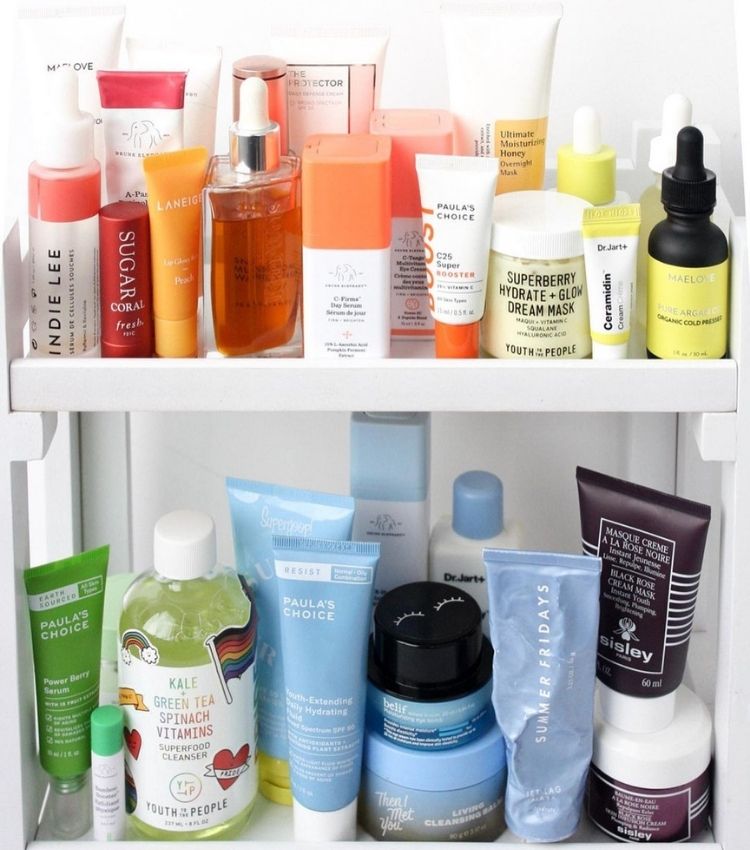 the wrong order can reduce effectiveness
Hair is, thankfully, very resilient and damage to our tresses is easily reversible with a little TLC. Keep reading for our seven suggestions on how to reverse cold weather damage and reach your hair's shiny, healthy potential.
Get a Trim
Source: @tauni901
Ideally we would all get maintenance trims every six weeks as recommended by the professionals, but that isn't necessarily realistic for all of us. The first step to liven up dull winter hair is pay a visit to your neglected stylist and trim those dead ends.
If you are running low on cash, professional beauty schools, such as the Aveda Institute, offer instructor supervised trims and cuts at a sliver of the cost of a regular salon which allows you to keep your ends fresh for cheap and help the future Ken Pavés of the world get the practice they need to succeed, it's a win-win.
Do a DIY Hot Oil Treatment
Source: Song of Style
Mix and match two tablespoons of any of the following oils: jojoba oil, almond oil, extra virgin castor oil, coconut oil, avocado oil, and olive oil. Mix them into a microwave safe bowl and heat for 15 second intervals until warm but not too hot, and apply from root to tip. Rev up the potency of a DIY oil mask by piling your saturated strands into an insulated shower cap or micro-fiber head wrap and blast it with a little heat on your blow dryer before rinsing and cleansing the oil away.
Incorporate a Supplement
Source: Into The Gloss
Cold weather is often just exacerbating an already present problem of scalp dehydration and the under production of natural oil. If dryness is causing discomfort, itching, or dandruff, supplementing with Vitamin E is the extra boost that your body might need to combat the issue. Taking Vitamin E both orally as a capsule supplement and applying it topically in its pure oil form help increase blood flow to the scalp, essential for growing and maintaining healthy hair.
Consider Investing in a Salon Treatment
Source: Olaplex
If at-home treatments require too much time before seeing results, investing in a professional treatment is the sure way to see an immediate and lasting difference in lackluster locks. Professionals can now give life back to your hair without any carcinogenic or sketchy ingredients. Call your stylist to ask what in-salon treatments are offered as both stand alone processes or in combination with color application. A few name brand treatments to look for are the Olaplex Stand-Alone Treatment, Kérastase Fusio-Dose Treatment, and the Milbon Linkage Meu Treatment.
Check Your Labels and Consider a Product Update
Source: @asiyami_gold
Washing your hair frequently strips it of the natural moisture your body produces. If you're doing this with less than impeccable ingredients in your products, you're creating the perfect storm for breakage, frizz, and a lack of shine. Paying a little extra for all natural or at least higher quality synthetic ingredients rather than lathering up shampoos that contain way too much alcohol and other stripping agents will be essential for the health of your hair now and later. Davines, Kevin Murphy, Ouai Repairing Line, and Living Proof are excellent brands to consider when you begin the overhaul of your existing product collection. Even the smallest change like swapping your standard pony tail holders for no-break options can make a huge difference.
Incorporate Damage Control Products into Your Daily Routine
Source: Always Judging
Once you are on the road to recovery, it's important to maintain your healthy locks. Start with a high quality hair mask once a week and make sure to coat your locks with a product like It's a 10 as soon as you get out of the shower. Not only does this leave-in spray stop hair breakage and creates silkiness, but it's also a flat iron & thermal protector. And incase you need a reminder, never style or put heat on your locks without a protectant. Between washes, nourish your hair with an oil that can be applied from the middle of your strands to the ends like Ouai Hair Oil. Your hair will look silky and smoothe, but also be getting the necessary oils they need.
Master No Heat Styling
Source: @nikkilee901
You don't need to completely abandon your iron, but not every day requires you holding your strands against 400 degree metal. Letting go of this part of your morning routine might take a lot of convincing, but in the end you're doing your hair the biggest favor you possibly could do. YouTube is, of course, always ripe with ideas for how to achieve volume and texture without the need for heat including our favorite which only requires a t-shirt and a few bobby pins before bedtime.