In my experience, there are two types of people: those who wake up early, and those who do not, under any circumstance, wake up early. For most of my life, I was the latter.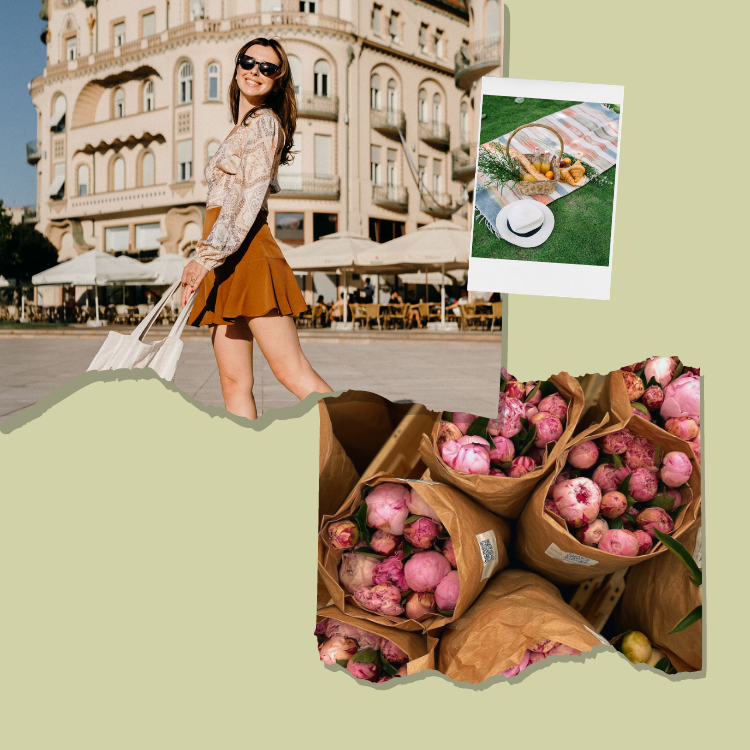 read this if you're in your saving era this summer
If you too are someone who abuses the snooze button and has 15 alarms set every morning, the last thing on Earth you probably want to wake up for is a workout. When you're snug as a bug wrapped up in your sheets with the shades drawn, getting out to move your body can sound laughable. But as a morning workout convert, I'm here to tell you that getting in the habit of waking up early to exercise is possible—and it's even possible to enjoy it.
Since I started working out in the morning, my mind feels clearer throughout the day, I'm less stressed all overall, and quite frankly, I feel like I have my shit together just a little bit more than I used to. I know that 2021 is the year of the anti-resolution, but if you make one change this year, becoming a morning workout person can be one of the most transformative things you can do. Want to start? Here's how:
1. Find a workout that holds you accountable
In our former lives, the #1 way I would hold myself accountable to exercise in the morning was by signing up for fitness classes that I couldn't cancel last minute. And while that isn't exactly possible right now, we found the next best thing: Obé fitness.
If you thought that getting a boutique-workout feel while at home was impossible, we're here to tell you you're wrong. My saving grace throughout quarantine? Obé's live class schedule. From my living room, I can participate in classes with a live instructor and trick myself into feeling the exact same that I used to when I'd wake up and run to a live barre or yoga class. At the beginning of every week, I look at Obé's live class calendar, then write down which ones I want to participate in and add them to my Google Calendar. Rather than pulling up a YouTube video I can pause or convince myself to skip, the live classes require physically being ready and on time to start a class, both of which are huge motivators when debating hitting "snooze" one more time.
The best part? They're actually fun and something I look forward to doing every single morning. After a few weeks, you'll also get a feel for which instructors and classes you love and want to keep doing. For example, if I see Michelle B. is teaching a morning sculpt class, I know I don't want to miss it under any circumstances—exactly how I used to feel at my boutique fitness classes.
2. Set yourself up for success the night before
As small of a deal as pulling a pair of leggings and a T-shirt out of your closet sounds, having them in a pile along with a sports bra and some socks can completely change your mindset when you're having an internal debate of whether or not to actually get out of bed. Having your workout gear ready to go eliminates any groggy fuss and can streamline any hiccups when you're trying to get yourself prepared to actually exercise. If I'm taking a class in the morning, I also love laying out my yoga mat where I'll be taking the class and putting a bottle of water next to it too. Not only does it hold me accountable (there's no walk of shame quite like putting my yoga mat away after oversleeping), but it puts me in a no-excuses mindset before I fall asleep the night before.
3. Make your workouts something you love
Hate running with all your heart? Don't run. It's easy to fall into a habit of doing exercises that are trendy or promise quick results, but if they're not something you love or that give you satisfaction when you're done, you're less likely to keep up with them—let alone wake up early to do them.
One of the things I used to struggle with was spending money to take classes I might end up hating. Most boutique fitness single-class passes are astronomical, so I would buy a month's pass just to try it out and might end up hating it and not wanting to keep up with it after all. That's one of my favorite things about Obé's classes: from HIIT workouts to dance classes to barre, you can try everything they offer without risking losing a ton of money for a workout you hate. Take some time to figure out which ones you love and that leave you feeling your best, and then keep up with it. It's natural to dread working out occasionally, but a workout of choice shouldn't be something you despise.
4. Write down your workouts
Just like you might write down a meeting or date, at the beginning of the week, take the time to write down the times you want to work out, along with what kind of workouts you want to do. I find that seeing all of my workouts planned out for the week not only takes out the guesswork of trying to figure out what I'll do last-minute but actually makes me look forward to them more. If I'm doing a hard class one day, I'll make sure the following day is something I can recover with, "Yes, I'm doing HIIT this morning, but tomorrow morning I'm doing a relaxing yoga flow." It's a small, simple way to hold yourself accountable—there's nothing like checking that workout off your to-do list before your workday even begins.
5. Take note of how you feel afterward
It's true what they say: you rarely ever regret a workout. The way both my body and mind feel after a morning workout are what keep me wanting to do it day after day. Not only do I not need to worry about when I'll fit in a workout during or after my workday, I feel more energized and less stressed all day long, and when all I want to do is go back to sleep in the morning, I remind myself of this. It isn't easy to get into the habit of waking up earlier than you need to every day, but nothing is a better motivator than a guaranteed day of less stress and a clearer mind.
What motivates you to work out in the morning? Let us know in the comments below!
This post includes a sponsored mention of obé, but all of the opinions within are those of The Everygirl editorial board.