90 percent of the time, I'm the kind of gal who would take character and charm over shiny and new any day of the week. But that 10 percent? It's a doozy—especially if you're a renter.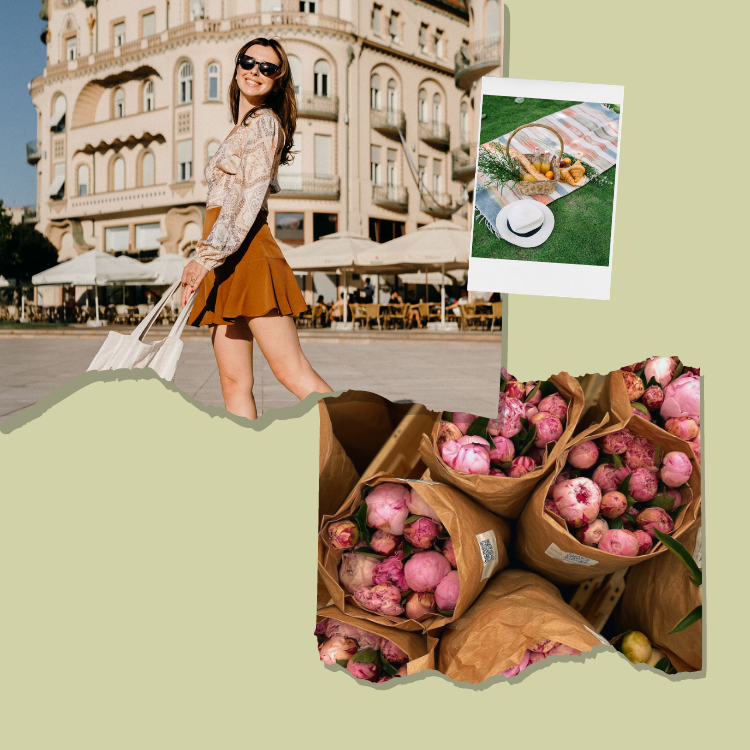 read this if you're in your saving era this summer
See, when it comes to budget-friendly rentals, there's the kind of character that most of us open with welcome arms: Arched doorways! Wood floors! A fireplace! Decorative moulding!
And then there's the kind of "character" that can be found in the vast majority of rental bathrooms—evidence of all 567 people who showered and bathed there before you.
You know what I'm referring to: the dingy tile and (even dingier) grout, coupled with floors that never look clean no matter how hard you scrub. Not to mention other common eyesores, like outdated light fixtures and little to no storage.
Fear not, fellow renters! I've scoured the internet for seven of the best ways to spruce up a rental bathroom, because we all deserve to apply our face masks in peace.
1. Swap in a new mirror and hardware
In a vintage-style bathroom, updated hardware makes retro tile feel current and intentional, as opposed to dusty and neglected. This is one of those sought-after rental hacks that is totally reversible, so you can even take your new pieces to your next spot when you move. If you've got a little extra room in your budget, swap in a new shower head while you're at it. It's a small change that will never fail to feel ultra-luxurious in a rental.
2. Cover old wall tile with peel and stick
Excuse me while I pick my jaw up off the floor. I'm still shook that this bathroom tile from Sara Toufali is faux! The addition of peel and stick tiles will do wonders for adding (the good kind of) character back into your space, while leaving that dingy old backsplash far behind.
3. Add a durable rug to cover dated floors
It's time to branch out from the specifically allocated "bathroom rugs" found at Target. Instead, opt for a small indoor/outdoor or low-pile rug with either pattern, texture, or color, which will instantly feel more "high-end" without the scary price tag. Bonus: It'll hide that less-than-desirable flooring in the process.
4. Create a diversion with a gallery wall
If you can't totally rehaul the features that you don't like in your rental, distract from them. A gallery wall draws the eye up and away from other common problem areas of the bathroom (like the shower, vanity, or flooring), and is an ideal way to personalize a small bath since you only need vertical wall space!
5. Upgrade your light fixtures
Consider lighting your most prominent bathroom accessory—the shoes of an ensemble, if you will—as they can very quickly elevate or downgrade your space. That being said, there's no need to get fancy. Inexpensive fixtures that look like they were made in this decade will do wonders for updating your rental bathroom. Pro Tip: Black finishes are a foolproof choice to make an older room instantly feel more modern.
6. Create a fresh feeling with greenery
Rental bathrooms are often missing that coveted squeaky clean look and feel, but you can fake it with the addition of fresh greenery. The infusion of natural color and texture revitalizes the entire room, and you'll never have an easier time keeping your plants alive than when they're directly next to your shower.
7. Make open storage a feature
Since double vanities are something most renters only fantasize about, storage is not exactly plentiful. Instead, add simple, open shelving and take the opportunity to combine form and function. Use glass vessels for storing essentials like cotton pads or Q-tips, keep toilet paper corralled in wire bins, and put your favorite perfumes and bath salts on display.