I became sexually active during a time when boys thought they reserved the right to ask me to "send pics" out of the blue. And while my answer was always a hard "no," these unpleasant encounters left a pretty bad taste in my mouth about sexting in general. But now—many years removed from those incidents—I've changed my tune. And the idea of sending sexually explicit pictures and texts to my significant other sounds like the start of a good time. I'm not alone in this sentiment. According to sex and relationship experts, sexting is one of the best ways to spice up a relationship, prolong the honeymoon phase, promote healthy sexual wellness, and increase self-confidence.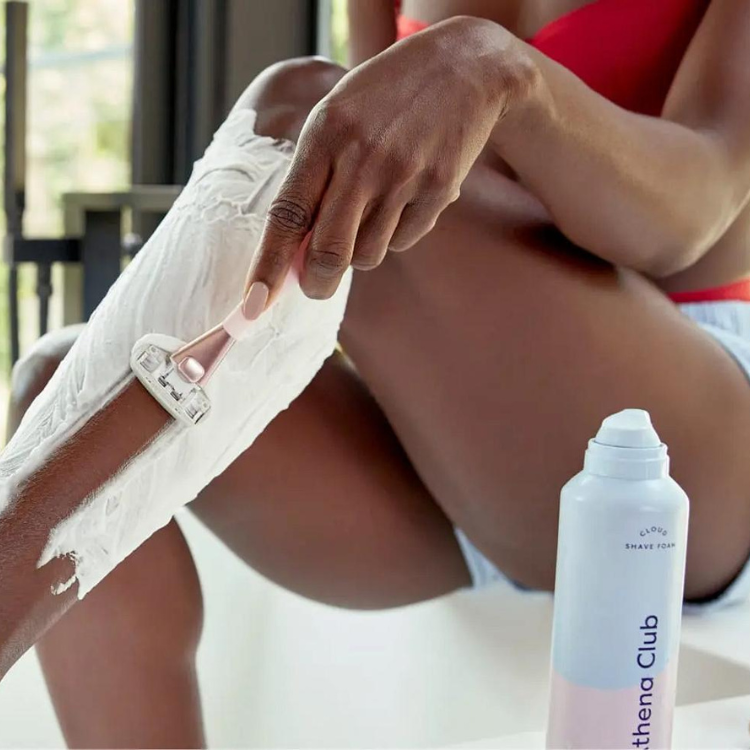 "This razor gave me the silkiest, smoothest shave I've ever had! I never get any cuts or scrapes, even on those hard-to-shave places."
That being said, sexting can be a bit intimidating, regardless of whether you've never sexted before or are well-versed in the art of it. So, in my pursuit of promoting healthy conversations about sex and sexual wellness, I set out to find the best tips to become more comfortable sexting your partner. Keep scrolling to learn how to start sexting, the benefits of sexting, and what to say when sexting.
How To Start Sexting
1. Gauge your partner's interest
Before you start sexy texting your partner, it's a good idea to gauge their level of interest in sexting. You can go the direct route and ask them straight-up how they feel about sexting and if it's something they'd be open to. Or, you can put some feelers out there and subtly drop the topic into conversation and see how they react. If you're both open to it, discuss and lay down some basic ground rules and boundaries that will make both of you feel comfortable and make sexting more enjoyable. As is the case with all things sex, consent and comfort is key.
2. Think about what they like
Is there anything hotter and more empowering than knowing you have the ability to get your partner all riled up? I don't think so. Prior to your initial sext, think about what they like and what really turns them on, and how you can play on these things and cater to their desires. When it comes time to send a sext, you'll know exactly what to say to catch their attention.
3. Pick the right time
Timing is also key. While it can admittedly be hot to think about teasing your partner while they're in a work meeting, they might not want the sexy distraction if they're really trying to focus. It's a good idea to ask your partner what they're doing or if they're busy before you initiate a sexting session.
4. Start slow
It's important to start slow, increase sexual tension, build anticipation, and ease into the sexting conversation with some flirtatious, sexy texting. Anything that lets your partner know you're in the mood and ready to play will work here (think: "hey, you" or "want to know what I'm thinking about right now?"). Likewise, sexologist Emily Morse tells The Cut that personal experiences are some of the best sexual conversation starters. Something as simple as "I can't stop thinking about how hot the other night was" or "It drives me crazy when you touch my back and kiss my neck" would work. From there, emphasize and lean into the dirty talk as the sexting session continues.
5. Send a teasing photo
Sometimes, it's good to leave something to the imagination. Tease your partner with a photo of a certain body part, like your lips, neck, bust, thighs, derrière, or any other erogenous zone—how risqué you get is completely up to you. If you'd like to send a nude, then that's your prerogative! Just be sure your partner is in a place where they can safely receive nudes and that you trust them with a picture of your naked body.
6. Tap into fantasies
Discussing your fantasies and deepest desires in real life is easier said than done. Sexting, however, can take some of the awkwardness out of it, so now's the time to tap into and tell your partner about any sexual encounters, moves, or role-playing you've been fantasizing over. Let your partner know what's been on your mind, and ask them how your fantasies make them feel and what their fantasies are as well.
7. Stay in your comfort zone
Sexting should be an enjoyable and steamy experience for you and your partner. If you're uncomfortable doing something, don't force yourself to! Only use language and send photos you're comfortable with, and let yourself get creative and have fun. When it comes down to it, there's really no wrong way to sext.
Benefits Of Sexting
1. It spices up the relationship
One of the biggest benefits of sexting is that it can spice up your relationship. It's easy to fall into a routine when you're in a long-term relationship, but sending steamy pics and texts to each other will transport you back to the early days of your relationship when libido was running high and you couldn't keep your hands off each other. You'll strengthen your bond, tap into your sexual side, and get turned on—really, it's a win-win.
2. It boosts self-confidence
In addition to being physically validated and affirmed by your partner, sexting can also boost self-confidence. Taking the time to snap photos of your body from different angles can help you love and appreciate it even more. And when you're in tune with your body, your sex drive will soar.
3. It can help you communicate your sexual needs.
Similar to sex board games, sexting can open up the dialogue about what you need in the bedroom. "Sexting can give you a way to tell your partner what you want," relationship expert, therapist, and JD Rachel DeAlto tells Well+Good. "Sometimes it can be uncomfortable to ask for what you want in bed, face-to-face. Sexting can drop those not-so-subtle hints."
4. It promotes healthy sexual wellness
If you're curious about how to be sex positive, look no further. Sexting is one of the best tools for solo play—something somatic sexologist Kiana Reeves swears is crucial for healthy sexual wellness. Reeves recently shared with me that sexual pleasure is extremely healthy and helps strengthen our mind-body connection. "Masturbating can help us form a positive relationship within our bodies based on personal instinct and desire," she said. "Plus, getting to know your own body and being attuned with your body is good for your overall health in general." So, don't be afraid to initiate a sexting session or turn to an old one the next time you're in the mood for some self-pleasure.
What To Say When Sexting
"I had the hottest dream about you. Want to hear it?"
"I can't stop thinking about the way you kissed my body the other night."
"Tell me what you want me to do to you."
"Do you have any idea how you make me feel?"
"Want to see what I'm wearing right now?"
"I'm laying in bed thinking about you ___ to/on me."
"It turns me on so much when you___"
"It's me, hi! I'm in the mood, babe."
"Come over now so I can rip your clothes off."
"Can you leave work early? I'm waiting for you naked in bed."
"I love it when you touch me ___ and ___."
"Dessert is first on the menu tonight."
"I have this fantasy where we…"
"I want you so bad."
"I want you to think about me doing ___ to you while you're touching yourself."
"I need to have my way with you ASAP."
"I'm yours for the taking."
"In my mind, right now, I'm ___."
"What am I doing in your fantasy?"
"I can't wait to ___ with you later."
"Tease me until I'm screaming and shaking and can't take it any longer."
"You're going to meet a different side of me tonight."
"Tell me what you're going to do to me."
"I found a new toy for us to play with."
"I just bought this new lube. Want to find out if it tastes as good as it feels?"
"Wish you were here."
"Let's try that move we did the other night."
"I can't stop thinking about the way your breath tickles my neck when you whisper in my ear."
"Let me show you how much I love you."
"I'm in the mood to do naughty things with you."