A streamlined life sounds pretty dreamy: the closet you see on movies that includes only high quality things like one expertly designed cashmere sweater, a few pairs of perfectly tailored trousers, and a pair of high end shoes for each day of the week—all arranged so neatly and perfectly. Or maybe a refrigerator like Yolanda's on Real Housewives of Beverly Hills—it has a clear door, so it must be kept orderly and with wholesome foods only! #goals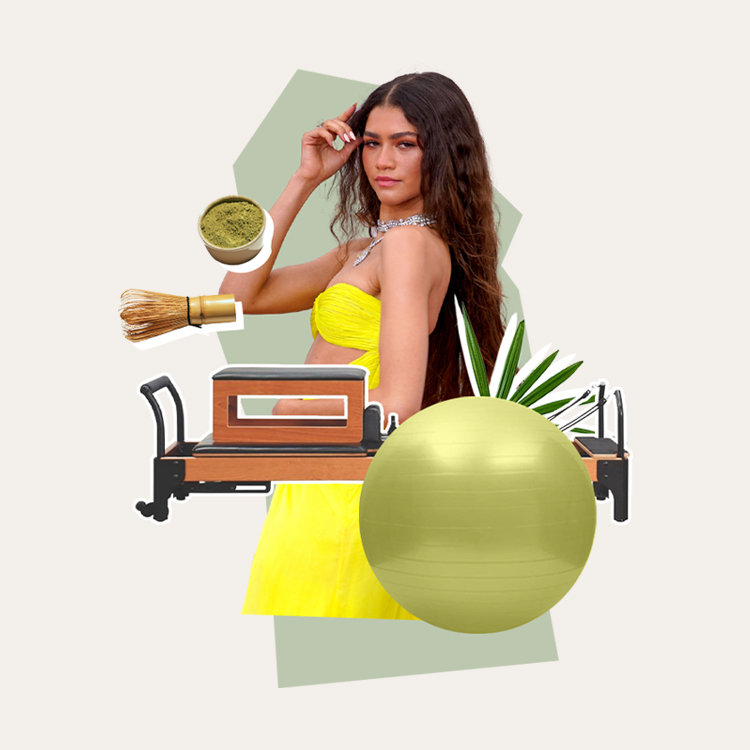 she's (kinda) just like us!
Although streamlining your entire life might be a bit of a leap, to say the least, making small changes here and there is a great place to start. Not only do organized products look beautiful, but it makes daily decisions a lot easier. And in a world where you may be running from work to gym to happy hour at a fast-paced speed, quick and easy decisions are especially helpful.
So why not begin with your makeup routine? After all, we only have our one and only face and we guarantee that paring down your products will not only make getting ready a speedier process for you, but wherever you store your makeup will be thankful for the makeover, too. Read on for simple suggestions on how to declutter and assess your products. Think of it as some early spring cleaning for your makeup bag!
Clear Out the Clutter
Source: Anthropologie
There's a fine line between a makeup "collection" and clutter. We know how easy it is for products to stock up—a new lip gloss here, a new mascara there. Before you know it, you've built up a small landfill inside your own makeup bag.
Throw away what you don't use.
The first step in tidying up? Get rid of anything you don't use. You know, that navy blue sparkly eyeshadow that might possibly be perfect for NYE (only you didn't even use it to ring in 2016). Time to say goodbye! It's a painful but necessary process.
Toss any duplicates.
Did you find one face powder that only has a tiny bit of product left around the edges of the pan and then one identical powder that you started using last week? Go ahead and toss the nearly empty one, or set it out and make it a point to finish it off before continuing to use the new one.
Pay attention to shelf life.
Beauty products do go bad. A good rule of thumb? If a product's appearance or scent has changed, toss it. If you can't remember when you bought it, toss it. For everything else, take a look at this article if you need a refresher on when to toss your makeup.
Use two makeup bags.
Still having trouble getting rid of lingering products? Pull out your ultimate favorites and keep them in a separate area or bag for daily use. Store everything else in a closet or somewhere out of sight. After a month or two, reassess the situation and make another purge based on the products you forgot about or didn't miss at all during that time away from them. Even if you don't toss everything in the stored makeup bag, it's still a nice idea to keep it out of sight and continue to rotate the most-used products in and out of your daily bag.
Pick Multi-Purpose Products
Source: Taylor Hill
Those makeup MVPs that tackle two or more duties? You know we've got our favorites:
bareMinerals Complexion Rescue Tinted Hydrating Gel Cream
It's one-step to perfect skin with SPF 30 sun protection, skin-hydrating ingredients, and a sheer lightweight coverage. Use it alone or as a base under your foundation. We expressed our love for it here.
Tarte Cheek Stain
Use this skin-loving formula on your cheeks and on your lips. The best part? Brush free application.
Murad Acne Treatment Concealer
Treat acne spots while you cover them with this dreamy concealer. It's full of highly effective ingredients (like vitamins and green tea extract) to provide antioxidant protection, as well as salicylic acid to knock out those spots for good.
Clarins Beauty Flash Balm
It's a primer. It's a mask. It's a moisturizer. It's an ultimate face brightener. And it's amazing.
Honest Beauty Lumizing Powder
This wonder-product serves as both a bronzer and a highlighter, giving you a sun-kissed look. Plus, it's made with safe ingredients and is talc-free!
Clean Everything
Source: Thirteen Thoughts
It may not seem important when streamlining your makeup, but having a clean space and tidy tools and products that aren't covered in a mess from spills inside your makeup bag will make you a happier person, we promise. Not only will it feel great to use tidy products and encourage you to keep the space orderly, but it also won't hurt to disinfect and get rid of germs while you're at it. Shampoo your makeup brushes every 2-3 weeks and wipe everything down with an all-in-one wipe that you can also use for your skin to remove makeup. We love the First Aid Beauty Gentle Cleansing Wipes.
Take Really Good Care of Your Skin
Source: Elizabeth Mathis
The better your skin looks equals the less makeup you'll need and want to wear. Find a skincare routine that works and stick to it, drink tons of water, and make sure you're not making one of these mistakes. If you're looking for some skincare products we love, try Beautycounter, First Aid Beauty, bareMinerals, Clarins, and Murad. We bet that the better your skin looks, the smaller your makeup collection will be and then your inner glow will really shine!
What steps have you taken to streamline your makeup bag or beauty routine?