You've worn them, you loved them, and then you hated them. You definitely had a favorite pair, and you might even still have a pair hidden somewhere in your closet or under your bed. It's ballet flats—yes, ballet flats. Like it or not, just like our ever-beloved maxi skirt, they're making a comeback, and there's no better time for them to be making a reappearance with spring on the horizon.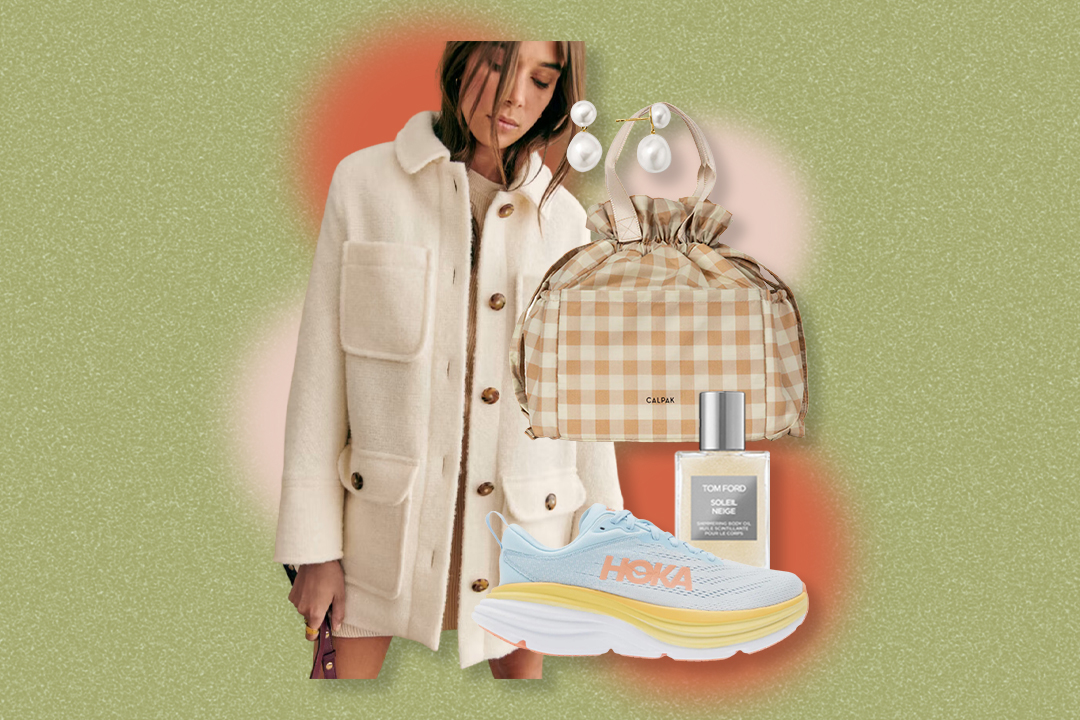 When you think of ballet flats, you probably think of thin, flimsy, crinkled patent leather that makes your feet sweat like no other. The type of ballet flat making a comeback isn't the same. It's more like their cooler older cousin. Think quality leather, a square toe, a bow, and hey, maybe even a strap across to call it a Mary Jane. Just as we've matured and traded some of our skinny jeans for a straight leg and our flip phones for ones with touchscreens, ballet flats have matured as well (as has the way we style them).
If you think of any of your go-to outfits, chances are you can swap your go-to shoes to ballet flats. Don't believe us? Keep scrolling for our favorite ways to style ballet flats. Chances are, you already have it all in your closet.
How to style ballet flats
With jeans and a white tee
You really can't go wrong with the classic white-tee-and-jeans combo. Paired with a ballet flat, it's a bit of a modern spin on the tried-and-true fave. Looking to change it up a bit? Opt for a colorful pair of flats to stand out against the rest of your outfit.
Madewell
7 colors available
With a mini skirt and ankle socks
This outfit combo is just as sweet as the ballet flats themselves. All the cool girls are wearing white socks with their ballet flats, and it's a great way to make them feel a bit less feminine if that isn't ordinarily your style. Paired with a jacket and a mini tee, this is one outfit we'll keep in our rotation this season.
Reformation
3 colors available
With overalls
It's hard to think of something that doesn't pair well with overalls. The feminine look of the flats contrasted with the sturdy vibe of the overalls combine together to create an ultra-chic look. If your overalls are shorts, flared, or even a skirt, a ballet flat is their match made in heaven.
With a slip skirt and oversized sweater
Long live the oversized sweater and slip-skirt combo! Perfect in any season, there's something so delicate about a slip-skirt worn with a ballet flat. It's the perfect breezy spring outfit—and you can even wear it to the office.
Quince
9 colors available
Ava & Viv
4 colors available
A button-up is always a good idea, and when paired with flats, anything is possible. With shorts, pants, a skirt, or a dress, flats and a really good button-up is all I plan on living in this summer.
Summersalt
5 colors available
With straight leg-jeans and a cardigan
God forbid we forgot about this classic combination. The simplicity of ballet flats, jeans, and a cardigan gives a little French je ne sais quoi that just feels effortlessly chic.
Madewell
2 colors available
Our favorite ballet flats