From hair scrunchies to jean overalls, the 90s fashion trends that we once remembered from our childhood can now be found in front of our eyes (we don't live in the past — we just dress like we do). The comeback of denim skirts is one that none of us can deny. Here, we've put together seven ways to style your denim skirt this fall.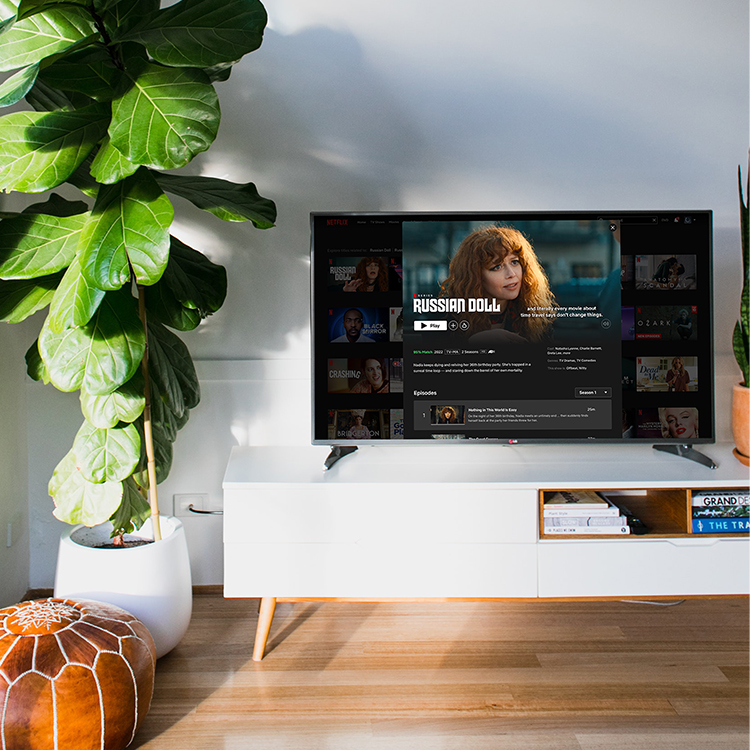 stop mindlessly scrolling on Netflix—these shows have our seal of approval
1. Moto Jacket
Source: Nichole Ciotti
SHOP THE LOOK
Nothing says fall like the return of your most prized moto jacket — like the leather one that stuck with you (regardless of the time you spilled wine on it) and made you look good (even when you were feeling the complete opposite). Combine a solid colored sweater with your denim skirt and grab your jacket for the extra warmth and style. Suede, denim, or leather —this silhouette can't be done wrong.
2. Off-the-Shoulder Top
Source: Getty Images for The Zoe Report
SHOP THE LOOK
For the days that are more so cool than cold, put on a light off-the-shoulder top to tuck into your denim skirt. Dress this outfit up with some high heel gladiators or dress it down with some cute sandals. This fun look is the perfect transition outfit into fall with a touch of summer that'll be a lot more sweet than bitter.
3. Patterned Top and Knee-High Boots
Source: Lana Jayne
SHOP THE LOOK
Start the season off right with this casual ensemble — a patterned top (we love the stripes, but floral is another favorite) to make a statement and your black knee-high boots to make it a memorable one. Add in your most-loved pair of sunglasses and a neutral colored bag to make this outfit your next go-to.
4. Denim on Denim
Source: Into Your Closet
SHOP THE LOOK
There's an art to pulling off the denim on denim look, and it all depends on one factor — confidence. As the one fashion staple that continues to remain current, keep your denim clothes close this season so you can mix and match them. The key to success? The shade of lipstick you pair this outfit with. Whether you choose red to be bold or maroon to be mysterious, grab that lipstick shade and the attention of everyone you walk past.
5. Button-Down Blouse and Nude Heels
Source: The Style Bungalow
SHOP THE LOOK
Chic and trendy, this outfit would make anyone proud (especially Rachel Green). There are some things in life that won't ever betray you, and a tucked-in button-down blouse is one of them — it's a clean and crisp look that will leave you feeling as sophisticated as you are. Whether you're going to window shop or going to brunch, this outfit is fool-proof and best paired with nude heels and your go-to clutch.
6. Oversized Sweater and Neck Scarf
Source: Happily Grey
SHOP THE LOOK
Nothing says transitional quite like fall from the waist up and summer from the waist down. Wear your favorite summer sandals or if you're working with cooler temps, a pair of ankle boots.
7. Scarf, Tights, and Long Coat
Source: Mannequin Parade
SHOP THE LOOK
Behold — your next outfit for the colder days of fall. Although the temperature is dropping, there's no reason for your fashion sense to. With an emphasis on the shades of brown that make fall a favorite of many, this outfit will have you prepared for the season without freezing in it. Throw on your classy long coat over a sweater and pull on your tights for good measure. Don't forget to add your leather booties and a scarf to make this outfit the one you enjoy most with the feel of crunching leaves under your feet and the cool air around you.
What are your favorite ways to style your beloved denim skirt?