It's not earth-shattering news that winter weather wreaks total havoc on your skin. This time of the year seems to be a constant uphill battle with itchy dry skin, flakes, and the ever present rosy pink hue on our cheeks thanks to the bitter cold we endure day in and day out.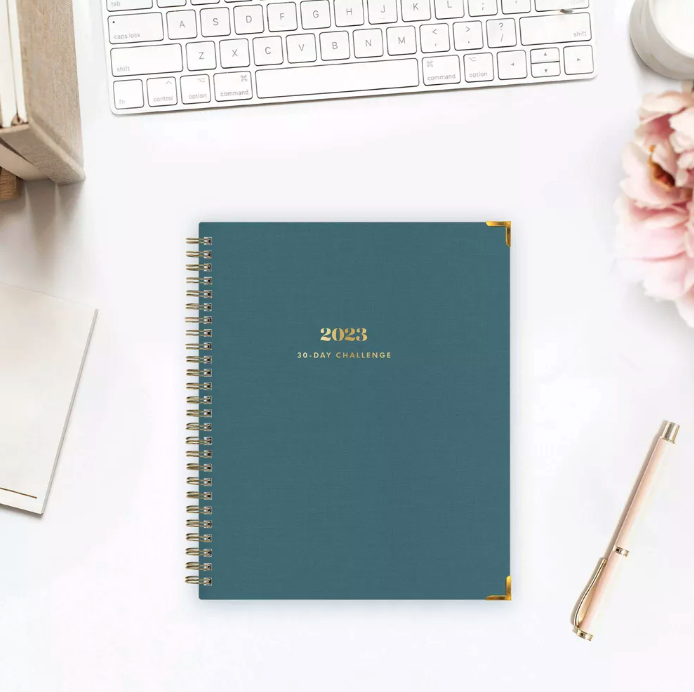 We may be biased, but this is the ultimate planner for the motivated goal-getter. Schedule your days, track your habits, and set new goals every month.
But no one seems to suffer more than our poor lips — chapped and scaly and devoid of the plumpness that seems like a distant memory of warmer weather past. If you currently have more than three tubes of Chapstick in your current rotation or are worried you'll never be able to wear matte lipstick again, here are a few tips to get your pout past its Seasonal Affective Disorder.
Step One: Create More Moisture in Your Environment
Humidifiers are easily one of the most overlooked and underutilized beauty tools in existence, and if your lips are struggling to retain moisture, a humidifier is an absolute necessity. Among the multitude of benefits that humidifiers have for your skin, hair, and respiratory system, they're especially beneficial to the sensitive and deprived skin on your lips.
Step up your humidity game by not only sleeping with a full sized humidifier at night, but also investing in a portable option to keep running at your office or next to you while you binge some Netflix on the couch.
Step Two: Lip Masks
Yes, they are a thing. Just like regular face masks, there are a wide variety of lip masks that solely focus on delivering moisture to your puckers — plumping them back into shape and going to work on any flakes or dry spots.
Lip masks can vary from individual use sheet masks, which usually are of a jelly-like consistency, to overnight treatments that are a step up from your regular lip balms.
Applying a nightly treatment and supplementing with a mask 2-3 times a week is the best way to avoid deep cracks and ongoing irritation.
Step Three: Exfoliate… Sparingly.
It is important not to pick at the dry skin on your lips, bite on it, and constantly lick your lips when they're chapped. It might be tempting to go in with a heavy-handed sugar scrub or to roughly slough away the dead skin with a washcloth — but you'll only be creating more issues.
Removing skin from your lips is no different from picking at a scab that isn't ready to come off yet — you create raw skin that is even more defenseless to dry air and therefore becomes more irritated and chapped later. Instead, use a treatment specifically made to gently exfoliate your lips no more than once a week, so long as your lips are not raw, and resist the urge to pick!
Step Four: Treat 'Em and Seal 'Em
Your lips are one of the few places on your body that doesn't have oil glands naturally producing moisture. Incorporating a manufactured lip oil into your treatment rotation can help supplement a type of moisture that your lips are otherwise completely devoid of.
After you've layered an oil treatment onto your lips, seal those ingredients in place using either petrolatum, i.e. the OG Vaseline, or a balm loaded with dimethicone. These ingredients are humectants which help preserve moisture.
Be Mindful of Irritants
When you're sourcing your moisturizing or lip color products, make absolutely sure they don't contain menthol, strong fragrances, and certain essential oils like eucalyptus or peppermint. Chapped and dry lips can have their uncomfortable condition exacerbated by irritating active ingredients, so be sure that you're sticking to pure emollients like shea butter, castor oil, and squalane.
Your lipsticks are another source of issue during the winter, as they usually contain heavy dyes, alcohols, and perfume. It's unrealistic to assume you're going to go completely bare-lipped for the entire season, but just be mindful of the products that you use when you have to and opt for hydrating lipsticks or simple glosses.
How do you protect your lips from the perils of winter? What are your favorite lip-moisturizing products?