It's easy to see how Katie Manwaring has made so many friends in the PR and blogging industries—her personality is as bright and welcoming as her home decor. The 25-year-old blogger behind Katie's Bliss decided to move to the Big Apple with her boyfriend Nick after graduating from Elon University, and she hasn't looked back since.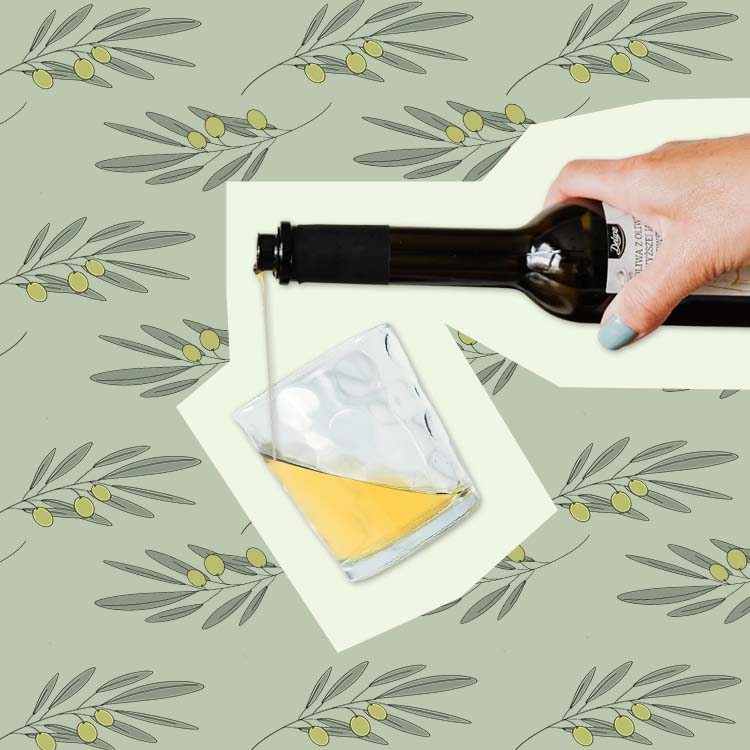 we love olive oil, but this seems a bit too far... or is it?
Katie credits a lot of her professional success to her unabashed networking—she's never one to shy away from a strategic cold email, and she's a master at maintaining the relationships she makes through her career and blog. Her go-getter personality and amazing personal style have taken her far and she's just getting started. Read on to learn how Katie broke into the PR industry, grew her blog into a full-time job over the course of six years, and the compromises her and her boyfriend amde when decorating their fabulous new NYC apartment.
Name: Katie Manwaring
Age: 25
Current job/company: Founder at Katie's Bliss
Education: BA Strategic Communications/Sociology, Elon University
What was your first job out of college and how did you land it?
My first job was at a fashion PR agency called KCD, freelancing during fashion week. I actually got the job by blindly emailing an alumna from Elon who I found on LinkedIn. She's a few years older than me and I didn't know her, but I guessed her email and ended up being right! I asked her for an informational interview, but they had the freelance opportunity available when I emailed her. I went in for an interview and started the job two months later! I definitely got lucky.
You went to college in North Carolina—what made you decide to move to NYC? Had you ever lived there before?
I always knew that I wanted to work in PR and be part of the fashion and beauty industry. New York is really the place to be for that. I grew up in Pennsylvania, so I wanted to be in a larger city that was somewhat close to my home—NYC is the perfect distance from where I grew up. I had one internship in New York during college, and I grew up coming in and out of the city. On spring break and time off from school, I would always set up informational interviews for myself. I was that girl in college who constantly had internships and was reaching out to people I didn't know. It ended up working out really well for me. I had a lot of good luck with internships and getting my foot in the door. Networking was a big part of that!
Did the connections you made during that time open any doors for you down the road?
The PR industry—especially in NYC—is so incredibly small. Everyone knows everyone, and one of the best things about beginning my career in PR is that it really helped me with my blog, too. So many other publicists I've met and girls that worked as assistants at the same time as me have moved to different agencies and gotten new jobs, and they bring me opportunities for my blog.
Speaking of, when did you start your blog, and how have you grown it?
I started Katie's Bliss when I was in college. It has been over six years now! Elon, North Carolina is really rural—there's not a lot going on down there. I was honestly just bored and needed a creative outlet. I started finding all these girls on YouTube and girls who had their own blogs, and I loved reading them, so I wanted to start my own. My boyfriend (we're still together now!) was designing websites for fun, so he made my blog for me. The rest is history.
Be proactive, do your own outreach, and network! I'm never afraid to put myself out there and introduce myself to people.
In terms of growth, it's mostly been organic and gradual, but it really started taking off in a more professional and serious way when I moved to NYC and started working in PR. I was able to start meeting more people, going to events, getting introduced to different brands, and networking with other bloggers. I learned a lot and realized the potential that my platform had. About two years ago is when I started taking my site seriously and looking at it as a business and second career.
Social media has also been key in furthering my blog—Instagram is my most important social platform because it's really just a pared-down version of my blog. My whole aesthetic is bright and vibrant colors and it is a great way to showcase my personality.
Do you have any advice for bloggers who want to turn their hobby into a career?
Be proactive and do your own outreach. Pitch yourself to brands that you want to work with, and reach out to other bloggers who have similar tastes and styles—if only for advice! I'm very big on networking and proactively reaching out to people who I'm interested in working with. I'm never afraid to put myself out there and introduce myself to people and show them my site.
You're clearly in the heart of the city—the view from your apartment is amazing! How did you find it? What were you looking for in a space?
Our first apartment was in the West Village. It was very tiny, in a walk-up. We had no amenities. It was a great location, but that was pretty much the only positive about that apartment.
When we were looking for a new one, we had more items on our must-have list: a doorman, an elevator, a newer building, amenities like a dishwasher, and laundry in the building. We wanted to avoid using a broker, so I just did a lot of research on no-fee management-run buildings in the city. We went directly through the leasing offices.
We ended up in Kips Bay—it's on the border of Flatiron and Murray Hill. It's a pretty central location right in the middle of Manhattan.
What's your favorite thing about the neighborhood?
The convenience is awesome. It's so easy to get anywhere. I walk a lot! Usually I can get to anywhere I need to go in a 25-minute walk, which is amazing.
And your favorite part of the apartment?
Probably the natural light and the view! After living in a dark little hovel for so long, I appreciate the light so much more.
How would you describe your home decor style?
Definitely colorful, but also minimalistic at the same time. I like modern pieces—no big bulky furniture or decor—but I also really like color and patterns, much to the irritation of my boyfriend. I love throw pillows and knick-knacks, and he can't stand them! He thinks they're just clutter, but for me those little things are what make a house a home. So, we compromise. The furniture we have is very much in line with his style—he loves the modern look—but the bright pops of color are for me.
What are some of your favorite places to shop for decor?
When we moved we sold all of the furniture from our old apartment and basically started from scratch. A lot of our stuff is from AllModern—it was a site I'd never heard of at the time of decorating. We also got stuff from Modani, Pottery Barn, and PB Teen. For more inexpensive, little things, I love Target and Overstock.
We did get some furniture from Craigslist, too! A lot of the more popular furniture from CB2 or West Elm was second-hand. Our kitchen table was CB2, but we found someone on the upper East Side selling it for $50. Never shy away from Craigslist. A lot of city-dwellers are constantly downsizing apartments or leaving, so they'll have almost new, quality items they just need to get rid of.
Where did you see yourself in five years?
I think I'd like to be a homeowner and living outside of NYC, whether it's in Westchester County or a Connecticut suburb. Or Nick and I really love Charleston, South Carolina. It's our favorite city in the world, and we always joke about moving there.
Katie Manwaring is The Everygirl…
If you could have lunch with any woman, who would you choose and why?
Right now, I'd say Ivanka Trump. I'm obsessed with her style and the fact that she's a successful business woman but also puts her husband and children first.
Starbucks order?
This is kind of embarrassing, but I get a grande Peppermint Mocha year-round.
Guilty pleasure?
Probably reality TV—I watch all the trashy shows!
Dream vacation?
Go to Dubai for a few days and do adventure-type stuff, then fly to the Seychelles Islands and spend a week on the beach relaxing!
Products
Couch, LexMod
Artwork, Wayfair
Coffee table, West Elm
Lamp, Target
Throw pillow (pink), Furbish Studio
Throw pillow (leopard), Furbish Studio
Throw pillow (shag), Anthropologie
Leaning bookcase, The Container Store
TV stand, Wayfair
Basket (similar), Target
Side table, Overstock.com
Small lamp, Overstock.com
Bar cart, Target
Grey ottoman, Target
Round table, CB2
Dresser, Ikea
Mirror, Antique
Artwork, Minted
Perfume tray, Antique
Shoe shelves, Custom
Bracelet holder, The Container Store
Watch holder, PB Teen
Desk, Gilt
Tri-fold mirror, PB Teen
Necklace holder, The Container Store
Bed frame/headboard, Skyline Furniture
Artwork, Overstock.com
Side tables, Overstock.com
Lamps, Target
Framed artwork, Minted