Year after year, we claim that we're going to start planning and ordering our Halloween costumes in mid-September. And, naturally, every year we completely forget about costume ideas until the week before the big day. Then the panic ensues as we try to whip up a clever costume and get organized in time for our Halloween plans. It's a nearly universal experience.
The solution? Our trusty Amazon Prime. Super-fast Prime shipping means you can order a last-minute Halloween costume as soon as inspiration strikes and receive it within a mere day or two—perfect for those of us who have procrastinated deciding what we want to dress up as for the past several weeks. Here, we've rounded up the best last-minute Halloween costumes you can order from Amazon this year, just in time for the spookiest night of the year.
1. Weird Barbie from Barbie
It's not too late to live out your "Hi, Barbie!" dreams this Halloween! Get dressed up along with all the other girlies in the most recognizable costume of 2023—with a twist, of course. All you need to pull off Weird Barbie is a pink dress, some neon socks, a bedraggled wig, and a single Birkenstock sandal to carry around all night.
2. Princess Diana
Obviously, we all know that Princess Diana was a fashion icon, and Halloween is the perfect time to re-create one of her looks. For an easily recognizable costume that you'll want to wear again IRL, mimic her "revenge dress" look with an off-the-shoulder black dress, a pearl choker, and sheer black tights.
3. Dionne Davenport from Clueless
Cher's bright yellow plaid set might be tricky to find on short notice, but Dionne's black-and-white ensemble is much easier to replicate (and way more likely to be worn past Halloween). Simply throw on a plaid blazer and skirt over a red cardigan and some knee-high black socks. More power to you if you want to rock her iconic rose-topped hat.
4. Elle Woods from Legally Blonde
"Whoever said orange is the new pink was seriously disturbed." In the year of pink, there's no better costume than the iconic Elle Woods from Legally Blonde. Channel this game-changing girlboss with a hot-pink blazer set, pink sunnies, and, of course, a pink fluffy pen (for taking notes, obviously).
5. Moira Rose from Schitt's Creek
The chicest character in all of Schitt's Creek has to be the iconic Moira Rose. To mimic Moira this Halloween, start with some costume jewelry and a black dress, and top the look with some chunky heeled boots and a black lace shrug. You might just want to wear this look every day.
6. Love Island Contestant
Where would you rather spend your Halloween: at a haunted house or in the villa? If you're leaning towards the second option, throw together a simple look inspired by the islanders on one of the world's most-beloved reality shows. For bonus points if you talk in your best British accent, too.
7. Olivia Rodrigo 
It's Olivia Rodrigo's world, and we're all just living in it. If you can't stop scream-singing, "get him back!" and loved GUTS as much as we did, channel your inner pop-rock star with a black tank top, letter rings, a bold red lip, and a peek of purple.
8. Jenna Rink from 13 Going on 30
If you're into the Y2K fashion resurgence, Jenna Rink is the perfect nostalgic movie character to channel for a last-minute Halloween costume. Heal your inner child by dressing as Jenna in her colorful dress, a butterfly necklace, and a bright pink, glossy lip.
9. A fairy
Thanks to the sheer volume of items on Amazon, you can easily mix and match pieces that don't come from a specific set to create a unique costume that doesn't look like it's straight out of Spirit Halloween. Exhibit A: this easy four-piece fairy look.
10. Britney Spears in Hit Me Baby One More Time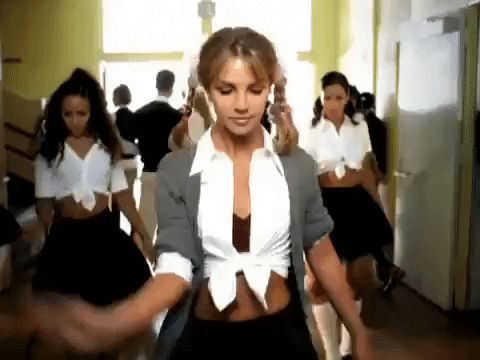 If there's one thing Britney's gonna do, it's give us an iconic music video look—and this one from her classic Hit Me Baby One More Time is no exception. This simple get-up makes for a sexy Halloween costume that any pop-culture connoisseur will instantly love.
11. Coraline from Coraline
Coraline is one of the most adorable yet simultaneously creepy characters ever—making her the perfect contender for a simple, creative costume that everyone will recognize, but no one will expect. Plus, you can use the yellow raincoat all year round!
12. An animal
As absolutely basic and predictable as it is, sometimes you just need to pull out the black bodysuit from your closet and throw on some animal ears. Pick your animal of choice and Amazon-Prime the ears to you for the last-minute costume that never fails. To take it up a notch, pair your ears with a quick animal-inspired makeup look using eyeshadow and liner.
13. Rory Gilmore from Gilmore Girls
'Tis the season where we all want to dress like Rory Gilmore and pretend we're living a quaint life in Stars Hollow, so why not take it a step further with your Halloween costume? With a plaid skirt, a blue blazer, knee-high socks, and a stack of books, you'll be super recognizable.
14. Sandy from Grease
Sandy is a classic costume idea for a reason: You can throw it together with things you already own (or can easily buy) and instantly look amazing. Grab a leather jacket and some faux-leather leggings, and pair them with an off-the-shoulder shirt and a coat of red lipstick with extra curly hair.
15. A vampire
You can easily pull off a vampire costume with an all-black outfit, your favorite dark lipstick, and a little fake blood—and you'll look like you were probably planning your costume for months. Bust out those vampire fangs, and follow a vampire makeup tutorial for that dark and mysterious Halloween look.
16. Edna Mode from The Incredibles
The best last-minute Halloween costumes are always the ones that are a bit unexpected yet still recognizable, and Ms. Edna Mode falls under that umbrella. The best part? You can wear the black trench in your normal life after Halloween is over.
17. Joel Goodsen from Risky Business
For a Tom Cruise moment, throw on a pink button-up, some boxer-style shorts, black sunglasses, and a pair of white socks. It's easy, effortless, and, dare I say, pretty sexy when it's put together. Bonus: You can re-wear the shirt and sunglasses long after Halloween.
18. Daphne from Scooby Doo
Scooby Doo's Daphne is a certified hottie, and her look is pretty easy to replicate with a couple of items. Just grab a purple dress, a green neck scarf, and some go-go boots for a last-minute costume that's recognizable and different from your average cat-ear look.