After six years of being in the lucrative world of corporate PR, Jennifer Wagner Schmidt of JWS Interiors reevaluated her true passion and realized her calling was in interior design. "It was a huge decision for me because high-tech PR was all I knew after doing it for six years or so." With no formal education or experience in this field, Jennifer's first step was to take a beginning interior design class at the local community college. She gained practical, hands-on experience by working in an interior design showroom and not long after, Jennifer set up shop and established her own interior design business in 2006, while simultaneously raising her 9-month old. Fast forward to today and her work has been featured in such media outlets as The Washington Post, DesignSponge, and CocoCozy to name a few.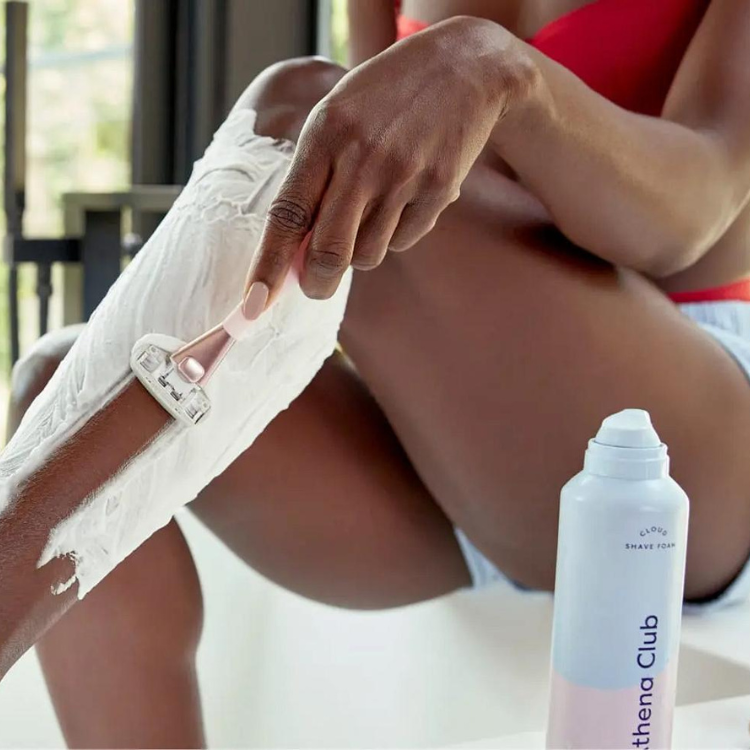 "This razor gave me the silkiest, smoothest shave I've ever had! I never get any cuts or scrapes, even on those hard-to-shave places."
In today's interview, Jennifer pulls back the curtains on how exactly she runs her business (see what we did there?), shares tons of interior design advice, and even tells us how much she made in her first year of business!
Name: Jennifer Wagner Schmidt
Age: 36
Location: Washington, DC
Title: Owner, JWS Interiors LLC
Educational Background: BA Communications (with a concentration in Public Relations), George Mason University
What was your first job out of college and how did you land it? Was that your intended career path at the time?
My first job out of college was as a PR associate at a high­-tech PR firm. I worked in the career center at George Mason and found the job that way. I was fortunate enough that I was the person responsible for collecting all jobs that companies would send us and enter them into the university's job database, so essentially I got first dibs on the job! Yes, I majored in communications and had done several internships during college, so this is how I intended to start out.
You gave up a successful, lucrative career in public relations to pursue your passion for interior design. That was a huge risk and must've been very scary! Tell us how you came to that decision and what that experience was like. Were you ever afraid that you made the wrong decision?
It was a huge decision for me because hi­gh-tech PR was all I knew after doing it for six years or so. I think it's always scary to venture into new territory without any prior experience. I loved the fast-paced world I was living in and thrived on it, but eventually the stress of the job made me realize that I wasn't going to be in this industry for the long haul.
I had always loved interior design (as a child I drew rooms and changed my bedroom around a zillion times) and finally made the call to my boss to quit and move to my new adventure. I never thought I made the wrong decision because I knew I had the experience and skills behind me to go back to corporate communications if I had to. Essentially, I had a safety net. As well, because I was married, I had the financial support of my husband, which did help in my decision. He has always told me to follow my dreams and has been my biggest supporter. It was then that I decided to sign up for Interior Design 101 at the local college near my house. It was one of the hardest, yet most thrilling classes I've ever taken. We had 30­40 hours of homework every week and I loved every second of it. I knew after taking the class, I was in the right field.
You served as an assistant manager for a showroom in the Washington Design Center. You must've felt like a kid in a candy store! How did you land that gig and what kind of experience did that give you?
This is such a story! I saw the job posting and had only taken the one design class (and had already quit my PR job), but I was so excited about the opportunity, I called several times until finally I talked to the president of the company.
I was so passionate on the phone about doing the job, he flew me out to California (where the company was based) for a team building/training weekend. It was a way for current employees and prospective employees to meet, exchange ideas, etc. It was exhausting as this was basically "boot camp" to see if they thought I could make it in the showroom so all eyes were on the prospective employees. We even had dinner parties at the president's home so it was a little unnerving since I didn't know anyone. After a long three days, I still had no idea if they were going to hire me until an hour or so before I got on the plane to fly home to DC. I was sweating it out the entire time, and was so thankful that they offered me the job. The experience there was great because it introduced me to both the people in the industry as well as how things operate in the world of design. I met very demanding clients, nice and also not­-so­-nice interior designers, and also learned how to sell a piece of furniture or art, which was new to me. I also learned to do more space planning and perfected the art of pulling coordinating fabrics for an entire room in 15 minutes flat because that is sometimes what clients would ask for upon entering the showroom.
In 2006, you decided to strike out on your own and form JWS Interiors (another very scary risk). Tell us the nuts and bolts of starting your own business. What were the first steps you took? How did you secure your first clients?
This seemed daunting at first, but I did some due diligence. First, I took several county­-sponsored classes on starting a business where I learned what the difference was between an LLC and other various business "set ups." These meetings were great because they also featured local business owners, their stories and had Q&A sessions. I always took advantage of the Q&A sessions asking anything and everything that came to mind. The meetings were free and I knew nothing, so why not? Then, after figuring out what type of company set up I needed for legal and IRS purposes, I applied for and paid for my business license which was less than $200. I was official!
Then the fun part began: telling everyone I was starting my own business from my home. It started with neighbors and friends (who had already encouraged me to pursue interior design). A neighbor told a friend of hers that she knew an interior decorator and passed along my name. She became my first client and I'll never forget the space I was to design: "The Social Library" is what we called it. They envisioned reading leisurely at night as well as entertaining friends on the weekend in this room. I was overwhelmed with excitement! Moving forward, I still had zero money for marketing or advertising and no website, so word-of-mouth was my only option. Finally, once friends of friends got word, I started to get small jobs here and there. I think my first year I had 3 clients and made less than $3000. I knew I had to start somewhere, so this is how it worked for me.
My advice for those who want to break out on their own is to do your research first. Talk to local entrepreneurs and those in the field to which you want to join and pepper them with questions. Their answers can help potentially lead you in the right direction. You are going to have to believe in yourself, your passion, and then go for it. You only live once, make it happen!
A lot of people dream about starting their own businesses but fear prevents them from actually doing it. How did you know you were ready to have your own business? What advice can you give to those that want to make that leap?
I truly believe you have to be 1000% passionate about what it is you want to start, because there are going to be let­downs, some big and some small, and you have to be willing to face them. Everything is up to you now because it's YOUR company. I was ready for that because time was on my side. I was fortunate to have a husband who could support us and since at this time we had a 9 month-old baby, I knew it would take time to grow while I could stay home and take care of her. Otherwise, the alternative was to eventually go back to PR and I did not want to do that. The passion is what keeps you and the business going; without that I don't believe you can make a business work.
My advice for those who want to break out on their own is to do your research first. Talk to local entrepreneurs and those in the field to which you want to join and pepper them with questions. Their answers can help potentially lead you in the right direction. You are going to have to believe in yourself, your passion, and then go for it. You only live once, make it happen!
Walk us through what exactly happens after a prospective client reaches out to you. Start to finish, what are the steps involved in completing a project?
When the prospective client calls, we chat about what type of design they need—full design, a paint color consult, etc. Inevitably the first or second question is "How much do you charge?" In my case, I offer a range of services that include hourly, as well as flat-fee services that are typically for larger scale projects. I also offer an E­Décor service which is mostly for out-of-town clients who like my style, but aren't close by. Once we establish if my fee is do­able, we discuss more about their design needs/the space in question and usually set up a first meeting at their home so I can see the space in person, measure the room(s) and discuss the potential project at length—everything from their color likes and dislikes, who will be using the space, design requirements (i.e. practical, washable fabrics) etc. This meeting is key because it not only allows the designer to see the space first­hand but allows you to get to know your prospective client's personality. Experience has shown me that if there is any whiff of a personality conflict, my advice is to walk away from the project. No job is worth the headache of two clashing personalities. The project may be great, but it won't be fun to work on if your client is hard to work with. Finally, right after this meeting if all goes well, I request 3­5 photos of rooms the client loves along with a brief statement of why they love the "inspiration room." I then pull everything together, draw up a contract and once signed, I begin the design process.
After reviewing everything, I draw the room to scale on graph paper (I love using graph paper versus a computer program) start my research on pieces for the room and figuring out sizes of everything. One thing I think is lost on many people is the amount of time designers spend ensuring everything fits and fits beautifully. We have to know a sofa's arm height so that we don't end up with a short end table, or a rug that is too small and doesn't allow all the legs of a particular piece to fit on it evenly. Once I have a general idea of measurements, I'll start with one piece that is central to the project, for instance if the client wants a cobalt blue sofa, then I'll start with that and then build out the project from there. Fabrics for everything are selected from sofas, to drapes, to pillows. After many, many hours of research, going to stores, etc., I put all the images of every piece of furniture, art, etc on a design board. I also do a floor plan board which shows where all the pieces will be in a room. Everything is put together on a presentation poster including all the fabric swatches I'm proposing. We go over each and every item as well as the cost of each and then the client and/or I start buying everything. As things come in, I start to set up the space, with accessories put in place in last. I work with a terrific contractor, Stephen Richards, who helps me with all my projects from custom items to hanging art, electrical work, painting—you name it—he has helped me with it! Once the room is complete, I take pictures or have photos professional taken of the space so that I can add it to my portfolio. In some cases, I'll submit my work to publications with the hope to get featured. I've been fortunate to have Home & Design magazine feature several of my projects as well as The Washington Post and great design blogs like Design*Sponge and CocoCozy.
What skills or characteristics do you draw upon most for your job? Do you utilize your experience in public relations?
You 100% have to have people skills. People are paying you to come into their home, tell them how to decorate and then implement it. There are many conversations between the homeowner and the designer from start to finish, so you must know how to work with all types of people and personalities.
To be in this business, you also need to be organized and detail oriented. There are a lot of little nuances when working with clients and that compounds when you work on multiple projects. I have at times worked with 10 clients at the same time—small and large, a detail is a detail! Since I worked at a PR agency handling multiple clients at one time, this ability came naturally to me when my business started getting busy.
You started your blog JWS Interiors/Affordable Luxury five years after you established your business and built a portfolio. How has the blog affected your business? How do you balance your professional projects with blogging?
The blog was the best decision I ever made regarding the business. My profit jumped three times the year after it went "live" and continues to be a source of new clients and also new readers! I'm always looking for ways to increase my readership (currently JWS Interiors/Affordable Luxury gets about 15,000 readers a month). The blog increased my presence in the Washington DC design industry and not only gave me a channel to showcase my projects, but also my thoughts on design, tips and tricks, etc. I spend a ton of time on my projects, but I love blogging because it is another creative outlet. At this time, I haven't spent as much time as I'd like on the blog, but you have to weigh all that needs to be done. I'm also a mom of two little girls, so they take priority over everything.
The blog was the best decision I ever made regarding the business. My profit jumped three times the year after it went "live" and continues to be a source of new clients and also new readers!
JWS Interiors focuses on "affordable luxury". What are your favorite budget­friendly resources? How would you describe your aesthetic?
Yes, I believe you can decorate your home and keep within a budget. Mixing investment pieces with more affordable options can give you a beautiful look and you don't have to feel guilty about spending your entire paycheck on one item! Some of my favorite resources include Etsy (I order a lot of pillows) and HomeGoods (fantastic for designer lighting and home accessories). I've found some very expensive Frette linens, Drexel Heritage lamps and Ralph Lauren furniture for a steal. I am in love with Wisteria, an online furniture and accessory store that has unique finds with affordable price points. It is one of my top go­-to resources for just about every client. Jayson Home & Garden has great accessories and West Elm is a tried and true resource.
My aesthetic lends itself to more modern furnishings with a touch of glamour. I like clean lines, neutral fabrics, and I love textures.
Many of our readers are at a point in their lives where they're furnishing their own living spaces for the first time, which can be quite overwhelming. Do you have any advice for our Everygirl readers who might be struggling to establish their own cohesive style, especially on a budget? What are your guidelines for knowing when to splurge and when to save?
Thanks to Houzz and all the wonderful design content on the Internet, I recommend clipping photos of spaces you love. Hopefully after some research you begin to see a pattern with photos you like. Do you like spaces showing the same color palette? Are the furnishings more rustic? Modern? From there you should be able to get a sense of your style. Then you can map out where to start. My advice is to start with the large pieces first, so for instance your sofa or a rug, then go from there in finding a nice coffee table, lamps, etc. One thing that I tell every client is this: if you love it and you can afford it, buy it! The reason being­­ no matter if you are renting or own a place ­­if you love it, you'll always find a home for that particular piece of furniture/art/lighting/etc. If you don't love it, don't buy it.
I also truly believe that discounted and vintage stores are great resources for finding accessories and finishing touches for a space. The savings you achieve can be used towards a more expensive and necessary investment piece. As a guideline, you should allot more money for a quality sofa because it is something you use every day or almost every day. It is a place of relaxation, so you want it to be comfortable. I happen to love lighting and am willing to spend a little extra on anything unique which makes a space feel more special. Save your money on pillows and accessories; they can be changed out seasonally and you could tire of them. You also don't want an expensive pillow if you have kids or pets because it only takes one time for it to get ruined!
Let's say you have a great set of basics: sofa, coffee table, dining set, etc… How do you take those basics and elevate the overall style of room into something sophisticated and magazine­worthy? Are there any tricks to making a room look more impressive?
One thing I've learned, and continued to learn, is that it's all about the details. The accessories and personal touches are what make a home. Books can be your best decorating asset! If you don't own a lot of nice, hard cover books just go on Amazon and buy books that are of interest with beautiful covers and start stacking them! Or if you're really on a budget, I've bought $1 hardcover books to fill clients' bookcases from the library and no one was the wiser!
Fresh flowers make a world a difference, as do live plants and trees when decorating your home. I personally love fiddle fig trees (you see them in every design magazine for a reason). They look killer in person and in pictures.
My advice is to mix some inexpensive accessories with a few pricier accessories to give your room an impressive look. Add texture with blankets and different types of fabrics for pillows. Try to think of decorating in terms of vignettes—for example a chair and side table; your coffee table; fireplace mantle; etc. Each of these is a smaller area that needs attention and focus to detail.
What are your favorite sources for inspiration? How do you stay ahead of the trends? Which trends are you excited about and which ones are you over?
I live on the Internet and thanks to Houzz and Pinterest, there are millions of photos for inspiration. I also subscribe to many shelter magazines, even some abroad, to keep me up­-to­-date on the industry. Specifically, I adore Elle Décor and House Beautiful. The new Domino is back and I love it. I also love Lonny.
I try to take as many opportunities as possible to attend design events whether it's High Point (a design blogger conference), industry luncheons, or speaker events. The more you get out there and talk with others in the field, the more you're able to listen and learn from others. Tobi Fairley happens to be one of my favorite speakers. I met her a year or so ago and she couldn't have been nicer. She let me pick her brain with questions I had about my business. She offers great design camps and other resources for those interested or already doing design.
In terms of trends, I am loving the mix of metals. I don't like rules, so rules can be broken here! Yes, you can mix gold with silver and it will look fabulous. I love that gold is back. I also love that wallpaper is back and I think it is here to stay for a while. There are so many gorgeous, affordable options out there. The new temporary wallpapers are designer favorites for those clients who are renting.
Life is too short to waste your time with people who don't lift you up/bring out the best in you.
In addition to owning your own interior design business, you are a mommy to two daughters! How do you balance both? Has being a mom influenced your design sensibilities at all?
It's a tough balance, but I'm learning more and more to just prioritize what MUST get done with my family and business first and then work from there. I have a to-­do list for my family and one for every client, so each day I try to knock off items, starting with the most important or time­-sensitive ones first.
Being a mom has influenced my design decisions in my own home because this is a great example of where spending a lot on a sofa actually won't work, at least at this point in time. My five year-old will inevitably find a black ink pen, sit down with it and well, it's downhill from there! That said, what we have now are mostly moderately priced pieces that look good, but we won't be out several thousand dollars if something happens. I do, however, splurge on things that I absolutely love and know I'll always want around.
What advice would you give to your 23 year­-old self?
I would tell myself not care so much about what people think and always be true to who you are. As you get older and have more life experience, you realize that you have to embrace who you are and if others don't like it, it's ok. Life is too short to waste your time with people who don't lift you up/bring out the best in you.
Jennifer Wagner Schmidt is an Everygirl…
If you could have lunch with any woman, who would it be and what would you order?
First woman would be my mother; she is my very best friend and we can talk for hours. I'm lucky to have her in my life! Second person would be Tina Fey. She is so successful and seems very down­ to ­earth. I'm quite certain that lunch would be super fun! My order would be the same: sushi and a glass of Cabernet.
Dream vacation?
Positano, Italy
Life Motto?
"Make it Happen"
Coffee order?
Caramel Macchiato