While there are some of us who chase our dream jobs, Jessica Rourke decided to defy the odds and create her own. Stumbling across her passion for orchestrating events during college and combining it with her love for food and her focus on visuals, Jessica became a woman with a full-time job as a graphic designer — with a relentless dream to one day become a wedding planner.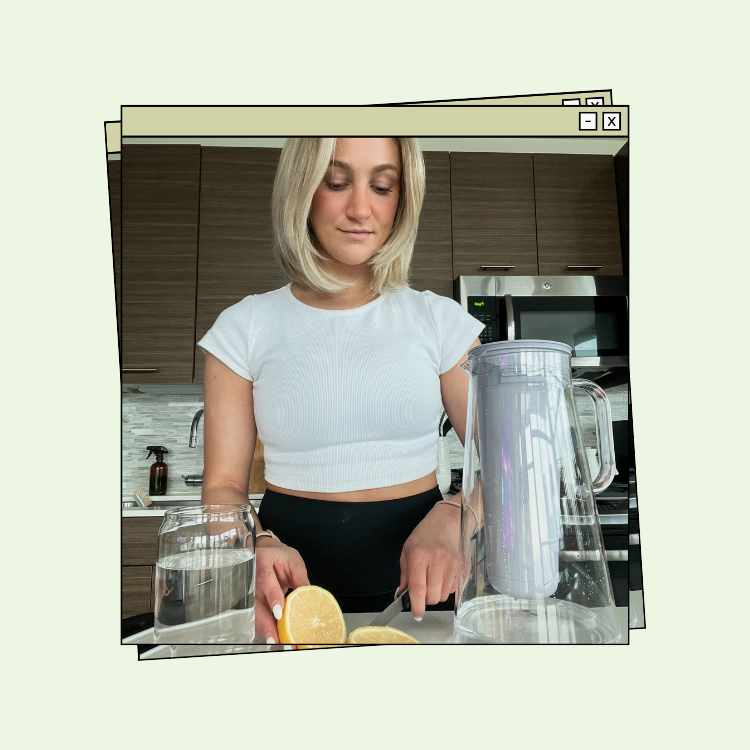 get it right in 2023 and beyond
Through her hope to achieve her goal and her determination to never settle, Jessica built her experience in the wedding industry in between the hours of her 8-5 job. After years of shadowing and growing her knowledge in the field, she founded Jessica Rourke, a wedding and planning company that currently serves brides across the southeast. Here, she tells us her favorite moment during any wedding, what all wedding planners want you to know, and more about the online course she's created to help aspiring wedding planners alike.
Name: Jessica Rourke
Age: 35
Current Title/Company: Jessica Rourke | Planning + Styling of Weddings | Owner + Designer
Location: Columbia, South Carolina
Education: Fine Arts Degree – Focus in Graphic Design
What was your first job and how did you land it?
My first big girl job was as a Graphic Designer working directly for an older gentleman. I landed it through a friend of a friend. My dad has a lot of sayings — and one of them that always drove me crazy growing up was, "You get your first jobs through friends and family." I always thought, "Nope, not me! I'll land my first job with no connections, all on my own." But what do you know? That referral from a friend of a friend got my resume moved to the top of the pile, which led to an interview, which led to me being able to come in and prove that I was the gal for the gig!
Why did you decide to be a wedding planner, and what factors led you to taking the chance and creating your own business?
At 22 years old and two months away from graduating with a degree in Art with a focus on Graphic Design, I found myself longing for more than a life behind a computer creating brochures that people would toss away after glossing over for a moment or two. While my fellow classmates dreamed of designing for local hospitals, Southern grocery store chains, and small town magazines, I couldn't help but daydream of other things. My mind went to my true loves in life… food, fashion, gatherings with family and friends, and in general just visual details. I thought, I'm not sure what my dream job would be, but wouldn't it be amazing if it included all those elements?
I thought back to a recent revelation I had, that my mother would later reference as the moment "she knew I was going to flourish as I transitioned into the real world." I had signed up for a course in college called "Theater Production." It was known as an easy way to obtain a quick credit, as it connected only with the University's Spring Theater Production. You met with the Director, who had each student sign up for a task. Prop Design, Costuming, Ticket Sales, Poster Design, and "House Manager." I jumped on board to be the House Manager, whose duties are to control the environment and experience of the "front of the house." From doing a theater walk-through to ensuring that the space is ready for the audience, to coordinating the box office volunteers, to ordering the programs, to briefing the ushers on how to greet latecomers, to opening the doors right before intermission, and adjusting the lighting, I did it all. It was such a production, full of moving parts, important team members, excitement, and anticipation. I fell in love with the orchestration of it all. My mom was randomly in town one evening and came to see the show — I guess she saw the connection and interest I had in this ever-changing scenery, and how I thrived being a small part of creating a pleasant and welcoming atmosphere for the crowd.
Now I had a new love — the love of orchestrating an event… and I had my old loves — food, fashion, gatherings, and all the visual details I am drawn to… what if I could combine ALL of those? Wedding planning quickly popped into my head, and that was it… I was determined… I am going to have a wedding planning business. This was in 2004, and weddings were quite different than they currently are, so I pulled out the Yellow Pages (remember those, yeah you probably actually don't!). I looked up wedding planners, and there were only three in my hometown. Perfect! "There is a need, I'll start my own business in my hometown when I move back this spring — done!" I quickly told my parents my new idea (I think I even tried to get my Mom on board as my business partner?!). Then after a few conversations with them and others, I realized… "I literally know nothing about weddings, other than I love them and have attended a few."
Luckily for me, I knew a seasoned wedding coordinator, who was top notch and had been in the industry for forty years. I began interning, shadowing, and watching her every move on wedding days. She was such a professional, and I desperately wanted to have her skills. Through working wedding days, I began to learn the etiquette side of weddings. I was longing for more knowledge though, so I started to search for more ways to gain it. When I looked online, all I saw was cheesy programs that promised you certification. I didn't care about being certified, I wanted to be knowledgeable, experienced, and an expert. I searched for a modern day book, and then quickly realized there were literally almost no books out. I remember being so happy when I found ONE book on Amazon (this is when Amazon only sold books!) that met my needs…
I ordered it and it became my Wedding Planning Bible. While working full time as a Graphic Designer, and every day longing for more for my career, I would work in the afternoons on weddings I was helping with, or brainstorm ideas of how to grow my business. I would make, perfect, and edit timelines and pull out my book for reference. I started booking a few small, modest weddings on my own, and would be over the moon on each wedding weekend. I loved how each event was different and there were always new challenges and obstacles to overcome, yet the basics of the day were traditions dating back hundreds and hundreds of years. I loved the moment the groom could see his beautiful bride walking down the aisle, I loved watching the father of the bride dance with his daughter, holding her tight and fighting back the tears. I loved the moment the bride saw her reception for the first time and squealed with delight at how beautiful everything turned out.  
I kept working my 8-5 office job, and pretty much internally hating every moment of it. I was bored, and I longed for more. I love working, but I did not love the lifestyle or subject of my work. I would sometimes go to the mall during my lunch break to walk around Williams-Sonoma and daydream about quitting my job that very day and start working there. I would think, "At least I would have more human interaction, I could move around, I could create beautiful window displays, and cook up some delicious food during the cooking classes for customers."  I was desperate for more — but it wasn't the right timing. I needed more experience, more connections — and starting your own business is always a big transition with finances.
I stuck that 8-5 job for over three years, and working any and every wedding I could on the side —  until the day we moved to NYC. I remember the feeling of walking out of that office and crying happy tears. I knew in my gut that would be the last time I would have a job that made me feel the way that one did.
We lived in NYC for a short period of time for my husband to get his Master's. I wanted to truly soak up all that NYC had to offer me — I took classes at Parsons, I worked at Fashion Week, I decided to randomly intern at the age of 28 for a top fashion designer (because, why not?!), I worked at a high-end bridal boutique, and I did some freelance graphic design and wedding coordination. I completely submerged myself into the creative and bridal industries. I was introduced to others who had a common thirst for knowledge, for being a joyful worker, and for creative collaborations. I began to realize the importance of creating your tribe of fellow creatives who were on the same journey.
Those three components were key once we moved back to South Carolina and it was finally time to take my business full time! Starting a business is truly like having a baby. It takes all your time, focus, finances, and energy. There is a lot of hustle, a lot of long nights, a lot of obsessing over every detail. I felt like my whole life from being a little girl to becoming a young woman had led me to this point, where I became a small business owner. From that first entrepreneur itch as a child, which led to buying bulk candy and selling it to make a profit, to my mom encouraging me to do my 4th grade science project on "The Art of Naturally Dying Fabrics" instead of the typical volcano experiment, to my college years where I truly learned about design and how to present my ideas to a group, to post grad life that truly solidified my personal need to love my daily work — it all had led me up to the moment I had been envisioning all those years — the point of being a female entrepreneur.
It's fair to say you play a huge part in a very important day in people's lives — how do you manage this pressure?
I believe weddings aren't meant to be stuffy or stressful, and as planner, it's a gift that we get to serve a couple during such a momentous time in their lives — and I love keeping the celebration at the forefront of planning!
I also always say, "If I'm not cool and calm on a wedding day — who will be?!" 
Can you share with us one thing you believe everyone should know about working with wedding planners?
Remember why you first wanted to hire a wedding planner. It's because you are admitting that you need help with the planning process, the decisions, the orchestration, and that you were drawn to their aesthetic.
Trust that professional to truly guide you through the process! If you do, they will do their best work, you will enjoy the process, and you both will flourish during the planning period. Working with a wedding planner means they will guide you through your engagement, take you step by step through the sometimes overwhelming checklist, connect you with the best vendors in the industry, and create a day that is truly an extension of your style, all the way laying out the day perfectly for your guests.
If I'm not cool and calm on a wedding day — who will be?!
Tell us the process from when you meet the couple to helping them with their big day. How do you personalize the experience for each client?
For my Full Planning + Styling clients, we start out the process by really focusing on their top three most important components of the wedding day. Are they a total foodie and want to put a big focus on the menu? Do they love photos and want the very best photographer? Is the bride known for her personal style and wants a custom gown? I like to figure out what those three categories are. Then I dive right into their budget and adjust those categories to give us a little more room for spending, and decrease some of the other categories that are less important to the couple.
Next we do our Pre-Styling Meeting, where I ask the bride to bring me 10 images that she is truly drawn to. These images range from architecture, fashion, photography, florals, landscape design, accessories, etc. I encourage my clients to get "old school" and tear out magazine pages — any image they are absolutely loving even if they don't know why. I prefer to do this vs. creating a Pinterest board. While Pinterest can be a great tool, I find with brides it tends to encourage copying looks, or feeling pressured to do a certain look because it's what is in vs. creating a day that truly reflects the couple's personal style.
We then look through these images together and I can quickly begin to see common themes. For example, they are drawn to asymmetry or they love a color palette of tone on tone neutrals with green accents. They like a touch of whimsy to off-balance a traditional look.  It's so fun to connect all the elements they are drawn to and get a true sense of their personal style!
After dissecting these visuals, I can begin to recommend vendors that will be a good fit for their budget as well as their style. We begin interviewing and securing contracts for all vendors. During this time I will also begin the styling the actual wedding day, in the Styling Presentation which usually ranges from 20-25 pages. This presentation breaks down every visual element of the day, and of course connects to their overall event budget. From bridal party fashion, to floor plans, linens, lighting, paper pieces, floral needs — it's all laid out here. We then go through this presentation together, and I talk through each visual component. I always remind the clients at the beginning of the wedding that this is absolutely a customizable process. Their feedback during this process is so necessary! If they love something, hate something, or want to re-explore something — I want and need to know all of this! We usually go through two rounds of edits, and then I have them sign off on the visual plans, just like you would with an architect. Then I can get to work asking for specific quotes from our vendors for all those elements. I find this is when my clients are usually very, very happy that they have a wedding planner, as so much of planning is communication. From asking for quotes, to following up on edits, to receiving contracts, to relaying details, and then finishing up with the install questions and the actual orchestration of the vendors jobs — lots of communication and back and forth!
During this time I also have monthly checklists for clients, and each item is marked whether it's an item I handle taking care of, or if it's something they need to take care of on their end — like making the guest list or registering for gifts. The never-ending checklist for the planning period can be overwhelming, so I encourage my clients to take their tasks on monthly vs. looking at the entire checklist and jumping around from task to task.
With the large number of wedding planners available, what's your trick to standing out and getting clients?
I tend to truly think there is enough work for everyone, and that it's so important for brides to find a planner that is a good match for her personality and needs, just as it's important for me to find clients whose personal style aligns with my aesthetic and will allow me guide them through the planning process.
My planning process is seamless and stress-free because of our straightforward approach, attention to detail, and commitment to serving our brides.
I believe in beauty coupled with service-driven organization, carefully preserving heritage, and cultivating classic Southern style alongside a bride's modern wishes.
You've recently created an online course to help people achieve their own dreams of becoming wedding planners — that's amazing! What are some topics you focus on and what skills do you believe all wedding planners should have?
I am drawing back the curtain so students can virtually shadow me on the job and in my studio, learning the exact steps to building the profitable wedding planning business of their dreams.
My Engage course was created after countless hours coaching women over coffee dates through the very steps that are included in this program: it's my blueprint to starting up a wedding planning business that gets you hired and paid for your eye for detail and heart for weddings. It's a roadmap giving the training, toolbox, timelines, checklists, swipe files, live support, and more so you can start booking your first official wedding clients — and deliver a stellar client experience that backs it up.
I tend to truly think there is enough work for everyone, and that it's so important for brides to find a planner that is a good match for her personality and needs.
Amongst the weddings you've planned, is there a favorite moment in them that you look forward to seeing?
Ohhh yes! My hands-down favorite moment has always been and will always be seeing the groom see his beautiful bride for the first time. While everyone is peeking down the aisle to see the bride, I am anxiously awaiting to see the groom's face when he first sees his soon-to-be wife make her debut.
Although now that I have entered a new season in life — parenthood (!) — I am having to fight back tears during the father/daughter and son/mother dances… it's so special to think about all the countless hours they have poured into their offspring via love, work, and devotion and what a special day it is for them to celebrate their child on this day, as their children start a new chapter of their own lives.
What's the most surprising aspect of having a career in the wedding industry and how do you make it work in your favor?
So much of what goes into planning a wedding is correspondence oriented. So much of it is tedious communication and very detailed-oriented. By working directly with your vendors and working through that never-ending checklist, I am committed to doing the heavy lifting for you so that you can focus on joyfully preparing for the most important part of your wedding day — your marriage!
Walk us through your typical work day.
I usually batch my work into groups — I'll try and batch site visits and client meetings on certain days all together, so that I am in total meeting day. Other days I try to batch creative projects together, or back end business together. I find that when grouping similar work projects together, I am more effective in getting tasks done more effectively and quickly.
Each night before work, I use one of my favorite apps — To Do List — to prioritize what needs to be done the following day. With wedding planning being such a task-oriented job, with such a variety of tasks, I find that it's most helpful to go ahead and lay out the order that I want to go through those items, vs. jumping around from thing to thing each day. I guess it's not surprising that as a wedding planner, I plan out my work days so specifically.
I would say that my work personality is a "Lower Case A Personality" — I am detailed and task oriented, but I also love the ability to switch things up on a whim! That's one of the perks of being a boss lady! If it's a beautiful spring day, why not take my laptop outside to work through emails, or if I've carved out a morning to focus on back end business but those creative juices are flowing — I am so down to switch gears when I can and focus on what I am feeling excited about getting done that day!
Congratulations on your recent baby boy! Did your pregnancy impact you in any unexpected way? What was your approach on maternity leave as a business owner?
Thank you! Sweet baby Thomas has been the best addition to our now little family of four. With this being my second pregnancy in the past two and a half years, I definitely learned a bit along the way. When I was pregnant with our daughter Vivienne James, I didn't want to slow down at all, even on a wedding day, which can end up being 12-15 hours on your feet (with a big ol' belly!). I learned after a while that I needed to count on my team a bit more on the actual wedding day, as sometimes pregnancy does slow your roll a bit — and that's okay, as you are growing a beautiful baby after all! So it definitely reminded me of the importance of having an amazing team, teaching them, and then trusting them to do their jobs.
I've always known that I wanted to be an entrepreneur, for lots of different reasons. One of those main reasons was because I wanted to have a family and I also wanted to have a creative career, but I wanted those to go hand in hand. I wanted my job to truly work around my family, and not my family to work around my job.
One tricky aspect of owning your own business as a woman is maternity leave. A solid maternity leave is something that every woman deserves and needs — emotionally, mentally, and physically. I am a firm believer that every mother should have a minimum of three months off work after having a baby. You need time to fully focus on your little one, get to know them, and when you can, let your body rest and recover.  Carving this time out during my first pregnancy was terrifying to me. I actually worked with amazing business coach (Jeannie Sullivan) to wrap my brain around how to do this, why I needed to do this, and then have the confidence to implement it.  Once my second pregnancy came around, I had that full confidence in the system I had created and the support to sustain it.
Motherhood is a lot of hard work, a lot of fun, and a lot of responsibility. I still can't believe that I have two little ones. I am reminded that every day counts with them, that it's my job to nurture them, protect them, pray for and with them, teach them to enjoy the simple things in life, and have lots of dance parties with them. I think motherhood truly made me shift the way I work in a more healthy way and a less obsessive way. The first couple years of starting my business, my business felt like my baby and it needed to be my baby. It was my true focus, and I put a lot of blood, sweat, and tears into growing it. But you know what? It has grown, and while it will always be nurtured and well maintained, it doesn't need all my attention. I'm so glad I was able to create, grow, and nurture my business before diving into motherhood.
I now have created room in my mind for blank space. Time to put the computer away, and time to focus on nurturing these little ones that the Lord has given me. And I know that is the most important thing I will ever do, and I'm so thankful it's now a part of who I am.
You aren't going to land your dream job the summer after you graduate. And that's okay. It doesn't mean it can't or won't happen.
Where do you see yourself and your family in five years?
I see us renovating a historic house, adding a big beautiful pool in the backyard (summers in the South are brutal!), and having our house become the spot to host our children and their friends for years to come.
What advice would you give to your 21-year-old self?
This is the advice I constantly give my interns… Work hard, work really hard. Keep looking for ways to obtain the skills you need to have for your dream job. This may be from interning after you have a college degree. This may be from reading books, or taking online classes, or volunteering. This may be from admitting that you know nothing about a certain area of work, but you are thirsty to know it all and will pursue that knowledge.
You aren't going to land your dream job the summer after you graduate. And that's okay. It doesn't mean it can't or won't happen. You may picture yourself in that role — and that's a very good thing. Never stop visualizing yourself in that role. Know that you are young, and that's magical! You can play your young card to your advantage by asking lots of questions, volunteering, and using your free time to take classes, practice your craft, and keep showing up in life. Stick with all those things, keep visualizing your dream job, and I promise you that you will create a career that rarely feels like work, and keeps you thirsty for more!
Jessica Rourke is The Everygirl…
Go-to coffee order?
Honey Vanilla Latte — goodness I drink way too many of these.
Typical work outfit?
On a wedding day, I am all about a great black jumpsuit and some showstopper earrings!
Iconic family-friendly movie?
Moana… she may have saved me this summer when I discovered her on Netflix for my almost two year old — those last few weeks of pregnancy, VV and I watched this movie a couple times of week! I'll forever be thankful to you Moana 🙂
Favorite wedding trend?
My favorite current trend is that weddings are coming back to the basic elements — and brides are nixing all the extra fluff that adds stress and waste.
If you could have lunch with one woman, who would it be and why?
Martha Stewart. She is the OG of… all the good things… making it cool to be a homemaker, weddings, baking, food, decor, etc. How could I not pick Martha?