I, much like many of you (I assume), follow A LOT of bloggers. Whether they specialize in food, fashion, decor, or some of each, I'm OBSESSED with following, learning from, and low-key stalking (who said that?) my favorite influencers.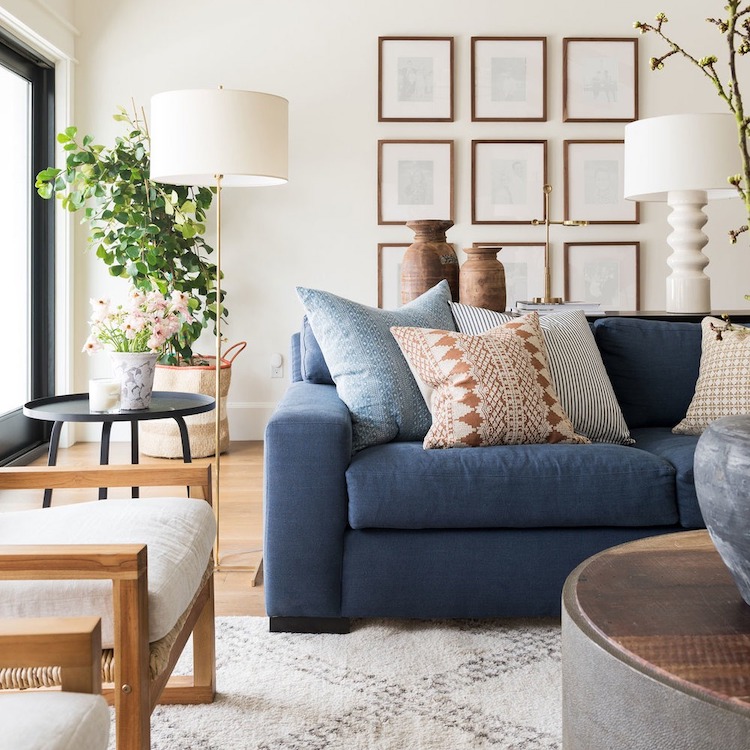 don't make the same mistakes I did
When I say that Kat Tanita is my ALL TIME FAVORITE, I'm not kidding. I first worked with Kat about a year and a half ago, when we first featured her gorgeous Manhattan apartment — I couldn't believe someone could be so well-spoken, talented, chic, and beautiful (with such an insanely enviable home!).
Since we first featured that NYC pad, Kat's been pretty busy. She moved to California, and she's currently in the process of adding a massive addition to her brand — a wellness cookbook! Read on to catch up with Kat's exciting life updates — and to take a peek at her beautiful Venice, California home!
Name: Kat Tanita, Founder/Blogger at With Love From Kat and most recently writer of a new wellness cookbook which will be out next year!
Age: 29
Location: Venice, CA
Rent or Own: Rent
Sq. Ft.: 1700 square feet
Years Lived In: 2 years
We've previously featured a home of yours — your gorgeous apartment in NYC's West Village! That was over a year ago — give us a life update on what you've been up to since then.
Yes!  I moved to LA almost 2 years ago.  I fell in love with a charming beach town called Venice after a summer road trip 3 years ago, and knew I had to live there.  I was ready for a change after six years of the hustle and bustle of NYC. I really wanted a slower pace of life, better weather, and to be by the beach! My life has changed drastically over the last few years — and in the best way. I meditate, I do yoga, I am now talking about a ton of wellness topics on my site — which my readers have been craving and asking me about for years —and most recently I wrote a wellness cookbook inspired by my new hometown — it will be out next year!
What's your favorite part of living in southern California?
The weather, the friendly people, the laid back vibe, and being able to be outdoors/do outdoor activities all the time!  I hike, I bike, I swim in the ocean — it's a dream living here.
How does your life in California differ from your life in NYC? What are the biggest differences?
It's a complete 180.  My NYC life was very fast-paced.  I moved there in my early 20s and my mission was to make it in the fashion industry.  I worked in fashion PR and wrote my blog every night after work until midnight and on the weekends until I eventually decided to write it full time a short while later.  The six years I lived in NYC were nonstop — I was building my blog, traveling all over the world, networking and attending every event possible, going to 10 coffee meetings a day, and solely focused on my business.  I loved it and it was the most exciting time of my life, but I got really burnt out and I started to not feel fulfilled. I missed the sunshine (I grew up in Arizona and love warm weather), I was suffering from debilitating bloating and stomach pain that no doctor could diagnose (which is why I wrote my cookbook!), and I was stressed and had just gotten out of an eight year relationship — so I was devastated from a breakup.  
So at the end of my NYC days I was not my best self and I really wanted and craved a change. I fell in love with Venice — a charming beach town that was walkable and full of cute boutiques and restaurants of NYC caliber. People were SO happy and I just gravitated toward that energy! I still work my butt off and am very passionate and career-focused, but my life has so much more balance and meaning now. I have a dog, I appreciate nature and take long walks on the beach, ride my bike on the boardwalk, and practice self care. I meditate, I cook at home, I stop and smell the roses — and remember that life is short and meant to be enjoyed!  It's not all about work! I started talking about my journey and more real/wellness related topics on my blog and the feedback was amazing and so it's been really exciting to open up more on my site and connect with my readers in a deeper way, which has given me a great sense of purpose!
How did you find your Venice Beach house? What drew you to it?
I found it online!  The kitchen really drew me to it — I believe that the kitchen is a heart of a home and it was huge, with gorgeous fixtures. I envisioned myself cooking for friends and having people gather around the countertop laughing and enjoying good food and wine.
When designing this home, how did you want it to differ from your NYC space? What design elements did you want to keep similar?
I wanted it to be coastal-inspired and more beachy and relaxed.  I used a ton of white linen, shearling, and straw baskets to give it that Venice vibe.  It's three times bigger than my NYC apartment, and just feels very open and is wonderful for entertaining!  My overall fashion style is similar to my design style: classic, feminine with a touch of bohemian. So, I just played up more bohemian elements with this Venice place since it's a very artistic, eclectic town.
How much of your furniture and decor came with you from your previous home?
I actually brought nothing from my NYC apartment! I started completely fresh since a friend of mine in NYC bought all of my furniture — even the artwork!
Your NYC apartment was amazing in so many ways — one of them being your incredible use of a small amount of space. This one seems a lot more spacious — was it difficult to adjust to decorating without space limitations?
Thank you!  It wasn't hard to adjust to the bigger space (it was really nice — I must say!).  I felt like wow, finally, I can have a full set of pots and pans in my kitchen, or have a place to put my scarves or workout clothes instead of jamming them in bags in a little storage closet!  I had a lot of fun decorating this house!
How would you describe the aesthetic of this home?
Classic, beachy, relaxed, and bohemian.
Were there any architectural or structural challenges that this home presented? How did you work around them?
Yes! I painted all of the walls Benjamin Moore Cloud White and I took out all of the existing light pendants and replaced them with my own. I also had a handyman build me a custom bench in my dining nook from a picture I showed him on Pinterest.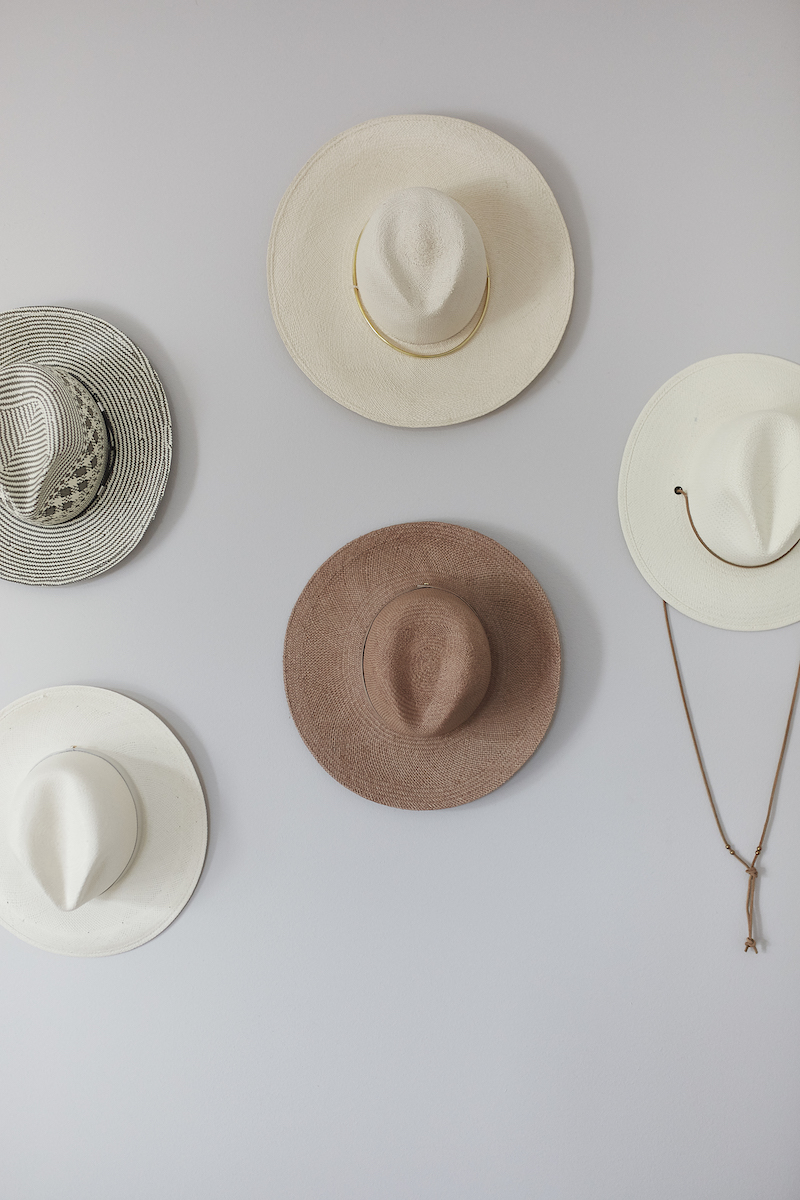 How long did it take before this home (and Venice Beach as a whole!) felt like home?
It took 1.5 years to complete it! But even when it was empty it still felt like a home — and even more so when I got my puppy! I just love the energy in this space!
What's next for you, your home, and your business? What can we look forward to seeing from you in the near future?
I'm really excited to be branching more into the wellness space and just connecting with my audience in a deeper way. I never thought anyone would want to hear about my stomach pains, breakups, career struggles, challenges, or financial difficulties from early on in my NYC days — but they do, and so it's been amazing to be able to share my stories,  knowledge, and help or teach others.
I see With Love From Kat continuing to be a premier fashion and lifestyle destination meant to inspire women around the world, but with a lot more real topics and wellness content. I see my Travel App continuing to be a tool for my readers to be able to experience and see my favorite cities like I do, and for my cookbook to really change the way women think about food, cooking, and health. I look forward to creating content that is relevant and authentic for many more years, and eventually coming out with a decor-based product line!
I'm also really excited to start giving back and getting involved in my community here in LA through the charity Dress For Success. If you're not familiar with it, check them out — they're an incredible organization!
What advice would you give to your younger self? Any advice you'd give to your NYC self?
Trust your gut, don't try to please everyone, and learn to say no.  I wish I would have told my NYC self to trust the process and timing of things — and also to live in the moment and enjoy the ride. 🙂  Thankfully I am doing that now!