At first glance, when you look at Katie DeWitt's bedroom, you see effortless beauty showcased through her chic decor and a timeless sense of style. But after a closer look, you soon realize what you're actually looking at—and this isn't your run-of-the-mill apartment bedroom.
What Katie has done is completely transform a former 1930s-era dining room into this elegant and stylish space. Making use of already-existing charming elements (like those incredible bay windows and that fireplace) and repurposing other ones to become more contemporary and functional, Katie can honestly be considered our DIY queen. Look through her home and see what design and DIY secrets she has to spill about her incredible Bay Area abode. You'll not only wish you were best friends with this Princess Diaries-loving San Franciscan—but also her roommate!
Name: Katie DeWitt, Interior Designer and Stylist
Location: Richmond District, SF
Sq. Ft.: Apartment: 900 sq. ft. Bedroom: 125 sq. ft.
Rent or Own: Rent with three roommates
Years Lived In: Two years
Let's start with a little bit about your background! What was your first job and how did you land it?
My job search after college took almost two years! I graduated with a degree in Graphic Design, but after about six months of freelancing and looking for jobs, I realized that it wasn't my calling. Interior design has always been my main passion, so I shifted my focus to that. I enrolled in a local interior design certification program, cold emailed about a million designers, and worked a retail job to start creating an income. I signed up with a design-focused recruiting agency who eventually connected me with a growing design firm looking for a Junior Designer. The second I walked into their office, I knew it was the perfect fit for me, and I ended up getting the job a few days later! It was a long and difficult process, but I'm so glad that I stuck with it and didn't settle.
Apartment hunting can be quite a daunting task and difficult process in any city, especially San Francisco! What was the process like for finding your place, and what were the specific qualities you were looking for in a home?
The main things on my list were: rent-controlled, great roommates, close to Golden Gate Park, and classic SF charm. I was lucky enough to find all of that in my apartment. I cast a wide net while looking for a place—I asked friends of friends, joined every Facebook housing group, and didn't shy away from Craigslist. I ended up finding the apartment through a Facebook group called "Friends Looking for SF Housing" which I would highly recommend for anyone looking for housing/roommates in the Bay Area.
What do you feel is the quirkiest and most charming thing about your apartment? How do you pick when to highlight something unconventional versus when to maybe give it a bit of a redo?
The quirkiest thing about my apartment is the green-painted moulding and baseboards. When I first moved in they really bothered me but now I chalk them up to "San Francisco Charm" and I don't really notice them anymore. I think it's worth changing unconventional elements when they keep catching your eye for the wrong reasons. Some things are harder to change than others, but if you truly can't live with something, I think it's gotta go!
You literally transformed a former 1930s-era dining room into this now amazingly cozy, chic, and organized bedroom—no easy feat! What initial feelings were running through your mind when you decided to take on this project, and what was that process like?
I had been living in another room of this apartment for a year and half before my old roommate moved out and I took over the space. Before officially moving rooms, I was very intrigued by the huge bay window and couldn't wait to get into the space. The unique elements—no closet, fireplace, unusable french doors—didn't scare me. Instead, I saw them as a fun design challenge. I really enjoyed the process because I got to customize the room to my needs.
What would you say were the biggest hurdles you had to overcome with your renovations, and how did you get through them?
The biggest hurdle I had to overcome was my budget. I originally had a grand vision for the room that involved all new furniture, bedding, and accessories, but as I got deeper into the project, I had to alter my vision to fit within my budget and work with pieces that I already had. This also forced me to get creative with my closet and shelf wall. I ended up spending around $200 at the hardware store instead of $1000+ shopping at retail furniture stores. I allowed myself to spend money where I felt necessary and practiced self-control in other areas.
It's super impressive how you repurposed so many parts of your home to change their role, like how you used the walled-off sliding doors as a headboard for your bed. Growing up, did you spend a lot of time around people who had an eye for DIY projects? When did you first realize your passion for them?
I have always been super crafty and I'm lucky to have grown up with parents who were both supportive and influential in that aspect. My mom is very creative and always has some kind of art project in the works. She always used to tell me, "There are no mistakes in art." I revisit that mantra a lot while working on projects. On the other hand, my dad is great with planning and executing, so growing up I spent many weekends with him rearranging my room and dreaming up my next furniture scheme. He played a huge role in this room transformation too!
We love that you've turned items such as clothes, beauty products, and books into design elements. What tips or hacks do you have for incorporating these sorts of things into your home as decor and maximizing a smaller space?
I have found that when I surround myself with things that I love, they all seem to have a similar look and feel—even small things like makeup brushes, skincare, and everyday clothes. My advice would be to not worry too much about what "goes together" and focus more on honing in on items you really love and what you want to look at every day.
For those of us who really want to start a DIY project but have no idea where to begin (or are simply overwhelmed), what do you suggest for making the process as efficient and smooth as possible?
My advice is to just start! Sometimes I get so wrapped up in the "what ifs" that when it comes to actually starting a project, I start to doubt myself and delay the whole project entirely. My favorite projects have been the ones where I learned and planned as I went along. Sometimes leaving room for the unexpected can make all the difference!
You have a good amount of style and interior design-related books on your bookshelf. How has your design style evolved over the past few years?
My style has evolved a lot since working at an Interior Design firm. I used to gravitate towards an overly-feminine aesthetic, which is still lingering in my book collection. Since being exposed to so many different styles at work, I now have an appreciation for design in a broader sense. I'm currently getting inspiration from Beatra Heuman, Colin King, and Dan Mazzarini.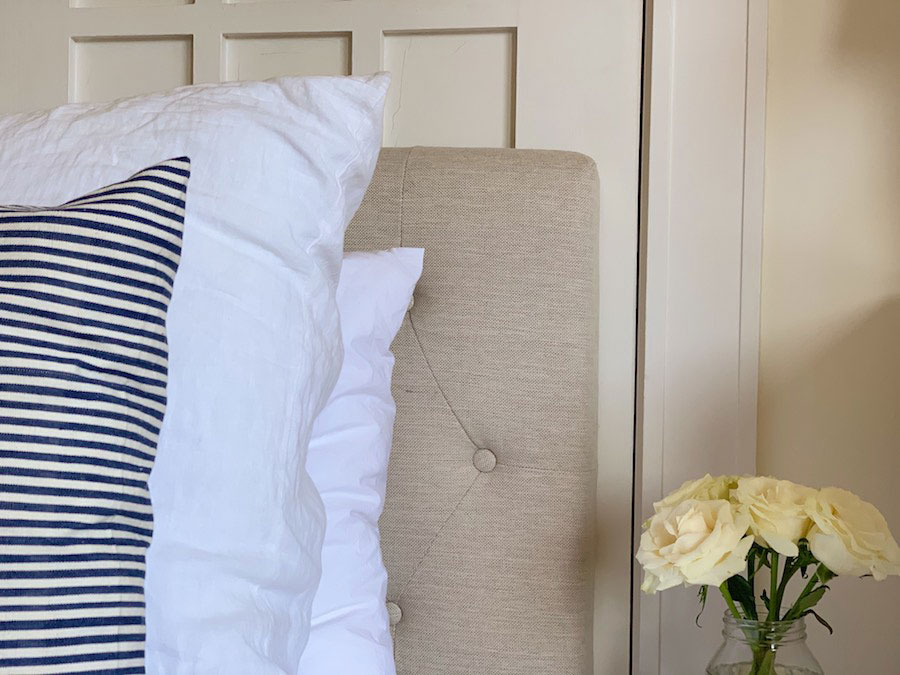 Which item in your home is one of your most sentimental pieces that you treasure, and why?
A small blue canvas painting by my great Aunt Zella. I found it buried under boxes in my grandparents basement a few years ago and have treasured it ever since. She specialized in larger landscapes so I've always imagined it was one of her "practice pieces." I love it because it feels like an insight into her creative process.
How have the the city and your neighborhood influenced your home's design and decor? What's your favorite part about living in San Francisco?
San Francisco brings out a more laid-back and casual side of me. But even though we're by the water, San Francisco is definitely not a traditional "beachy" town—I think we use materials like jute and linen is a casual-yet-refined way. My favorite part about living in San Francisco is commuting across the Golden Golden Bridge every day to my office in Sausalito. Even though I grew up in the Bay Area, the view never gets old!
What advice would you give to your 22-year-old self?
Slow down and enjoy the ride. You don't need to figure everything out all at once. Focus on what you love and you are bound to succeed. (I remind my current self this a lot too!)
Katie DeWitt is The Everygirl…
Best gift you've ever received: A vintage Pentax camera from my brother
Most unusual app on your phone: Tip calculator—math is not my strong suit!
Movie you can watch anytime, any day: Princess Diaries
Your favorite dish at any SF restaurant: Winter Salad from Blue Barn
Favorite scent: Peony & Blush Suede by Jo Malone
#1 self-care activity: Starting my day at the gym
If you could have lunch with any woman, who would it be and why? Emma Watson, because I've always admired how she uses her platform for good. She is also soft yet strong and she has amazing style. The modern-day Audrey, if you ask me!
GET THE LOOK