Maybe it's just the air of southern hospitality in Georgia, but there's something that says "Welcome, come on in!" at the front door of Kendal Rogers' Atlanta townhome. Just ten months ago, the 26-year-old interior designer and her husband, Jonathan, realized it was time to look into buying property; the rent on their old apartment had gone up dramatically and the property market was still in a good place. Upon finding their current place, Kendal explains, "We walked in and said, 'The Christmas tree will go there,' and that's how we knew it was meant to be." While living in Atlanta provides the perk of having a large living space at a more affordable price, finding enough furniture to fill the space added a new, expensive challenge.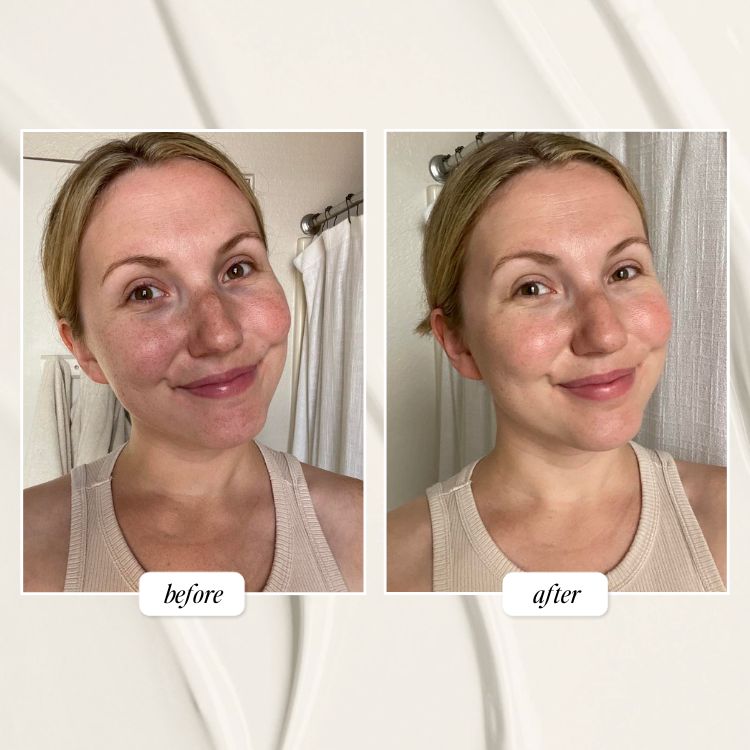 As a full-time Project Designer at Sims Patrick Studio, an interior architectural design studio, Kendal is constantly discovering new interior design trends and finding ways to expand her creative horizon. When it came time to decorate their new two-bedroom townhome, Kendal had a chance to run wild without the same restrictions she has at work. Their home now boasts the touch of an interior designer—warm wood floors with patterned accent rugs, a neutral color palette with hints of bright colors splashed on bookshelves and end tables, and comfortable, modern furnishings.
Kendal talks with us about how accumulating pieces over time, watching for sales, and focusing on one room at a time makes it easy to stay within budget without having to sacrifice quality and charm. As you take the tour, you might never guess that scattered throughout the house are some of Kendal's affordable DIY-refurbished pieces (we're talking $10-fabric-and-a-staple-gun-affordable). The go-getter couple took a lot of projects into their own hands, from painting every wall to installing light and plumbing fixtures. We're so excited that Kendal welcomed us into their home, so come on in, fall in love a little, and be sure to check out the artwork in the living room—they're Kendal's creation!
Name: Kendal Rogers
Age: 26
Location: Atlanta, GA
Current Title/Company: Project Designer at Sims Patrick Studio & Design Blogger (Haute Obsession)
Educational Background: Bachelor of Fine Arts in Interior Design, Art Institute of Atlanta
You work as a hospitality interior designer. What's it like to go from working as a designer in a business setting, to coming home and styling your personal space? How is it different?
When designing both my hospitality projects and my home, the basic design principles of line, color, shape, texture, space, and form are always most important. That is basically where the similarities end. When working for a client on a hospitality project, the focus lies on so many factors such as durability, cost, availability, client relationships, etc. in addition to the basic level of aesthetic design that we are obviously looking to achieve. At home, I love the fact that I can do basically whatever I want without worrying about pleasing clients and owners, complying with codes, and so many other factors that drive my designs at work. Only about 15% of my job is thinking up exciting spaces, so it is nice to come home and let my creativity make things happen. It's always fun to find a great idea at work that may or may not be feasible for a hospitality space, but I find a way to bring it home and make it work for my own space!
Is your designing style at work similar to your style at home?
I love it when I get to design a space at work that reflects my personal style, which happens quite often. The thing I enjoy even more than using my personal style in a design at work is getting to create a space that is completely different than something I would do at home, but loving it just as much or even more. I find myself saying over and over again "I would never do that in my house, but I love it so much!" It really helps to broaden my spectrum and open my mind to many different styles of design and even try some new things on my own!
You live in a townhome in Smyrna, GA. Tell us the process you went through while looking for your place. Do you rent or own? How long have you been there?
We own our townhome, and have lived here since March of 2013. We talked about buying a place for a while, but ultimately decided that we wanted to wait a couple more years before committing to a home, especially since my husband is in grad school right now. When our apartment lease was up for renewal, the rent was going to go up almost $150 per month, so we decided to look elsewhere. In the end, it just made sense to buy for us since the market and interest rates were so good at the time. We began our search and actually found our home on our first day of looking at houses. We walked in and said "The Christmas tree will go there," – and that's how we knew it was meant to be.
You shared that while it's great to have a "new" home without issues like mold, faulty wiring, leaks, etc., the fallback was home without character and charm that older unique homes have. What challenges did you come across when trying to differentiate your home from the one next door?
The neighborhood that we live in has over one hundred homes and only three floorplans, so we definitely had a challenge when it came to making it our own. Everything was builder standard, so the first thing that had to go was the builder-beige paint on the walls – it's amazing what a fresh coat of paint can do for a room! We've been on a super tight budget since we moved, so we had to find anything we could do to make the home more of our own that was affordable and a DIY job, since the last thing we want to pay for is someone's time when we have perfectly good hands of our own, and YouTube. We changed out a few of the light fixtures and plumbing fixtures so far. Next on our list of things to change are the kitchen backsplash and the fireplace surround. Those are areas that have very little square footage (so material will be cheap) but make such an impact on a room.
How did you stay on budget while styling your home? What are some of your favorite places to shop for affordable pieces?
We have a few investment pieces of furniture in our home, but most things are items that I either found on sale, or even created myself. I love to shop the mid-century antique stores for some affordable finds – Highland Row Antiques in Virginia Highlands is one of my favorites! I also do a lot of Target and Ikea shopping -you can really find some great pieces at these places if you just keep an eye out! Another thing I do a lot is make my own artwork. The big pieces in my living room are Kendal originals – canvases off of amazon.com and Behr paint samples from Home Depot. I also print a lot of images off of the internet and frame them for some of the smaller pieces. No one will ever know that the medium is actually "inkjet on printer paper".
Some of my favorite things in my home are things that were passed down from my grandparents (my dresser, side table, china, some chotchkies) and some items that we collected during our travels and while living abroad.
You've accumulated a fully furnished home at quite a young age. Do you have any tips on how to accomplish that? Did you space out your purchases in order to stick to your budget?
One room at a time! We started with our living room, since it is the room we use most and where all of our guests hang out. We followed with our guest room and then dining room. Unfortunately, our master bedroom is our most ignored space, since Jonathan and I are the only ones that use it. My biggest advice as far as sticking to a budget is to have patience! We spend lots of time researching the best price on almost everything. For our sofas, we picked the one that we wanted, and then waited a few months for the yearly upholstery sale so that we could save some money. I have a serious love/hate relationship with Ikea. And mainly just a love relationship with Target.
We've definitely taken quite a few years to accumulate everything that we have, since we started collecting the items that we love once we returned home from living in Dubai. We've finally gotten all of the pieces that we need to fill our home, so I think next we will start replacing master bedroom furniture with something a little better quality than our 6 year old Ikea bed frame.
You mentioned that some of the items in your home were free, how did you score those pieces?
A lot of the time it is just luck! The two chairs flanking my fireplace were free finds. My aunt casually mentioned to me one day that her good friend had some old chairs in her basement that she was going to take to the dump, and I told her to stop and send me pictures first! She emailed the pictures, and I immediately jumped in the car to go pick those babies up! When I got them they were in pretty sad shape. The fabric on them was the original fabric from 1960 and basically disintegrated in my hands. I got a yard of $10 fabric and a new staple gun from Ace hardware and just went at it, with no idea whatsoever how to upholster anything at all. Eight hours later, I had one fully upholstered chair! A few weeks later (after my hands recovered) I went after the second chair. The good news is that once you have experience, the second one goes in half the time!
What is the biggest purchase that you splurged on when decorating your place? Why did you decide to splurge on that piece—why did you have to have it?
The biggest splurges in my home are definitely the two sofas and the dining table. The sofas were an obvious choice – there's not a lot of cheap options out there that are of any quality, so we just found what we liked, saved up our pennies, waited for a sale, and went for it. The dining table is a bit of a different story. We decided when we found the house that we wanted a round Saarinen table for the dining room, and started searching for a good deal. The top is solid carrara marble, which isn't cheap by any means! We did end up finding a fantastic deal online, and while it wasn't a cheap table, we knew we had to go for it. It's one of my favorite pieces in the entire house, and it makes me happy every day when I look at it. So, in the end, it was definitely worth the price.
Where do you look for inspiration?
I have so (so, so, so) many blogs that I try to keep up with, and I get so much inspiration from them. I also love the online shelter magazines like Lonny and Rue. I have a few every day websites, like The Everygirl that I check out in the mornings, and of course, I could spend hours on Pinterest! My favorite home magazines are Elle Decor, House Beautiful, Canadian House and Home, and when I can afford it, Living, Etc. I really do run out of time in a month before I get through everything I want to take in.
How did you create a home that was suitable for both you and your husband (and pup Maxwell)? Do you two have a similar did you have to learn to compromise on decorating or are your styles similar?
My husband, Jonathan, is an architect, so he definitely has more of an opinion that I think most husbands have when it comes to designing our home. We agree on so much, but every once in a while, we will disagree on something completely. Most of the time it is me wanting something that he hates, and most of the time we just find an alternative that we both like. (Every once in a while it is something I just need so sometimes I just have the use the "I design the inside and you design the outside" veto.) We have surely learned to compromise on our styles (as well as compromise on so much else) over the years. We've been together for 12 years, and I think we might be figuring each other out soon.
Has living with a pet changed the way you decorate?
We are so lucky and spoiled by our Max, he really is such a good and low-maintenance dog. We don't have to change a lot to accommodate him in our home. He sleeps in the bed with us (under the covers with his head on the pillow, usually), so I try to keep my duvet cover a dark color to hide any lingering doggie tracks. Other than that, I just drape a blanket over the sofa for him and we're all pretty happy!
What are your current career aspirations? Where would you like to see yourself in 5 years?
I love my job and I love my company that I work for, so my current aspirations and plans don't go much further than moving forward and learning and growing in my current job. My 5 year goals definitely include some additional project management and people management within my company, and becoming a registered interior designer with my NCIDQ license.
Aidan or Big?
Aidan. He's a cutie and a furniture designer – hello!
What advice would you give your 23-year old self?
Don't get discouraged, everything really does happen for a reason. This is where you are supposed to be right now. Don't give up, keep pushing yourself, because no one will do it for you.
LIVING ROOM SOURCES
sofa, Crate & Barrel
chair, West Elm
rug, Ikea (no longer available)
cocktail table, CB2
end table, passed down from grandparents
side chairs flanking fireplace, vintage free finds
"C" Table, West Elm
ceramic tables, West Elm & Home Goods
tv cabinet, Crate & Barrel (no longer available, similar one linked)
pouf, Target (no longer available, similar one at Overstock.com)
floor lamp, CB2
table lamp, West Elm
DINING ROOM SOURCES
chairs, instylemodern.com
table, instylemodern.com
sideboard, Ikea
bar cart, Target
rug, West Elm
Wishbone chairs, Home Goods (similar at instylemodern.com)
barstools, overstock.com
MASTER BEDROOM SOURCES
bed, Ikea (no longer available)
nightstand chests, Ikea
dresser, passed down from grandparents
duvet, Crate & Barrel (no longer available, similar one linked)
wood table lamp, Target (no longer available)
glass table lamp, Home Goods
GUEST BEDROOM/OFFICE SOURCES
bookshelf, Ikea
chest of drawers, passed down from grandparents
nightstand, overstock.com
desk, Walmart (!!) (no longer available)
desk chair, Z Gallerie (no longer available, similar one linked)
drapery, tablecloths from Target (no longer available, similar one linked)