If you follow our cofounder Alaina Kaczmarski, you may have already seen her recent kitchen remodel. And for those who love a good before and after, Alaina's transformation does not disappoint. Unfortunately for me, I finished my own kitchen project before hers began, so I wasn't able to copy gather inspiration from her ideas.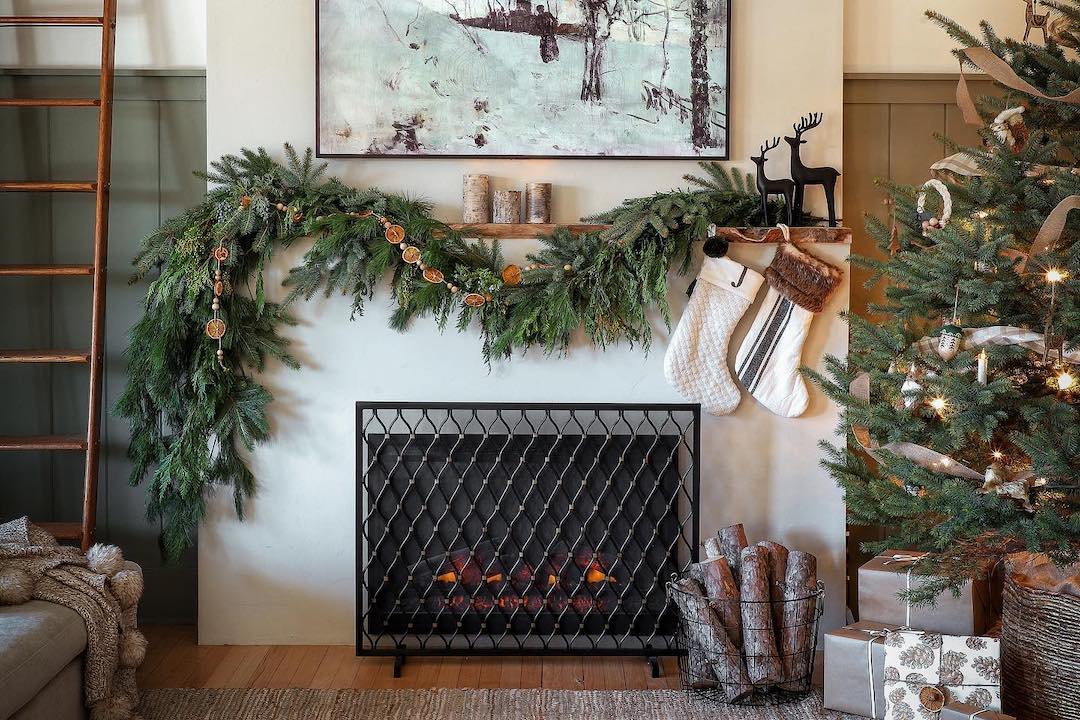 there's still time to deck your halls
One signature element of her kitchen stands out: the one long integrated shelf above her oven range. Whether you're considering a kitchen refresh yourself or also just love a good home decor scroll, you may have seen this trend across design blogs, Pinterest, or Instagram. We wanted to learn more about the trend, so we reached out to a number of designers to get their take on what inspired the look. They answered why it works, when it doesn't, and whether they think this special kitchen detail is here to stay. Plus, they're sharing other kitchen design trends they're excited to see.
What do you think is influencing this kitchen shelving trend?
The designers we interviewed had some ideas why this particular trend caught on: a shift toward minimalism, styled spaces, and practicality (having cooking tools easily within reach). Many also mentioned Eyeswoon founder Athena Calederone's iconic kitchen as a catalyst for the trend taking off. And it's true, her kitchen is absolutely swoon-worthy.
"The integrated shelf keeps essentials within easy reach, but also provides space for beloved art, ceramics, and other accessories that don't typically have a home in the kitchen," said Mel Bean of Mel Bean Interiors, "These details make a functional and beautiful kitchen feel personal!"
Designer Shelby Girard agrees and even put the long integrated shelf in her own kitchen. "I have always been a fan of continuing your countertop material as a backsplash and thought this was a perfect way to resolve the backsplash. I also love how the shelf provides an opportunity for styling that's out of the way of daily counter use."
What about floating shelves versus one long open shelf?
My personal Pinterest kitchen inspo board was filled with wood floating shelves against tile and styled to perfection. But, again, it was before I saw Alaina's kitchen. We wanted to learn more about the pros and cons of floating shelves and the one long open shelf.
"Kitchens used to be all about functional storage—the more cabinets the better," said Sara Barney of BANDD Design. "Now homeowners are hoping to make their kitchens feel more polished and decorated, which is why these floating shelves have become the perfect opportunity for them to style and elevate their cooking space."
Kitchens used to be all about functional storage—the more cabinets the better. Now homeowners are hoping to make their kitchens feel more polished and decorated.
"It's often a more shallow shelf for display and small items as opposed to a standard 12-inch shelf," said Gillian Segal of Gillian Segal Design. "[It also] feels like an integral, built-in part of the kitchen versus floating shelves which feel like an applied piece that could be easily removed."
Segal's description reminded me a bit of what I learned about inset versus overlay cabinets: insets are meant to look more like furniture built into the kitchen. They're also more expensive.
Juaneice Munoz of La Casa Azul Design also offered another practical difference between the two kitchen shelving options. "The shelf under the range hood—although it looks so stylish and on trend—it will catch all the grease from your cooking." Certainly something to consider.
When does it work well in a kitchen?
Designers agreed the trend worked best in larger, open kitchens, where you don't have to worry about cabinet space or storage in other areas. Having walls or appliances to anchor the shelf also helps it look more finished.
"This works best when you have enough storage size to sacrifice real estate in your kitchen for this more decorative feature. I also prefer seeing it in spaces where you have enough space to have a reasonably long shelf. Anything too small feels choppy," Segal said.

"[It also] works best when the material used is the same as your countertop and backsplash," Girard said. "I have seen versions that incorporate corbels or chunky brackets, and it can work, but does feel a bit less seamless to me. I also think the addition of a brass gallery rail on the shelf looks beautiful and can really dress up your kitchen."
Timeless or trendy?
Timeless
"I see this being around for some time," Girard said. "At the end of the day, it's a shelf, which will always be functional, and I love that it adds an opportunity to create styled moments that are both beautiful and useful."
"This trend has lasting power. It's an element that feels updated and timeless while offering super functionality," Bean said.
"It's a great feature that feels timeless and can be varied based on material and styling to keep it feeling current," Segal said.
"Open shelving in general will be around for quite a while," said Mary Patton of Mary Patton Design.
Trendy
"I'd give this trend about 2-3 years to stick around," Barney said. "I think that above all, function always comes first, and this trend is only realistic if you have a massive, open kitchen or butler's pantry to store your cooking tools."
"This design trend is not here to say… as fun as it is," Munoz said.
What new kitchen design trends are you most excited about?
English Inspired Details
"I love English kitchens, so [I] have been inspired by a few trends that nod to that style: on-counter cabinets, latches used for cabinet hardware in place of standard knobs, and skirted sinks. I think you need a smaller, older, cottage style kitchen to pull off the skirted sink look, but it's definitely making a comeback and can be done in a really chic way in the right space. I also love seeing more people use lamps or leaned artwork on top of their countertops or a repurposed piece of furniture as a kitchen island—anything that adds a sense of age and warmth." – Shelby Girard
Get the look
Creative Storage and Shelving
"I love the trend of adding some shelving inside of your cooktop hood area. It is beautiful but also very functional." –Cara Woodhouse
"I'm obsessed with my retractable cabinet doors that conceal my coffee station when not in use, keeping small appliances we use daily with easy access but out of sight!" – Mel Bean
"Truly excited about the 'hide-and-seek' kitchens where all the appliances are hidden behind cabinets." – Juaneice Munoz
"Glass and floating shelves in front of windows! I didn't know how to feel about this trend at first, but it's really grown on me as I see it incorporated more in designer's work. It really brightens up the room and adds an interesting element to the space." – Sara Barney
Bolder Choices
"White appliances!" – Mary Patton
"I love that people are embracing more color and pattern in their kitchens. Copper cabinet doors, bold color choices, unique natural stone choices—so much opportunity for daring selections." – Mel Bean
"Right now, I am loving kitchens that use subtle colour and lots of texture—in particular very bold marbles." – Gillian Segal
Get the look
---
After hearing all this designer feedback, this particular trend wouldn't have worked best in my own kitchen (relieved sigh). But I'm already having a moment of kitchen regret… why didn't I do hide-and-seek cabinets to hide my small appliances?!
This article was originally published on The Everymom on January 28, 2021.