I will admit that I become infatuated with many beauty products from love at first test; sometimes, you just know. But only those that stand the test of time—literally surviving what is known as a wear test but also keeping my interest over time—achieve holy grail status and make their way onto my top shelf. So when Kosas launched 36 shades of the Revealer Skin-Improving Foundation SPF 25 to follow the marked success of their Revealer Concealer, I had to know whether it truly lived up to the hype. The verdict? A resounding yes, and this was after testing it in my wrong shade (shade 140 instead of 160). Still, this is my new favorite foundation. Here's why.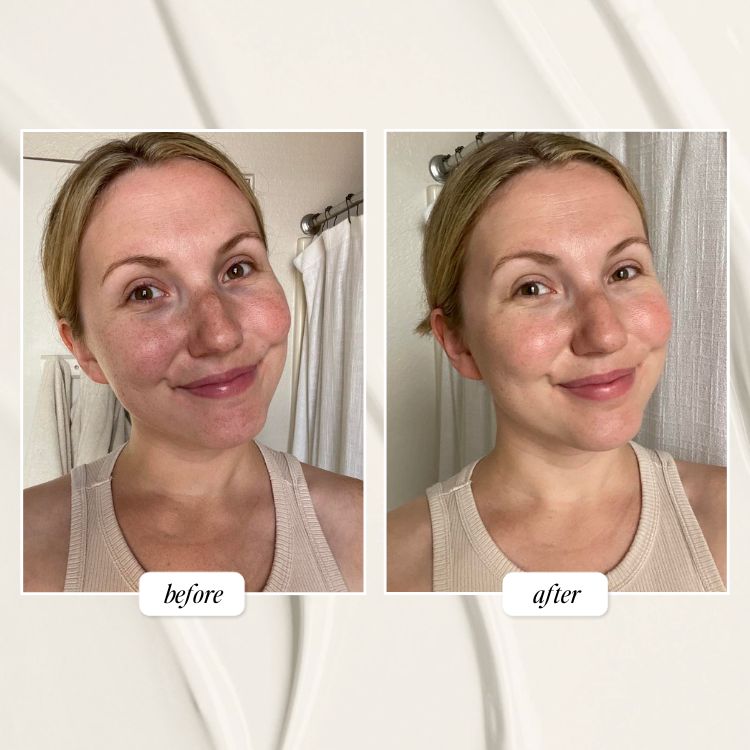 The Rise of Skincare-First Cosmetics
For years, my favorite makeup artists have considered themselves "skincare-first," with the ultimate goal of creating a healthy base that requires minimal makeup for the desired look. The new Kosas foundation thus joined the upsurge of cosmetics with skincare benefits, which help bring about a cosmetic effect while incorporating elements that are actually good for the skin. "Makeup with skincare benefits is one of the biggest trends in beauty," said clean cosmetic chemist Krupa Koestline, founder of KKT Consultants. "Consumers are smart and they want to spend money on products that are multitasking and do more than just sit on their skin." When it comes to foundation, which covers the skin to achieve a more even-looking base, the opportunity to relay some active ingredients becomes even more relevant.
The Benefits
"Since foundation is on the skin for hours at a time, it should have some beneficial properties," Koestline continued. "Depending on the concentration of the actives and the overall formulation of the foundation, some skin types may not need to apply moisturizer [or primer] beforehand." She pointed out that this speaks to the trend of "skinimalism," wherein less, more efficient products are preferred. This is absolutely the case with the new Kosas foundation, which does not require the use of a primer beforehand—but more on that to come. So what's in it?
In addition to the medium coverage it provides, the brand opted to include a bevy of skincare ingredients to make the foundation more efficient by providing correction from the skincare level. Peptides and hyaluronic acid, which attracts water molecules to it, relay a hydrating and plumping effect that can also improve the appearance of fine lines. Barrier-enhancing niacinamide and circulation-stimulating caffeine impart smoothing and brightening. Olive-derived squalane, provitamin B5, and arnica soothe and aid with hydration. And as the final cherry on top, sun protection and blue light protection are afforded thanks to the incorporation of mineral sun blockers and artemisia flower.
How to Apply
I have tested out this foundation in various ways and have my preferred methods of application down to an art. While it does not require a primer beforehand and, actually, as celebrity makeup artist Katrina Klein pointed out, must not be used with a silicone-based primer because its water base will cause pilling, I do typically prepare my skin with a full regimen that includes a moisturizer or even a sheet mask like 111Skin Y Theorem Bio Cellulose Facial Mask ($32) if I have time. My favorite way to prep my skin before application is with Chanel CC Cream Super Active Complete Correction Sunscreen SPF 50 ($55), which leaves the skin almost perfected. Then, I use a damp beauty blender to apply one pump of the foundation (I wear shade Light+ Neutral Olive 160) on my face, continuing to press the sponge and blend the foundation into my skin more than you might suspect it needs (this is an application trick I learned from a celebrity makeup artist in Paris).
Next comes my concealer—sometimes I use Ilia, sometimes I use Shiseido—settling it into my undereyes and any uneven spots with the Anisa Concealer Brush, blush, and setting powder courtesy of the new Saie Airset Radiant Loose Setting Powder.
Review
What stands out about the foundation is how well it stays put without feeling cakey or excessive. With a natural finish—not too matte but not shiny—it imparts coverage that leaves the skin looking even, without separating, for hours. I love that it leaves me looking fresh without creasing or requiring touch-ups throughout the day; I'm shocked every time. But even though it contains mineral SPF, you still have to remember to reapply sunscreen every two hours, which is why I love the dual setting function of Seriously Fab Zinc it Over SPF Mist, a favorite of Kasey Boone, founder of Glow Skincare LA.
The Final Verdict
I also want to note that this brand is just as meticulous about what ingredients it leaves out. Known for being a "clean" and vegan beauty brand, they exclude silicone, mineral oil, talc, fragrance, parabens, sulfates, and phthalates. This is significant for reasons that range from sensitivities as well as concerns related to sustainability and even safety. "Mineral oil and silicones are well-known environmental hazards," Koestline pointed out, referencing the connection to the petroleum industry and the failure of silicones to biodegrade. "Fragrance, talc, and phthalates [have been] connected to health hazards and are not necessary in a formula for efficacy or long wear. I am all for leaving those out."
As a reminder, everyone is entitled to what they choose to apply to (or leave off of) their faces; we are not here to judge! You have probably noticed that my preferred application of this wonderfully clean formula is preceded by a CC cream that is not clean, containing a chemical sunscreen et al. But if you are partial to the clean and vegan niches, Kosas' foundation represents a class of product that lives up to its counterpart while delivering fantastic results. Regardless of where you stand in the ingredient debate, this foundation is a must-try.