Fusing the unexpected with the classic, Leigh Fager's eclectic design style is evident in every room of her home — despite some seriously strict rental restrictions thanks to living in military housing. If you find yourself also battling a landlord who won't let you paint and hammer to your heart's content, then Leigh is just the inspiration you need. Her gorgeous use of texture and color will keep your eyes delighted at every turn.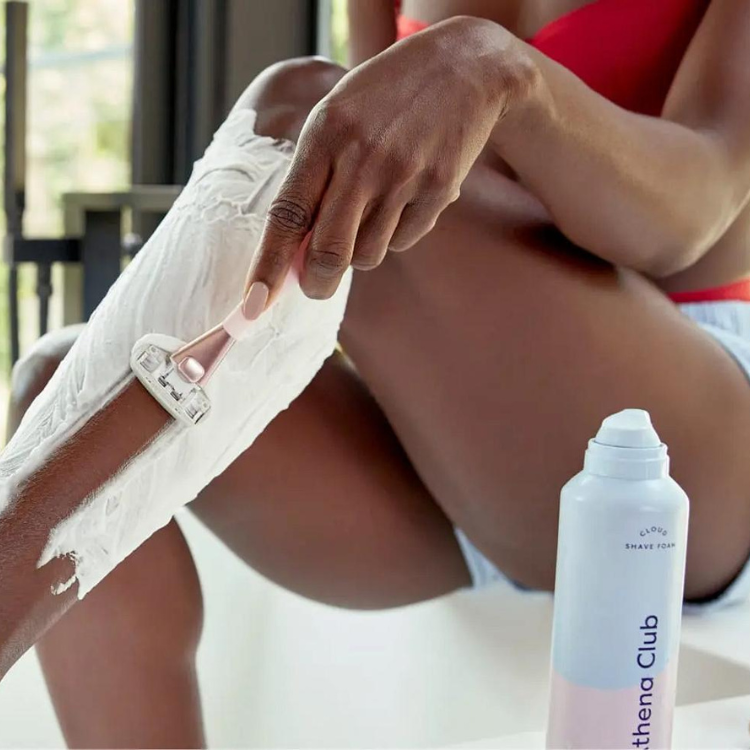 "This razor gave me the silkiest, smoothest shave I've ever had! I never get any cuts or scrapes, even on those hard-to-shave places."
Name: Leigh Fager
Age: 32
Square Footage: 1,300
Rent or Own: Military housing
City, State: Cape Cod, MA
When did you first discover your passion for interior design, and how did you know you wanted to turn it into a lifestyle and career?
My mother was great about letting me be creative when I was a child. I had this cube shelving unit that I would restyle over and over and over. I insisted on having this wild accent wall — it was red with gold sponge paint. Remember sponge paint? Haha, classic! I was fascinated with African masks and different global influences back then and she just let me do my thing. Rearranging the furniture in my bedroom was a regular occurrence. It calmed me and I felt this sense of accomplishment when I discovered a new way to live with it all.
I have wanted to work in the interior design field my entire adult life, but I got married and had children pretty young. Being a stay-at-home mom became my life and it wasn't until about a year ago that I began styling for people.


What is your favorite thing about designing homes and rooms for others? What is the greatest reward, and what have you learned from it?
Turning a room into a space that reflects the way someone feels is immensely satisfying! I LOVE doing it. The best part is seeing the way people react to their new space. It makes me happy to help make other people happy.
I've learned that you don't have to be wealthy to create beauty in your home and I've learned that design "rules" are made to be broken. Most of them, anyway.
Where do you shop for budget friendly decor?
Top three places I look for deals are Target, HomeGoods, and thrift shops.

You often incorporate live plants and greenery into your home. Why?
Ha! Yeah… it's kind of a problem. I may be an addict. I just can't resist them when I see them. Especially if it's something I don't already have. What has turned into a full-blown obsession at this point, started off as one or two stuck in a corner or adding height on a shelf. After a while, I started to notice that some did well and others didn't. I wanted to figure out how to make them all look their best and well, it's just sort of gone wild since. I have bought at least 90% of my plants from Home Depot, believe it or not! Their plants are always healthy and the people that work at the store nearest us take good care of them.
What was a major splurge for you in your home? And why did you choose that item?
The large rug in our living room was pricey but worth every cent. It's just perfect! It's got a fun pattern but the colors are all neutrals, which means I have the freedom to play with color everywhere else in the room without worrying about the rug and it's SO soft and pretty. Plus, fringe. Fringe for days on that beauty. I just couldn't resist it.
I love that you clearly have so much fun with design and decor. What are your favorite ways to incorporate fun colors and textures?
I want my home to reflect who I am; who my family is. I like to put silly sayings on pillows and crazy colors on rugs because it makes me happy and because it's fun! Using color and patterns with textiles is such a simple way to make a statement without spending a ton of money.
How would you describe your style? How has it evolved throughout your life and career?
I always find this question about defining a style, hard to answer. I have a retro lamp, a bohemian rug, a farmhouse credenza, a modern TV console, and rustic bed. I have an industrial writing desk accompanied by a mid-century modern chair and they're sitting on a cowhide. So, I guess I'm sort of a mutt. I suppose the design term for that would be eclectic.


Which room in your home is your favorite? Which room do you spend the most time in?
My favorite room in our home is our bedroom. That was the last room that had furniture that was given to us when we got married (ten years ago) and we just recently went and picked out all new pieces that we both just love. It's really us now and reflects our style. We also upgraded to a king size bed and that was liiiiiife changing!
We definitely spend the most time in our family room. It's comfy and practical with the sectional to fit us all and poufs for the kiddos, but styled in a way that still feels put together.
Where there any major quirks about your home? What were some of the aspects that were difficult to design around?
Oh yes! We live in military housing and with that comes a lot of rules. We aren't allowed to paint the bathrooms or the kitchen and we can't change a lot of things, like the doors, light fixtures, and flooring, like we would if it was our own, but I've learned to make the best of it. Paint can go a long way and a large rug can hide an ugly floor.
What is the first place you start when designing a room?
Almost always the rug. If someone has a piece of art or something else they want to pull inspiration from then, of course, we can, but if we're working with a blank canvas, the rug is a great place to start.

Do you see yourself redecorating your home in the near future?
I do a lot of product styling for companies, which means that I always have new things to decorate with. It's a tough job, but someone's gotta do it…
Where do you draw inspiration from? What's your advice to women looking to tap into their creativity?
One of my favorite things to do at night when my whole house is asleep is to have a glass of wine and flip through design books. Some of my favorites are Urban Jungle, anything Nate Berkus, Bazaar Style, and Domino. Every single time I look through them I notice something I hadn't before. I feel most comfortable and creative when I have music playing. It can be anything from Adele to Today's Hits on Pandora to jazz, but music always helps. I also feel calmed by a good candle or incense burning. Is that weird? I don't know. It works for me. Everyone is different and it's hard to say what gets others going but once you figure out what it is for you, use it!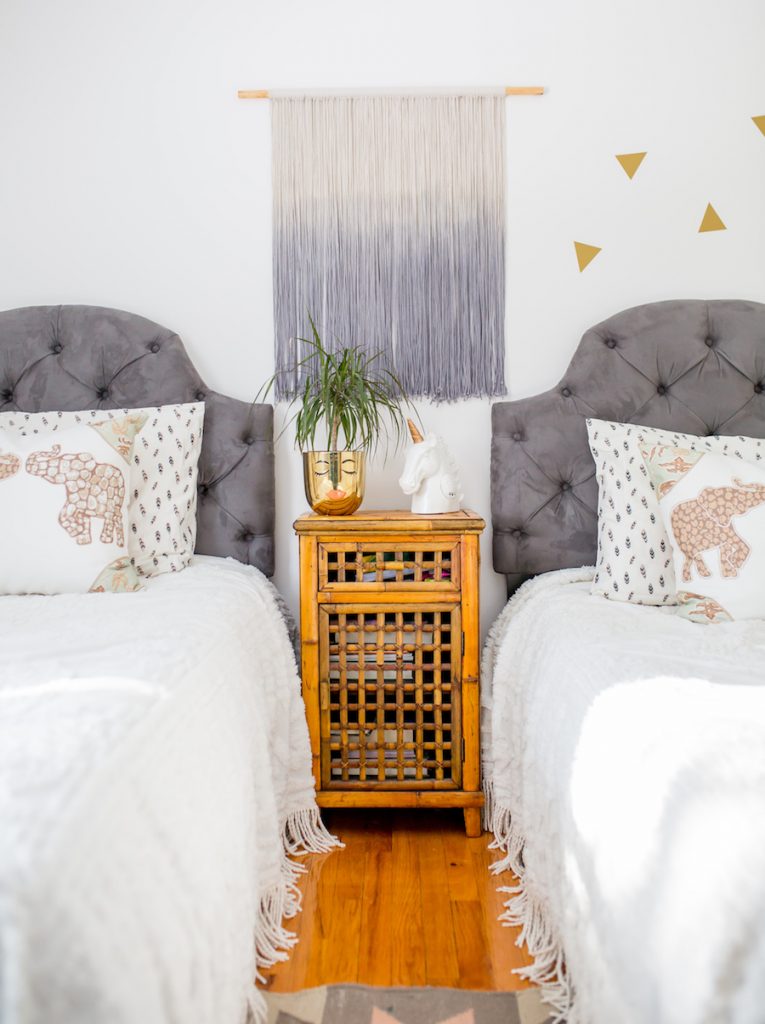 Where do you see yourself, your home and your business in the next five years?
Because we are a military family, I can't even answer the first two questions because we could be anywhere, but I can say that in five years my little girls won't be so little anymore and I will definitely be working a lot more.
What advice would you give to your 23-year-old self?
GO BACK TO SCHOOL! If only we knew then what we know now, right?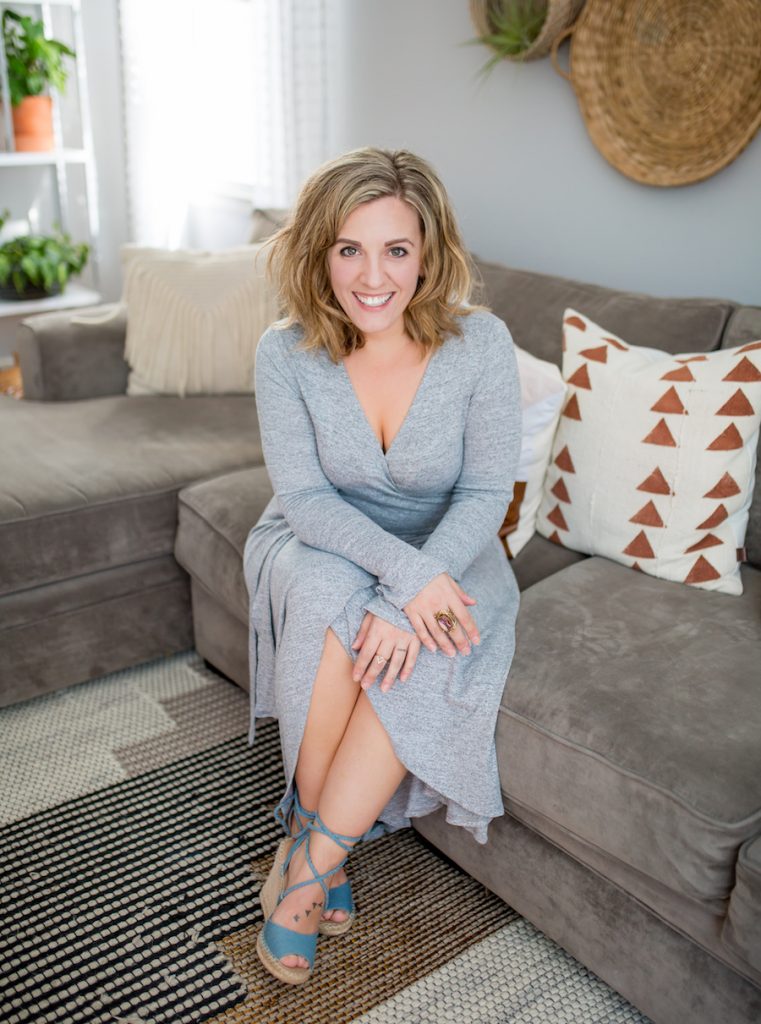 Leigh Fager is The Everygirl…
Fast food guilty pleasure?
Does sushi count? OMG, I could eat a spicy tuna maki every day.
Piece of clothing you wish would come back in style?
Remember those velour sweatsuits that we used to wear? I'd love for it to be socially acceptable to go out in public with a soft matching sweatsuit on. That'd be amazing.
Best way to de-stress after a long day?
Lighting incense and turning on some jazz is incredibly relaxing. There's usually wine involved too.
If you could have lunch with any woman, who would it be and why?
Emily Henderson. She has built this design empire and she's just such a talent. The woman is a boss and she seems like a girl's girl. Like someone you could talk about your children with, and politics, and interiors of course. I would want all the advice she would give me and then we'd totally be best friends. Ha!