The thought of going jean shopping produces various images of unwanted scenarios of hopping around the dressing room, attempting to shimmy into a pair of high-waisted jeans, your foot shooting right through that hole in the knee, and those jeans hastily being buttoned back up as you throw them back on their hanger. You might find yourself losing hope when in search of a new pair—which could sometimes seem like the opposite of retail therapy.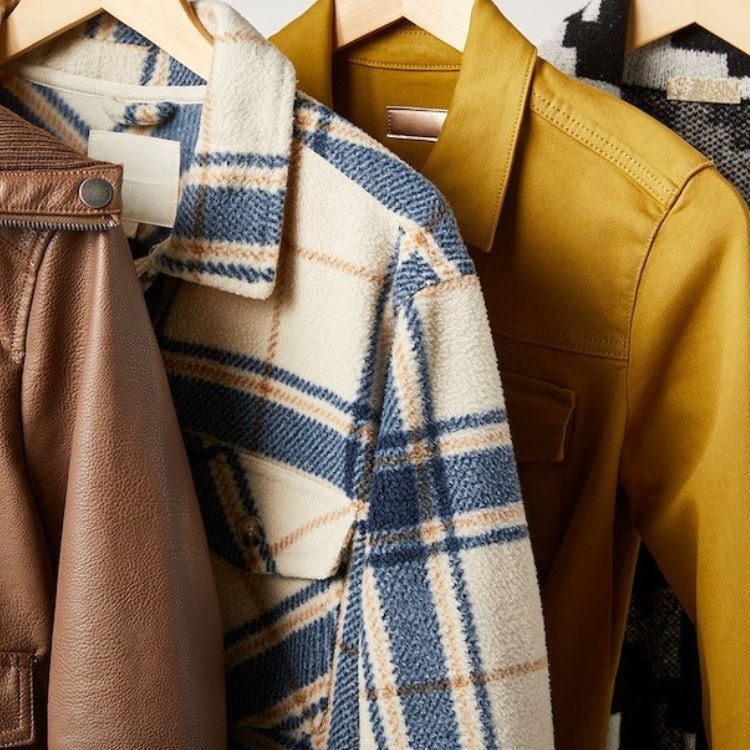 ...and it's wallet-friendly
This is why we sometimes rely on the opinions of the masses, and in this case, they've led us straight to Madewell jeans. Sometimes, cult-favorite pieces have the hype because they really are that good.
A good deal on great denim is hard to pass up, and now through September 11, you can get $50 off any pair of Madewell jeans when you trade in an old pair (from any brand!) in-store.
Three of our editors took a trip to the Madewell Denim Bar to test out their most popular styles, and break down the size and fit of each. Are they as good as everyone claims? Read on to find out.
Madeline, Fashion Editor
The words "perfect vintage" sang my name through the store and persuaded me to put them on for my very first try-on. Who doesn't want their jeans to look perfect and vintage?
First and foremost, I sized down in these. I'm a pretty solid 27, and for these, a 26 fit perfectly. Right off the bat, I liked that these were super unique in their cut and style. The leg is described as slim and tapered, which gives them a slim effect without being actual skinny jeans. They seemed to be a super flattering, everyday jean, and I think they would be an amazing office jean (if your work permits them). They're also very comfortable and have a little give without being overly stretchy, which is the sweet spot of denim (at the end of the day, nobody likes a saggy butt).
I'm 5'5, and these were full-length but not too long, which is rare (usually they're a bit longer than I'd like them to be).
True to size: Run slightly large
Comfort: 9/10
Best for: Someone looking for a truly vintage-looking pair of jeans
When I'm looking for a cropped jean, this is exactly the length I want. I generally expect a shorter length in a pair of denim that's labeled "cropped," but these were truly an ideal length for my height.
I tried these in a size 26, which fit like a glove, but I might size up to a 27 for a bit of a looser fit. I couldn't find anything I didn't like about these. They have the same comfortable, forgiving fit as The Perfect Vintage jeans, but I prefer these for the length and the laid-back look the torn knees give.
True to size: Run slightly large
Comfort: 9/10
Best for: Anyone who wants a casually distressed, classic option
I was not in the market for a new pair of jeans—not even close. It's currently the type of clothing that I'm most fully stocked in. I literally said "I wish I needed new jeans" as I entered the store.
Then, I put these on.
When I put them on my body, I yelled, "Oh my god I love the Dadjean!" to Beth and Jess from inside the dressing room. I sent a picture to my boyfriend and said I've never liked a pair of jeans so much. I put them on again after I was done trying on the rest of my picks. And then? I bought them.
These are such a unique pair of jeans in a way that I have never, ever found before. Finding a straight-leg jean that's straight and not wide was pretty much impossible for me, as I'm someone who has some thigh to work with. But these? They're perfect. They're full-length but not too long. They're straight and loose in the '90s way that's all the rage, but they're not oversized or too wide. They're comfortable and high-waisted. They are the jeans I've been searching for all my life.
These are some of the most flattering relaxed-fit jeans I have ever put on my body. I can tell you already that these will be my most-worn jeans during the chilly months, and the best part is that they came out of left field and stole my heart when I wasn't even in the market for them—and that's how you know they're that good.
Jess, Commerce Editor
I'd heard great things about Madewell's Perfect Vintage jeans but never tried them for myself. I specifically wanted to try the Curvy version because I've found that curvy jeans work well for my body type—smaller waist and bigger hips/butt.
I was immediately drawn to this wash because I think it goes with everything and is perfect for summer. I grabbed these in a size 31 (I typically wear either a 30 or a 31 in jeans) because it's what they had in the store, but Madewell's Curvy line is known to run big, so I knew that they probably wouldn't be a great fit. The sales associate even mentioned that she sizes down two sizes, but for me, I think a 30 would've fit great.
Overall, these jeans are super comfortable and cute. My only complaint is that I'm pretty short, so I think this rise is almost a bit too high (it's 11 3/4″). But if you're looking for a pair of straight-leg jeans in the highest rise you can find, these are for you.
True to size: Runs large
Comfort: 8/10
Best for: Someone looking for ultra-high rise jeans for everyday wear
I had never heard of this Boyjean style, but I was intrigued, so I picked up a pair to try out—and I was very surprised by how much I liked them. They're comfortable and super flattering, and I really like the cut of them. They're described online as a vintage men's cut made to flatter the body, and they definitely fit the bill.
I tried a size 30 in these, and they fit me really well. They hugged me in all the right places but still had a relaxed fit throughout the leg. I could definitely see myself wearing these dressed up with cute sandals and a top for brunch (or the office) or dressed down with sneakers and a T-shirt for a casual weekend look.
True to size: Yes (size down if between sizes)
Comfort: 9/10
Best for: Anyone in search of a flattering straight-leg fit
A friend of mine recently told me that the Cali Demi-Boot had become the only pair of jeans she ever wore, so I knew I needed to try them out. I was also excited to try a dark wash because a huge majority of my denim collection is light wash.
The second I put these on, I fell in love. They're so insanely comfortable that I know I could wear them all day long without ever getting that "I need to get out of these jeans right this second" feeling (and that's really saying something). They're Madewell's stretchiest denim, but they're not too stretchy to the point where they'd become unflattering the more you wear them. They also have "Magic Pockets," which are made to hold everything in for a super flattering look.
I'd never tried a cut of jeans like this, so I was surprised by how cute they looked on me. The cropped length and kick-flare really adds a special something that makes it different from your typical pair of jeans. These look cute paired with sandals for summer, but I also think they would be perfect to pair with booties in the fall and winter.
I will definitely be adding this style (maybe in a few different washes) to my denim collection.
Beth, Beauty Editor
A few years ago when I first tried Madewell's denim with Maddie, these were my #1 favorite style. I remember ordering a pair on my next paycheck when they went on sale, and I wore them to death for a year before they didn't fit me anymore. As it goes, my body and sizing have changed a bit in the last year, so I was excited to try these again and see if they still fit me well. I still love these, but they're not my favorite anymore. I love the straight-leg style so much, and I especially loved how long they were. They were the perfect length to be a full-length pant that doesn't flow to the ground, and the fit was phenomenal. I got my typical size, and they had a nice stretch to them that wasn't too much. But they weren't as special as the other pair I tried.
True to size: Yes
Comfort: 10/10
Best for: Someone who likes a vintage style without uncomfortably rigid denim
I don't typically opt for curvy denim because while I would describe myself as a curvy gal, I have an hourglass body type that doesn't usually need a lot more space in the hips and thigh the way curvy denim is created. But I wanted to try these on just to see if they'd maybe become my new fave. First of all, these run a full size too big—maybe even more. I found they were still kind of big on me even after sizing down. Because of this, I felt like they didn't fit me well and would be a little uncomfortable, especially after wearing them for a few hours when they would start to stretch out.
Through trying these on, I realized that I don't really love stretchy denim on my body type. I like a vintage, rigid, thick denim that keeps its shape and stays snug on my body where I want it snug and wide where I want it wide, which is exactly what I got with my favorite pair I tried on.
True to size: Runs a full size big
Comfort: 6/10
Best for: Someone who needs extra room in the hips and thigh and loves a stretchy jean
I didn't expect to like these when I picked them up. I thought they would be a slightly tapered, skinny jean that would look blah, but alas, they were my favorite. I love a jean that fits tight in the hips and butt because they won't get baggy and uncomfortable throughout the day. These fit well through my entire leg, and I love that the bottom is like the perfect '90s straight-leg on me. These are definitely more rigid, so if you want a denim that's super stretchy, this probably won't be for you. But for that vintage, from-the-thrift vibe, they're absolutely perfect.
On me, I found these true to size, but as I said, I have an hourglass figure, and I'd say these jeans are probably made for that body type because there really isn't much stretch. If you need a stretchier fit to accommodate a larger ratio between your hips/thighs and waist, then you would maybe need to go up a size.