Storytelling has played a crucial role in Black American history. Andrea Collier, a Black author and multimedia journalist from Lansing, Michigan, spoke recently on the importance of storytelling within the Black community.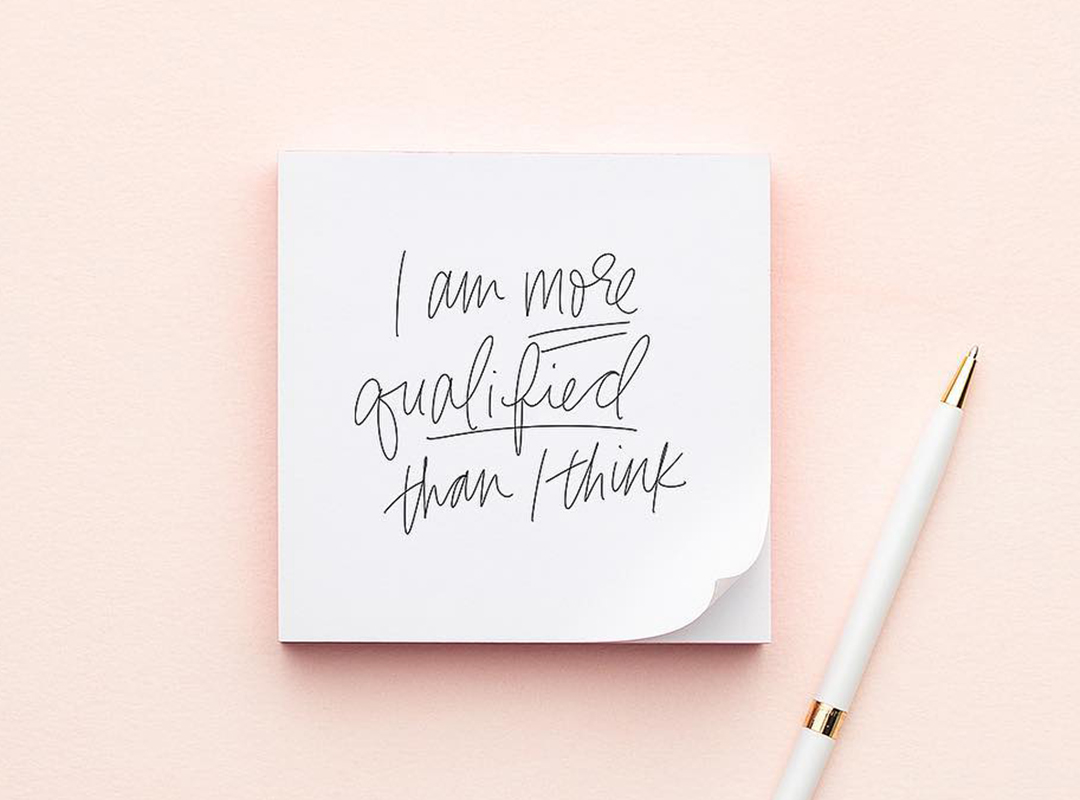 Ready to land your dream job this year? We can help.
Our Landing Your Dream Job online course is currently open for enrollment—now until Tuesday, January 19! Claim your 100-page workbook, resume + cover letter templates, guided worksheets, advice, and invitation to our private Facebook group.
Ready to get started? Right this way >
"Stories, including the razor-edged ones of lynchings and segregation, are the ties that bind us. So are the stories of being brought up in segregated neighborhoods, traveling through the South knowing where you could and couldn't go. There is no question that storytelling for black America is a way of saying I am here and I matter," she wrote for UC Berkeley's Greater Good Magazine.
Recounting the stories told by marginalized members of the Black community to get even the smallest glimpse of their historical and present-day struggles is one piece of an infinitely complex puzzle, but it is an imperative one.
Before we can take action, we need to create the space to listen and learn from Black voices. "Not being racist" is simply not enough. It's time to use our voices, be advocates, and serve as allies for change. Those of us who are non-Black will never fully understand the struggles of our friends of the Black community, but we can educate ourselves so that we can stand with them in their continued fight for equality.
We all have a duty to remember their names and remember their stories. Read on for a collection of documentaries and dramas that highlight the stories of Black voices. We vow to remember them and to remind others of their impact. Let's get to work:
Documentaries
Where to stream: Netflix, Amazon Prime
Let It Fall is a documentary that takes a cold, hard look at the time period of 1982 to 1992 in L.A.—a decade of police brutality and racial injustice that led to the Rodney King riots of 1992. Accounts are taken from those who lived through and survived the events as the film traces the underlying domino effect that fueled the Los Angeles uprising.
Where to stream: Netflix, Amazon Prime
This piece follows the police force in Oakland, California in its two-year attempt to rebuild trust and peace amongst their community. Black voices from the film describe an out of control history of police brutality and misconduct against the Black community in their area as the police department works to acknowledge their wrongs, take responsibility for the actions of past officers, and rewrite the script starting from the ground up.
Where to stream: Amazon Prime
The Central Park Five exposes the horrifying injustice that was served to five Black and Latino teens (Antron McCray, Kevin Richardson, Yusef Salaam, Raymond Santana, and Korey Wise) in a 1989 crime. The story follows a weak investigation and police pressure to quickly solve a crime that led to the false conviction of five innocent Harlem teenagers.
Where to stream: Netflix, Youtube
The name of this film refers to the 13th Amendment of the United States Constitution. The Amendment states: "Neither slavery nor involuntary servitude, except as a punishment for crime whereof the party shall have been duly convicted, shall exist within the United States, or any place subject to their jurisdiction." This documentary takes a close look at the "loophole" of the "except as a punishment for crime" portion of the statement that has been exploited over the years and has contributed to the mass incarceration of Black persons.
Where to stream: Netflix
This documentary tells the account of the chilling 1992 murder of William Ford, Jr., a 24-year-old Black teacher and brother to Strong Island's director, Yance Ford. William Ford was shot in the chest by 19-year-old white auto shop employee Mark Reilly and the tragic story takes a more than unfortunate turn as Mr. Ford becomes the prime suspect in his own murder. Yance Ford tells his family's story of the biased circumstances that surrounded William Ford's murder while reclaiming his brother's memory.
Where to stream: HBO Max
On November 23 2012, 17-year-old Black male Jordan Davis and his friends pulled into a gas station. Minutes later, 10 shots were fired by a 45-year-old white male by the name of Michael Dunn who was motivated by the teens listening to loud rap music. This documentary highlights the events leading up to the shooting, the trial, the role of media, and subsequent protests that followed Davis's death.
Where to stream: Amazon Prime, Hulu
Whose Streets? is a documentary film about the murder of an unarmed Black man by the name of Michael Brown, and the Ferguson uprising. This film takes you to the front line of protests in Missouri and allows an emotional, behind-the-scenes look as activists tell their stories.
Where to stream: Amazon Prime
This 2016 documentary is based on James Baldwin's unfinished manuscript of Remember This House, which was to be a tribute to late influential civil rights leaders that he considered friends. Baldwin was an eloquent writer who used his artistic talent to tackle racism and racial injustice and, in the film, his words are narrated beautifully by Samuel L. Jackson. The documentary helps to bring light to Baldwin's contributions and directly compares Baldwin's accounts of violence and discrimination to the injustice we still see to this day.
Where to stream: Netflix
What Happened, Miss Simone? is a biographical documentary highlighting the life and work of Nina Simone, a black female musician and activist who rose to fame during the 1960s. Simone's story is a tale of fiercely met oppression—in music, in family life, and in the greater world.
Where to stream: Amazon Prime
The Black Panthers: Vanguard of the Revolution gives a firsthand look at the Black Panther Party who fearlessly rose in the 1960s to serve to protect members of the Black community in the face of racial injustice. The film showcases the growth of the movement and the group's use of the media to abolish oppression and to ensure protection for Black persons despite pushback from traditional law enforcement and beyond.
Where to stream: Amazon Prime
This film is a beautiful biographical documentary highlighting the strong light that is Maya Angelou. Angelou was a writer, dancer, singer, actress, and activist who found her voice after experiencing sexual trauma at seven years old. Her work, including the monumental literary feat I Know Why The Caged Bird Sings, has inspired generations around the world.
Where to stream: Amazon Prime
Dispatches from Cleveland is a film that tells the account of 12-year-old Tamir Rice, a Black Cleveland native who was fatally shot in the park by a 26-year old white police officer in 2014 for carrying a toy gun. In the film, residents of Cleveland come together in protest to seek justice amongst the city which boasts a long-standing history of police misconduct and social injustice.
Where to stream: Amazon Prime, HBO Max
This iconic 1994 documentary follows the story of two black, inner-city Chicago teenagers who push past social and physical barriers to work towards their dream of playing in the NBA. The film was shot over the course of five years and is a coming-of-age tale of the two boys as they ambitiously fight for their dreams amongst social, racial, economical, and relational pressures.
Where to stream: Amazon Prime
Freedom Riders is the tale of Black activists who challenged segregation head-on via the Freedom Rides of 1961. Though nonviolent, the groups were met with an overwhelming amount of police arrests and brutality from white protesters. The movement gained media attention for the Civil Rights Movement and further fueled the fight for freedom for the Black community.
Where to stream: Amazon Prime, HBO Max
Four Little Girls is a documentary that tells the heartbreaking story of the 16th Street Baptist Church bombing of 1963 that led to the death of four young girls between the ages of 11 and 14: Addie Mae Collins, Cynthia Wesley, Carole Robertson, and Carol Denise McNair. The film, directed by Spike Lee, is a heartwrenching account of the events and a memoriam for the four innocent lives lost.
Where to stream: Amazon Prime
Dark Girls is a documentary that explores bias against Black women in the world, in our nation, and within the Black community. It highlights the experiences of Black women who struggle with colorism and self-esteem and their journey to find acceptance from others and from themselves.
Where to stream: Netflix
This documentary recounts the life and death of Marsha P. Johnson, a transgender Black woman who was a central activist for the LGBT community. When her body was found in the Hudson River in 1992, many who knew and loved her believed that her death was a murder. The film highlights Johnson's impact on her community and beyond, brings present-day volume to her voice, and brings attention to the ongoing fight for Black/Trans justice of past and current generations.
18. True Justice: Bryan Stevenson's Fight for Equality
Where to stream: HBO Go
True Justice is the story of Bryan Stevenson's fight for equality and the launch of the Equal Justice Initiative. Stevenson is a lawyer who has devoted his life to defending those who the criminal justice system has failed. He advocates for his clients who have been "broken by bias, trauma, and discrimination," fights for justice, and works towards making the dream of a more equitable criminal justice system a reality.
Where to stream: Amazon Prime
Black 14 features the accounts of 14 Black athletes who played football at the University of Wyoming in 1969. Before a game against the Brigham Young University Cougars (a Mormon-based institution that was receiving attention for racist practices), the group asked their coach if they could stand in solidarity by donning black armbands. With little to no conversation, they were simply dismissed from the team. Black 14 tells the story of the unsung civil rights heroes that sacrificed their dreams of professional football and education for justice and equality.
Where to stream: Amazon Prime
If you're looking for insight into the Black Lives Matter movement, this is the place to start. This documentary highlights the rise of the movement in response to the 2012 fatal shooting of Trayvon Martin by a white male in what the man later claimed to be "self-defense." The film gives detailed accounts by the BLM founders and digs deeply into what it represents.
Where to stream: Hulu, Amazon Prime
KIKI explores the existence of the Kiki scene—a safe haven for LGBTQ Youth of Color to explore their uniqueness through performance and to escape racial rejection and homophobia. The film boasts a feel-good tone and highlights the lives of those finding their voice among social oppression.
Where to stream: Netflix, Amazon Prime
LA 92 provides a moment-by-moment retelling of the Los Angeles riots that occurred in response to the filmed, violent beating of Rodney King in 1991. The police officers in the case were found not guilty, which served as yet another wake-up call for our nation that "freedom was not yet a reality in the United States."
Films and series:
Where to stream: Hulu
The Hate U Give, based on the bestselling novel The Hate U Give by Angie Thomas, follows Starr Carter, a Black teenager who balances life in her home neighborhood with her prep school life where she plays "Starr version two." When her childhood best friend is shot at the hands of a white police officer, Starr's two worlds collide and her life is shattered. She works to find her voice as she mourns and seeks change in the face of injustice.
Where to stream: Amazon Prime
Selma showcases the Selma to Montgomery marches by Black activists, lead by Martin Luther King, Jr., in the relentless yet peaceful conquest for equal voting rights. The film is an emotionally powerful portrayal of one of the most influential triumphs of the Civil Rights Movement.
Where to stream: Hulu, Amazon Prime
The film Hidden Figures is based on a true story and adapted from the novel Hidden Figures: The American Dream and the Untold Story of the Black Women Mathematicians Who Helped Win the Space Race by Margot Lee Shetterly. The movie tells the untold story of three real-life NASA mathematicians: Katherine Johnson, Dorothy Vaughan, and Mary Jackson, as they work tirelessly to launch a man into space and claim their seat at the table.
Where to stream: Netflix
Mudbound is a film set in Jim Crow Mississippi during WWII. It tells a tale of a white family and a Black family living on the same farmland. The film exposes challenges of the time era which largely include overt and violent racism, sexism, and post-traumatic stress disorder of returning veterans.
Where to stream: Netflix
When They See Us is Netflix's limited series that recounts the story of the Central Park Five. The series is based on the true story in which five Harlem teens are wrongly accused of raping and beating a white female jogger and brings up the issues of coerced, false confessions, racial injustice, and the failings of our criminal justice system.
Where to stream: Netflix, Amazon Prime
Dear White People is the Netflix series spinoff on the film by the same name by Justin Simien. The series is considered a comedy in nature as it follows the accounts of students attending a predominately white Ivy League institution. It brings attention to racism, cultural injustice, and activism in the modern age.
Where to stream: Hulu, Amazon Prime
If Beale Street Could Talk is the emotional drama adapted from James Baldwin's 1974 book by the same name. It follows a young black couple, Tish and Fonny, in 1970s Harlem and the events surrounding the wrongful accusation that Fonny assaulted a white woman. It's a story of injustice, love, and the struggle to prove a man's innocence.