As a copywriter for a small advertising agency, I work in a pretty laid back environment and have the luxury of keeping it casual. That being said, I've always been drawn to fashion and its ability to transform how you look, but more importantly, how a polished outfit can make you feel.
hurry, it won't last long!
Before we get started, there are a few things you need to know about me: I'm a serial shirt tucker inner, neck scarf hoarder, and coat collector. I firmly believe turtle is the best neckline, everyone needs a pair (or seven) of loafers, and Jenna Lyons said it best: As far as I'm concerned, leopard is a neutral. You'll see what I mean.
Name: Grace Basala
Age: 21
Job: Copywriter at Popskull
Location: Chicago, IL
Monday

A tucked in black sweater or shirt paired with high-waisted jeans is a no-fail outfit formula that I reach for often. It creates the illusion of longer legs and defines your waistline. Trust me, I'm 5'2". Paired here with my favorite leopard print loafers that I admittedly wear *at least* once a week.
Tuesday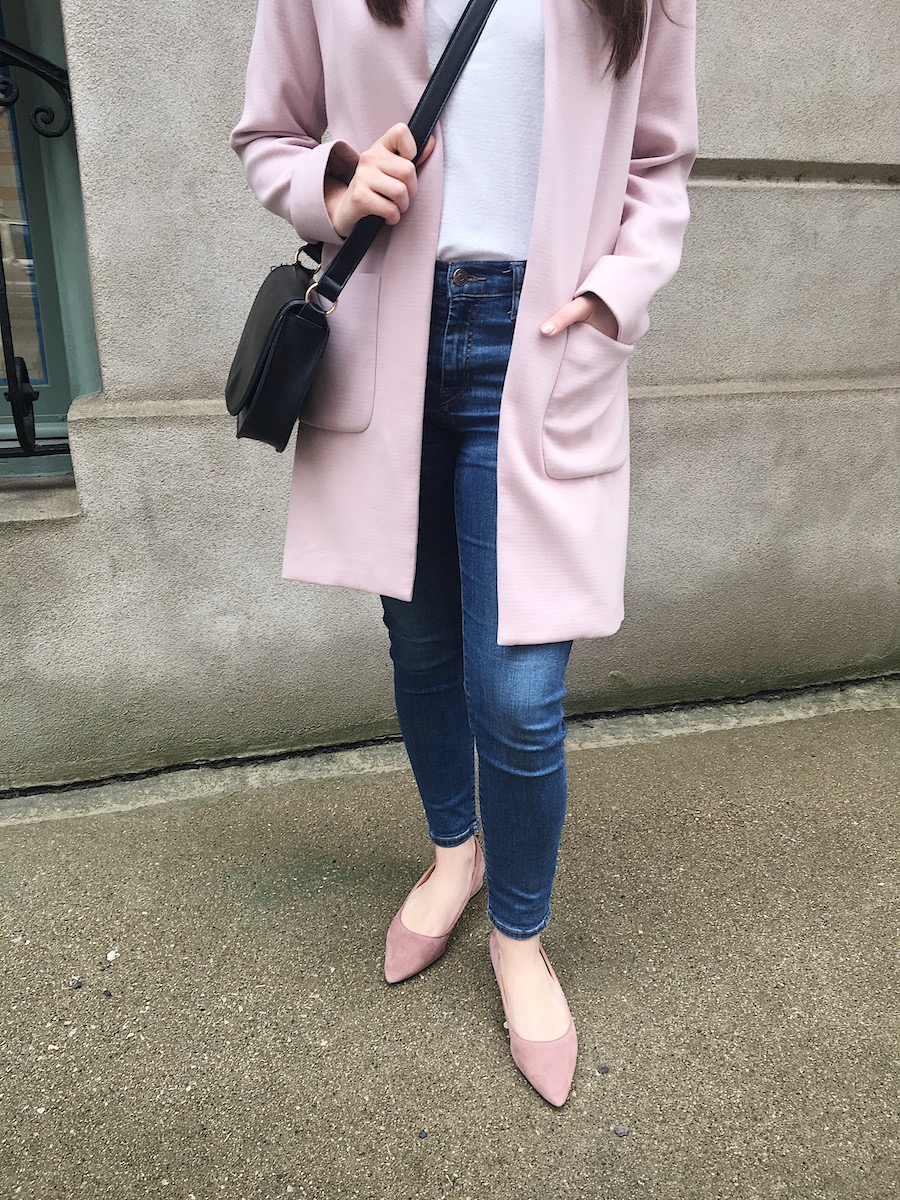 My closet is a sea of neutral basics because color scares me. That being said, when I do wear color, I love creating monochromatic outfits. There's something about monochrome that elevates an outfit from basic to chic, especially when we're talking blush on blush. Channeling my inner Blair Eadie here.
Wednesday

While I tend to steer clear of prints, stripes are the one exception I'll make. I tucked this striped turtleneck into black skinnies, paired it with black heeled boots and layered a light wool jacket to tie everything together.
Thursday

A pop of leopard print makes another appearance here, this time as (surprise!) a neck scarf. An oversized sweater is another great way to layer and create dimension, especially during these Midwestern winter months.
Friday

Lastly, if I'm feeling fancy, the red lipstick comes out, as does the matching neck scarf and coat. As you can see, I'm guilty of rotating a few styling elements, switching up accessories and adding/subtracting color to mix things up throughout the week! Thanks for following along 😊
Pink Statement Coat, Topshop
Top Coat, Ralph Lauren
Jean Jacket, H&M
Oversized Sweater, Madewell
Striped Turtleneck, J.Crew
Black Mockneck, Revolve
Raw Hem Jeans, AG
Black Jeans, Paige
Button Hem Jeans, Madewell
Leopard Flats, Steve Madden
Suede Flats, Bella Vita
Modern Loafer, Everlane
Heeled Bootie, Sole Society
Tortoise Shell Glasses, Warby Parker
Bandana, Madewell
Black Crossbody, H&M
Leather Crossbody, Nordstrom
Neutral Crossbody, Urban Originals