I was so excited and caught off guard when I was asked to do a Week of Outfits — people wanted to see what I'm wearing?! Ahhh, thank you! As a digital marketing manager, I'm often fielding requests like these for my clients, but being on the receiving end reminds me of how grateful I am for what I do and the amazing female entrepreneurs and leaders I get to work with every day — from Skinesque, Parker Smith and Tiny Crane to Amanda, Monica and Yuri.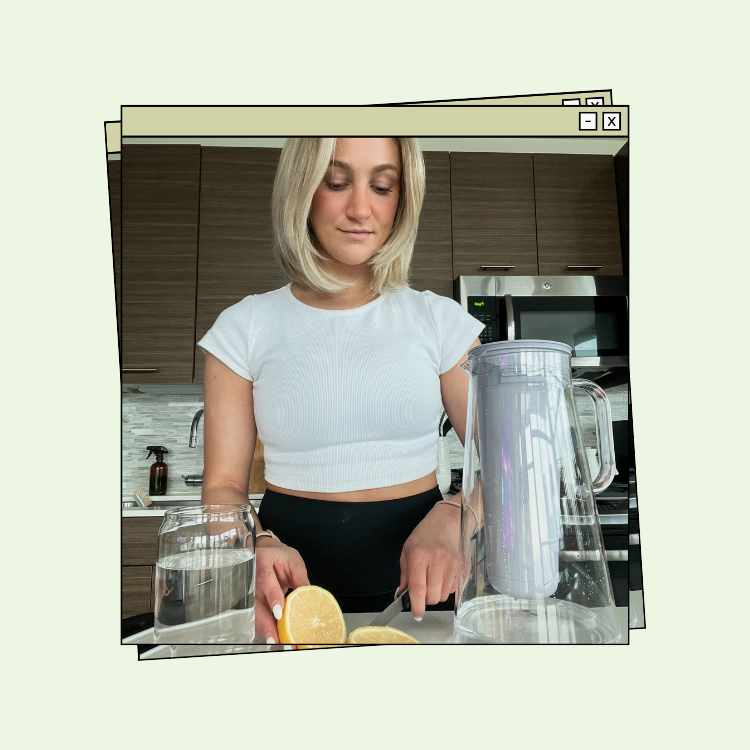 get it right in 2023 and beyond
In terms of style, I'm all over the place. I'm not afraid to try things that I ordinarily wouldn't go for. As Type-A and boring as I am (lol), I allow a good amount of space for creativity when it comes to my closet, without going too far outside of my comfort zone. The perfect balance!
Name: Tiffany Ngo
Age: 25
Job: Digital Media Marketing Manager
Location: Orange County & Los Angeles, CA
Monday
I call this my potato sack. No – really. I do. It's a wide-legged jumpsuit I snatched from Zara for $10. It's only when you get down and dirty during Zara sales that you find the real gems. It's a huge blessing for me to be able to work from home, and it also makes me stock up in loungewear like men's H&M sweats or easy-to-wear jumpsuits. As for my typical Monday outfit, I try to avoid scheduling meetings on Monday because… Monday.
Tuesday
Tuesday is a meeting day. My clients and I usually meet at a cafe. This outfit came about because I went to a '70s themed birthday party and decided it was cute for 2017 too. The weather in SoCal likes to be rude and is scorching hot during the day, but an arctic tundra at night (and by that I mean 64 degrees lol). I try to wear outfits that cater to both day and night.
Wednesday
The first thing my boyfriend asked when he saw this pic was, "Why are you sitting on the floor?" Well friends, I was testing out Hearth & Hand's floor pillow as you do when you go to Target the week of their launch.
Wednesday is literally a day of struggles. It's hump day, and for some reason, it's always the only day available for my appointments or when I run most of my errands. I opt for the comfiest outfit that will allow me to move fast, so I basically wear my white Jack Purcells to death. I also am a HUGE Parker Smith Jeans convert. They are the BEST pairs of denim you could ever own.
Thursday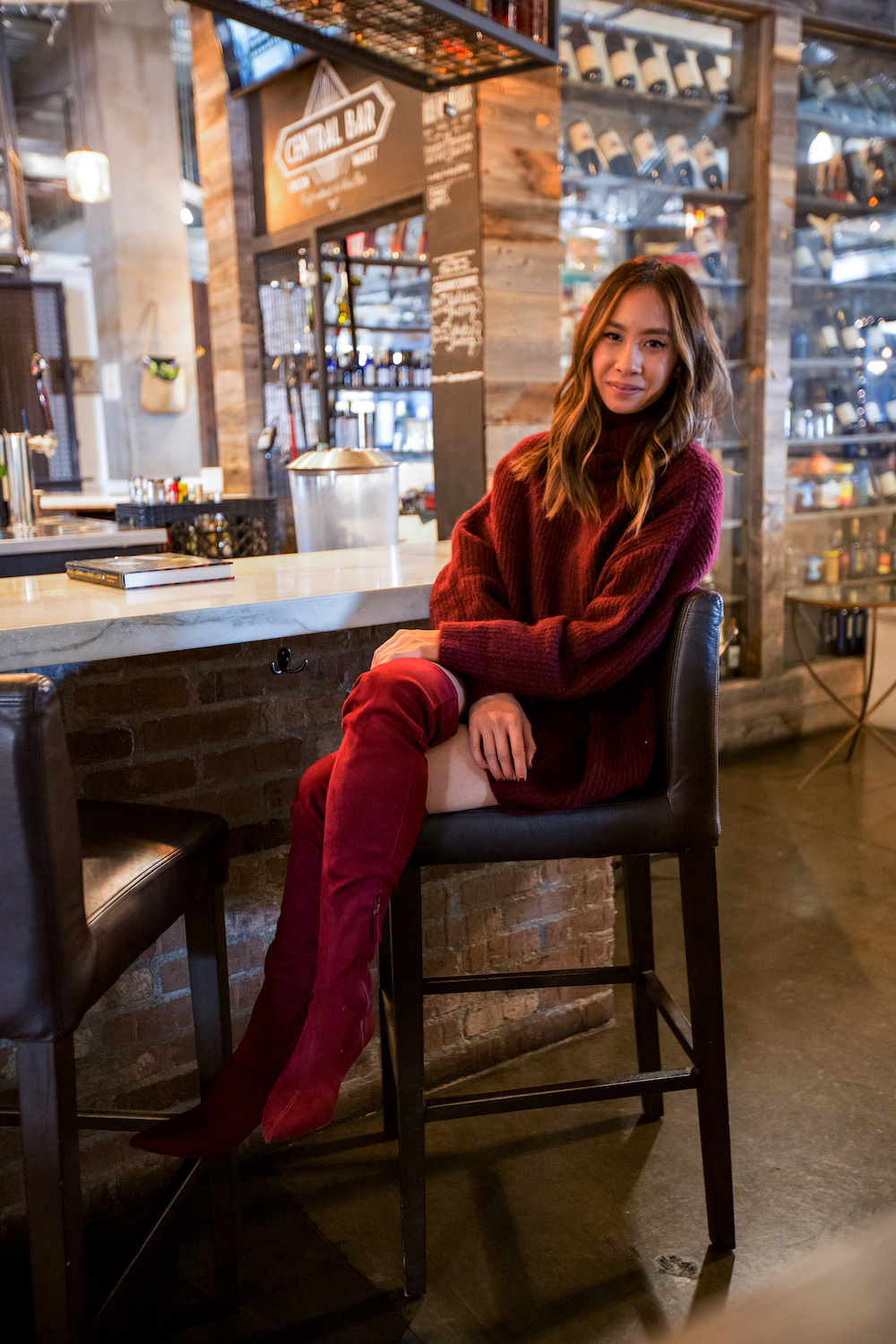 Dinner with the girlfriends! 💃  I've been really into monochromatic outfits and am obsessed with pairing a long sweater dress/turtleneck with OTK boots. I thought I was crazy to throw a full burgundy outfit together, but I've now worn two different renditions. Once with a burgundy silk dress and another with this burgundy sweater. Everything (the dress, boots, and sweater dress!) is from Zara. The boots were only $80!
Friday
I am the type of person who buys tickets to see Thor two months in advance in a reserved-seating theater only (true story), so Friday night is typically a movie night. This red skirt was an impulse buy from Zara. I was checking out and someone decided they didn't want it and left it by the cash register, so I picked it up and threw it in my pile. I am never that impulsive with decisions, and red out of all choices?! Not my typical go-to. I ended up loving it and have since then paired it with a red knit sweater for another monochromatic look. Sometimes, you've just got to go for it!
Sleeveless Tee, Adidas
Cropped Sweater, Free People
Striped Sweater, H&M
Red Mini Skirt, Pretty Little Thing
Overall Dress, Topshop
High Waisted Jean, Parker Smith
Slouchy Cardigan, Free People
Sweater Dress, Cotton Emporium
Felted Coat, H&M
OTK Flat Boot, Marc Fisher
Wool Beret, Hat Attack
Over the Knee Boot, Chinese Laundry
White Booties, Kristin Cavallari
Satchel Bag, Sole Society
White Sneakers, Converse