If you haven't heard by now, the best sale of the year is here and in full-swing (but you probably have because our editors have been yelling it from the rooftops for days now). Yes, the Nordstrom Anniversary Sale is here—and if you haven't already, it's time to figure out what you want to add to your cart before it sells out.
If you're looking to save money, time, AND a headache this holiday season, we've got you covered.
Every year, the Nordstrom Sale is marked on our editors' calendars and circled in red marker because we know that it's our opportunity to add the pieces of our dreams to our wardrobes at majorly discounted prices (and that they won't be in stock for long). We scour every page of the sale, write down our wishlists, and do everything in our power to get our hands on the things we want before they're gone.
This year, we've made purchases we're very excited about, and we don't want to keep the news to ourselves. From full-size beauty sets at unbelievable prices to jackets we're planning on living in this fall, these are the pieces our editors purchased (or have in our carts) from this year's sale. Trust us, you don't want to miss out on them.
Originally $89.50
Like most of us, I've been a huge fan of Madewell for what feels like forever. Because of that, one of my first stops when browsing the Nordstrom Sale is the Madewell section—it's a great time to stock up on high-quality basics from a brand I know and love. I eyed this sweater all of last fall, so when I saw the price, I knew it was time. It's a true classic that I know I'll wear on repeat this all fall and winter.
-Jess, Associate Editor
Originally $128
Now let's take a moment for these jeans: Almost every employee at The Everygirl is obsessed with Madewell's Perfect Vintage style (me included), and for good reason. They are very flattering, high-quality, and this wash is absolute perfection. Madewell jeans do tend to run large, so if you're between sizes, size down.
-Jess, Associate Editor
Originally $98
This jacket is quite famous throughout our office—there was a day once where literally every one of us had it on (and unfortunately were going out after and ended up looking like a biker gang). If you want a faux leather jacket, this is the best bang for your buck. I already have it in black, so this year I'm picking it up in this gorgeous brown shade and am so excited to style it once fall rolls around.
-Maddie, Fashion Editor
Originally $195
I've been on the hunt for a timeless bag that I can take with me on flights, road trips, to the office, and just out and about. It needs to be fancy enough to be professional, but casual enough that I can use it any time, and when I saw this I knew it was the one. Between the chic design and the expandable sizing it has everything I was looking for in a bag. Bonus: It comes in tons of cute colors.
-Kirra, Graphic Designer
Originally $130
I've been dying for a pair of mules that I can wear with everything, and these absolutely fit the bill (not to mention our fashion editor has them!). They're the perfect shoe to rock during the summer and that can transition seamlessly into the fall. Plus, the chic chain detail will add a little something to all of my outfits.
-Andi, Social Media Coordinator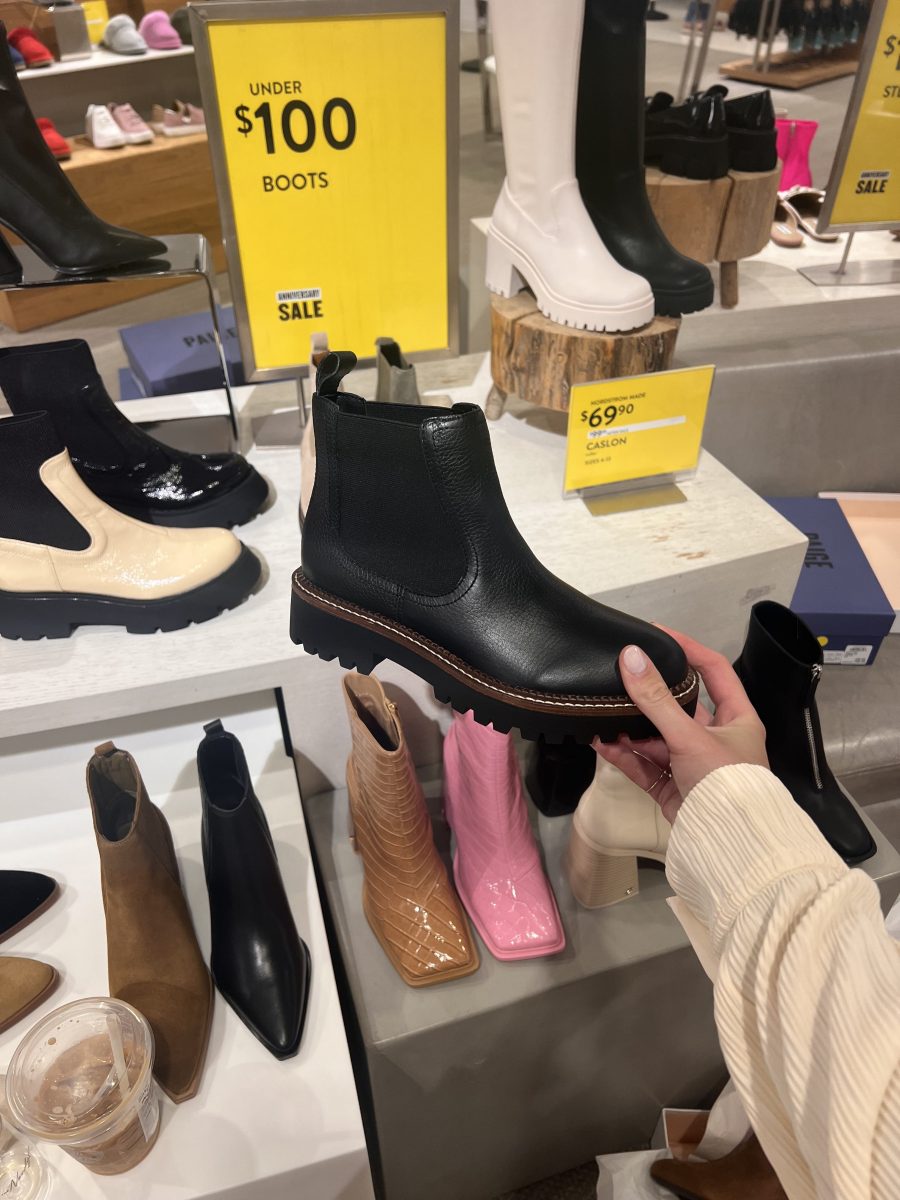 Originally $99
Last year, my black pair of these boots accidentally got mixed up with a pile of clothes I was donating, and when I realized they were gone, literally immediately replaced them at full price—that's how much I love them. They are the perfect amount of chunky that feels wearable for daily life, and since they're water-resistant, I wear them constantly, so I'm picking them up in another color (the gorgeous new olive shade!).
-Maddie, Fashion Editor
Originally $141
There is no better sale to stock up on gifts for the holiday season than the Nordstrom Sale, so I always keep an eye out for sets like this one from REPLICA. If you're looking to get a good bang for your buck and get a head start on holiday shopping (I know it's early, don't come for me), picking up a set like this one is a sure, elevated way to make it happen.
-Ashley, Branded Content Editor
Originally $129
There's nothing like a soft, high-quality sweater, and this is literally the cheapest I have ever seen a cashmere sweater go on sale. This classic crewneck is something I know I'll reach for constantly, and is too good a deal to pass up (plus, there are so many good colors that I might pick up two). It's one of those things you'll never regret having in your closet.
-Josie, Wellness Editor
Originally $75
I only bought two items from the Nordstrom sale last year and this Paula's Choice BHA Liquid Exfoliant was one of them. I wanted to hop on this holy grail skincare product for a while so once I saw it on sale, I knew I had to give it a go. I use this stuff every day after cleansing and toning. It's super gentle and it's helped my complexion so much—hence why I'm stocking up this year, too!
-Ashley, Branded Content Editor
Originally $218
I just got a new couch, which means that I'm all about accessorizing it. I've been searching for a beautiful blanket to keep folded on it even when I'm not using it, and this one is it. It's very large, which means that it's extra cozy and there's no toes-peeking-out-the-end situation, and it's incredibly soft. The tassels are the icing on the cake, making it my new go-to blanket (and something I'll be so glad I picked up all year long).
-Maddie, Fashion Editor