I can't recall exactly when it happened, but I can't help but correlate my (and everyone I know's) increased interest in fitness with the influx of cute workout clothes. In my younger years, I wore rolled Soffe shorts and black and white Nike sports bras. We didn't have patterned bike shorts, one-pieces, long-line bras—all the things we love now. And after getting dozens of ads for the new Old Navy activewear line, Powersoft, we found it had hit basically every criteria we want in workout clothes. Our editors tried a few different styles to get a feel of the fabric, the fit, and everything in between: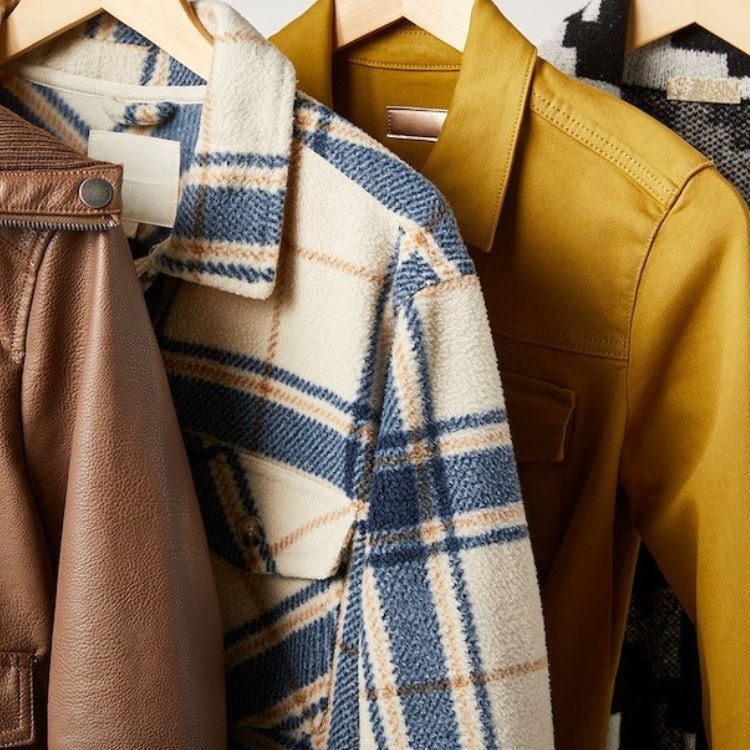 ...and it's wallet-friendly
I've been struggling with activewear lately. I am working out more than ever (about six days a week) doing all different kinds of activity (thanks to Obe Fitness, my one true love) that has me moving in so many different ways (pilates, dance cardio, strength… I even have recently made my foray into mini trampoline workouts!) that my old workout gear just couldn't keep up. Then, my sizing changed (pandemic life!), so everything that once fit me, is incredibly uncomfortable and hard to work out in now. Having to constantly pull my leggings up when I'm working out or move a bra around so my boobs aren't falling out or pull a shirt out is more exhausting than the workout itself. And I also am no Rockefeller—I need workout clothes that are affordable too, and being cute and trendy doesn't hurt either.
Like the rest of the world, I will only be wearing bike shorts this summer. They're comfy, cute, and don't make me sweat balls. All good things. So, I'm on the hunt to try practically every pair out there, and I knew I had to try these from Old Navy. They come in so many cute colors and prints, and I love that they have pockets (great for hikes or walking). These have lots of things going for them that I love. They're super comfortable, and the material is really nice and sweat-wicking. I could see these being great for truly every single type of workout. But on my body, they have one flaw, and that is that they give me the gnarliest camel toe ever. I had to position my body in such an odd way to eliminate the camel toe from happening, and it still did.
I want to love these, but because they show off such an intimate part of my body, I'm worried I'll feel uncomfortable wearing them and won't ever pull them out of my drawer. I also wish these came in different lengths because as stated above, I have pretty short legs and don't think the long, Bermuda-style short looks as good on me as a mid-thigh length does.
Old Navy
10+ colors available
Now that I'm going back to my gym a little bit, I'm realizing that the last year has completely made me a sports bra person. I can't possibly wear two layers while I'm working out. It's one or nothing (and nothing wouldn't be very conducive to aerodynamics, would it?). But I also feel a little self-conscious in a bra that covers my boobs and nothing else, so I need tops that function as both sports bras and tops. This one completely fits the bill and was an immediate keep. I put it on and fell in love. It's so comfortable and stays in place. I've already worn it for a workout, and I need to order every single color. This is a 10/10—if you buy anything from this line, make it this.
Old Navy
10+ colors available
I was so excited for these as someone who remembers yoga pants and is very into their revival. I love bootcut leggings for yoga, hiking, or just lounging around the house. I really like the fit of these, and the length was perfect (I'm 5'5 with kinda short legs for reference). These are the perfect in-between because they're compressive, making them good for workouts, but they're also so comfortable that I'd wear them just like I would sweats or joggers around the house. These fit me perfectly too and ran true to size!
Old Navy
2 colors available
I have had "finding a one-piece workout suit" on my list for this summer. For one, it's one piece—no thought, still look cute. It's also extremely comfortable, cute, and pretty trendy. Everything I look for in activewear! But I had many reservations about the fit on this. How could this possibly work with my body type? To my absolute surprise, it fit like a glove. It's the soft material the entire line consists of, so it just glides over my skin. It doesn't pinch or pull in any weird places, but it hugs my curves and keeps my shape. I can see myself wearing this for practically every kind of workout and am already planning an outdoor workout class in which I debut how absolutely amazing this looks. I also love this chic green color, but it also comes in black and a lovely burnt orange.
However, this did give me a smidgen of a camel toe as well, but not nearly as bad as the bike shorts, so I can work around it.
Old Navy
3 colors available
I have a slight obsession with activewear, and I always love trying out new pieces from different stores and lines. I had been dying to try out Old Navy's Powersoft line for quite some time because everything is soooo cute and I have heard nothing but rave reviews. Plus it's affordable, so what more could you want? I am someone who loves to feel cute in my workout clothes—something about it just makes me feel more motivated to workout, OK?!—so I'm a sucker for trendy prints and colors and love nothing more than a good matching set. Luckily for me, Old Navy has all of those things, and the Powersoft material is said to be so soft and comfortable, yet also supportive enough for all of your workouts. I ordered a large in everything you'll see here—here are my thoughts:
I. am. obsessed. with. these. The snakeskin pattern is so cute and on-trend, plus it's different than anything else I own. These biker shorts are perfectly high-waisted, and the waistband really sucks everything in and does not roll. Plus there is a light compression in these that makes me feel truly snatched. Now let's get to the material: it is silky smooth and so soft, but there is no issue with it sliding down or constantly having to pull up at the waistband. This material seriously rivals some of my high-end workout wear and I cannot wait to order these biker shorts in every color for summer.
Old Navy
10+ colors available

Being the exact same material and pattern as the bike shorts, I could say all of the same things regarding how much I love the feel of this sports bra. As far as the fit and support of the bra, I think it's great. I have a pretty large chest (I typically wear a 36DD), so finding a sports bra that works for me is tough. This one offers just the right amount of support (I hate being too constricted), while still being comfortable enough to wear leisurely. My only critique is that I followed the size chart online and ordered a large, but I could've sized up to an XL in this. It definitely fits, but I think I would be more comfortable in an XL.
Old Navy
5 colors available
I love this jacket so much. If I saw someone wearing it on the street, I definitely would think it was from a high-end brand. The quality truly feels much more expensive than the price tag, and I could see myself wearing this in so many ways. I often just wear a sports bra and high-waisted bottoms while working out, so this is the perfect jacket to throw on over that outfit. I also love the cut of it—I think it's super flattering and looks good zipped or unzipped. Plus, the pockets have zippers (perfect for a walk, run, or hike) and it has thumb holes!
Old Navy
3 colors available
I like these leggings a lot, but they are not my favorite thing I tried. The khaki color (jacket included) is slightly less silky and soft than the snakeskin items (I'm not sure if this is due to manufacturing or just the styles), so I wasn't as wowed by these leggings as I was the biker shorts. They still fit great, the waistband feels very supportive, and they do not roll down at all. Some people might even like that the material is a little bit more matte feeling, but if you're looking for that super silky smooth feel, I might suggest trying one of the patterns.
Old Navy
8 colors available