The search for the perfect pair of jeans is not an easy one — there are SO many different options, and what works for one woman will certainly not work for all. However, a great pair of jeans is as essential to your wardrobe as a kickass turtleneck is to Diane Keaton's.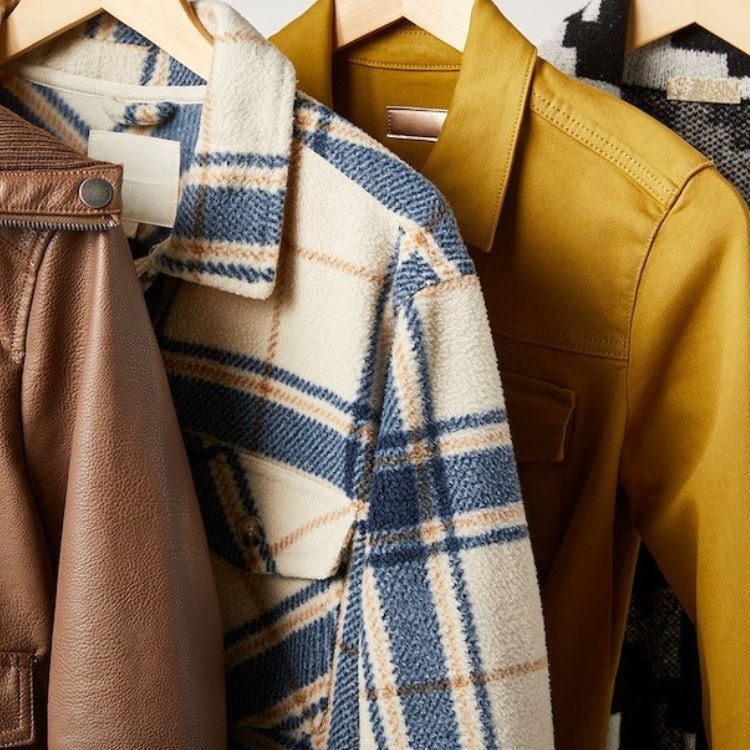 ...and it's wallet-friendly
We wear jeans to our office (and literally everywhere else), so we at The Everygirl consider ourselves to be jeans experts. Here, we're sharing the jeans we can't LIVE without — that we actually own, wear, and love.
Abercrombie
I have two pairs of these jeans in black — which is necessary because I wear them almost EVERY. SINGLE. DAY. They're the most perfectly flattering level of high-rise — and they hug in all the right places!! I'm kind of between two sizes — I ordered the larger in both, and I'm glad I did.
LOFT
I've had these jeans for YEARS — but thank goodness LOFT keeps making them, because I always get compliments on them. My roommate borrowed them so often that she finally just bought a pair of her own — and now she wear them as often as I do! They're the perfect "jean" color — a perfectly casual "I just threw these on!" look.
Everlane
I'm obsessed with the way these jeans fit, and how comfortable they really are! While they're the perfect, structured work pant, they actually feel more like stretchy leggings. They're also insanely flattering and fit perfectly.
Revolve
IMO, these are the PERFECT boyfriend jeans. They're comfortable in all the right places, but fitted and flattering at the same time. Whether it's weekend brunch or running errands, these are always my go-to jeans when I want to be comfortable, or look extra on-trend!
Abercrombie
These jeans are EVERYTHING. They are cloud-from-heaven soft, reasonably priced (I got them on sale for $30-40 all the time), and the fit is perfection. Imagine me kissing the tips of my fingers rn, the fit is that. dang. good. They also wash well and last a decent amount of time considering I wear them practically every day. These are the SAME as Abigail's favorite skinny jeans — so are you buying them already or what?
H&M
I bought these on a whim before a summer trip — I needed light wash jeans that had a looser fit (hellooooo sweat) and a breezy vibe. Little did I know they would become one of the most complimented items of my entire oeuvre (which is mostly just jeans and tees anyway but whateva). The amount of times I have heard "girl THOSE JEANS" while wearing these jeans has really done wonders for my ego. Buy them!!
Madewell
I am obsessed with these black jeans, I wear them constantly – they go with everything. They've got some give but don't stretch out and they hit my waist just right. Also, this wash is slightly faded and looks worn-in and loved.
Lucky Brand
No shame: I wore these jeans every day for a week after I got them. They're so soft and comfortably high-waisted. They're my new go-to classic blue jean.
Old Navy
I'm over skinny jeans. (OK, let's be real here. I still wear them basically every other day.) My legs are constantly restricted, nothing ever fits my ankles (thanks mom for wide thighs and skinny ankles!), and the legs are never the right length. Enter the cropped flare jean. I decided to try these out during a crazy Old Navy denim sale, and now I wear them probably four times a week. My favorite way to pair them is with a white tee, fun earrings, and booties, however, they're so versatile and go with just about anything. These have the perfect amount of stretch (you can squat, but they're not falling off by the end of the day). They're so good and SO affordable.
Good American
I tried a bunch of different Good American jeans a few months ago and decided to pick these ones up, mostly based on how great they looked in the pictures. These jeans were a huge splurge for me (but I'll spend $60 on foundation, of course), so they basically had to be perfect if I was going to keep them in my wardrobe. Update: they are! They don't fade, even though I wear them constantly. These jeans are very stretchy, so I was somewhat wary that they would stretch out too much with wear. They have stayed exactly the same as the day I bought them. If you're on the fence about these, pick out a pair and try them at home with your favorite shoes and tops. That's how I know something looks good and fits into my wardrobe!

Everlane
I was on the hunt for the perfect straight-legged jean forever, and these are them. They're so flattering and comfortable — and make your booty look amazing!
Zara
These are the perfect skinnies. They don't stretch all day, and are tight around the ankles so they look great with booties when it's cold out. They also don't fade at all, I've had mine for ages and they're still the same color as when I bought them!
Old Navy
I wear these jeans all summer long. It's so easy to throw them on with a T-shirt and run out the door. These are super affordable, comfortable, and flattering.
Everlane
These are hands-down my favorite skinny jeans. They never stretch throughout the day and are the perfect amount of high-rise.
What's YOUR favorite pair of jeans? Share your recs in the comments!