Attention all you health nuts out there: it's OK to take it easy and give yourself grace during this very scary time. You don't have to do intense workouts regularly, feel guilty for eating something "unhealthy," or expect constant productivity during the time at home. However, trying to preserve some sense of normalcy is extremely important for your well-being. If you want to feel your best, don't let staying at home stop you from living your best life (well, your best life possible right now).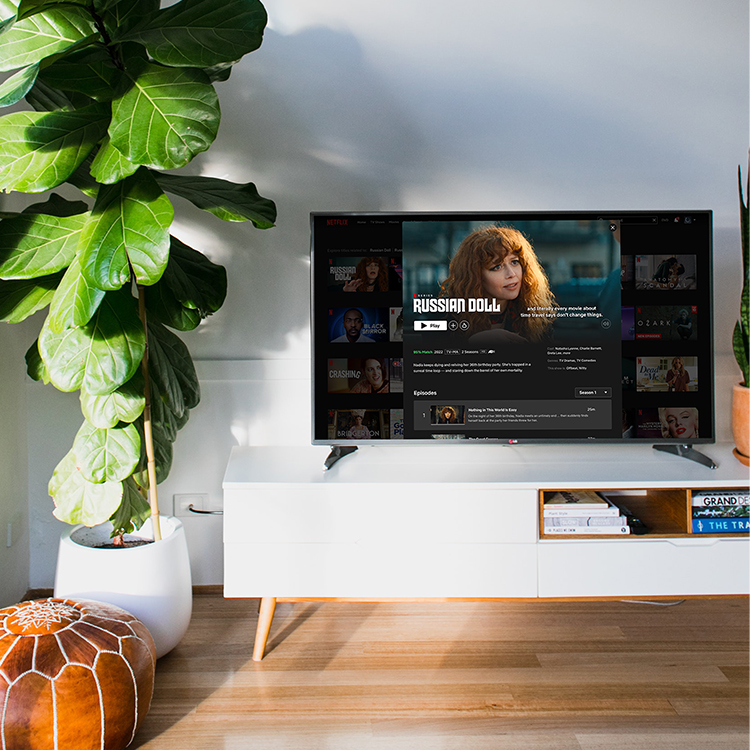 stop mindlessly scrolling on Netflix—these shows have our seal of approval
You don't need fancy workout programs, fresh food delivery services, or an expensive accountability coach to achieve your health goals. Instead, you just need a few specific products that will improve your mental and physical health to make you feel your best. Whether your health goals are related to fitness, nutrition, mental health, or all of the above (because true health is defined by balance in all areas of your life), here are 12 products that will help you achieve your health goals, even while you're at home.
1. At-home workout gear (for your favorite workouts)
You can have the best fitness gear that the internet has to offer, but if it's not a type of workout you enjoy, you're not going to use it. Especially during a tough time, don't feel the need to challenge yourself to get sweatier or workout harder if you're not feeling motivated to do so. Instead, find an at-home workout that you will look forward to—whether it's yoga, pilates, or HIIT—and stock up on the gear you need, accordingly.
2. An alarm clock that wakes you up the right way
Without a regular routine, you might be losing track of time, spending less time outside, or sleeping in until 11am (no judgment!). An alarm clock that wakes you up the right way can help when your routine is feeling out of whack and waking up at a reasonable hour seems like a challenge. We don't need any more stress; a time like this doesn't call for a loud, obnoxious iPhone alarm first thing in the morning. Instead, try an alarm clock that mimics the sunrise or has features that help you fall asleep to wake up more refreshed the next morning.
3. Pantry essentials for plant-based alternatives for all your cravings
No matter what's going on in your local grocery stores (anyone else using toilet paper as currency because it's become that rare?), have some healthy-eating essentials stocked in your pantry, so you don't have to opt for the same frozen pizza or boxed mac n' cheese whenever your food supply is running low. Plus, you'll be able to satisfy your cravings with plant-based options instead of panic-ordering fast-food delivery. We deserve to have comfort food at a time like this, but that doesn't mean we have to forgo our health goals.
4. An updated water bottle for refreshing hydration you'll look forward to
Even if you're not "on the go" these days, you might have found that drinking water is not always easier from the comfort of your home. Work (or Netflix) distractions certainly don't help you remember to keep sipping out of your water glass or refilling your cup in between meals. Make sure you're staying hydrated and hitting your daily water goals with a tumbler or bottle that will help you get there. If you're not a big water drinker to begin with, try a bottle with a built-in filter and add berries and tropical fruit for extra flavor, or ginger, mint, and lemon for a detox drink.
5. A natural routine for your sexual health
Whether "staying at home" means dates over Zoom and an indefinite dry spell (though we're all about self-love, just FYI!) to you, or you're staying at home with your significant other and are running out of ways to entertain yourselves (*wink, wink*), make sure to keep up with your sexual and reproductive care, however that looks like to you. Natural is always better, so be mindful of what ingredients and chemicals you're coming in contact with, as always.
6. Kitchen essentials for healthy cooking
The real secret to successfully eating healthier (while still staying sane) is cooking at home more often. And the secret to cooking healthy at home more often is stocking your kitchen with items that make healthy cooking easier. When a craving hits, you won't have to ignore it. Instead, you'll be prepared to DIY a meal that's as good as it is good for you. Try a pressure cooker for easy recipes, a spiralizer to make zucchini noodles, or an easy-to-clean blender to make smoothies, soups, and sauces.
7. A way to track your progress
You're probably feeling complacent, and the days are likely starting to run together (is it Tuesday or Friday? Literally no clue). There are few methods to feel like you're truly hitting goals and achieving wellness milestones, so stay on track (and feel proud of yourself) by tracking your progress. Whether you prefer an app, a fitness tracker device, or daily journaling, find a method of tracking that holds you accountable to reach your goals and makes you feel good (because reading a book instead of watching TV or going on a walk around the block counts as progress!).
8. Products to grow (and store) herbs
Not only do herbs pack extra flavor and taste, but they have major health benefits too. According to studies, herbs like cilantro can be anti-inflammatory and might reduce sun damage in the skin, while many people love using mint to help soothe their digestive system. Even if you don't have a Martha-Stewart-approved garden at your disposal, you can grow your own herbs indoors with an herb planter, or store herbs in the proper container to keep them fresher for longer. Herbs are a genius (and easy) way to add extra greens and nutrients to your diet while eating every meal at home.
9. A dry brush
Odds are you've heard about the trending resurgence of the ancient technique of dry brushing (or "garshana"). The practice has been around for thousands of years for a reason (or multiple): it intensely exfoliates the skin, as well as promotes lymphatic drainage, and according to The Cleveland Clinic, it stimulates the nervous system. Your skin will feel so smooth, and you'll also get a serious glow because dry brushing can increase blood flow.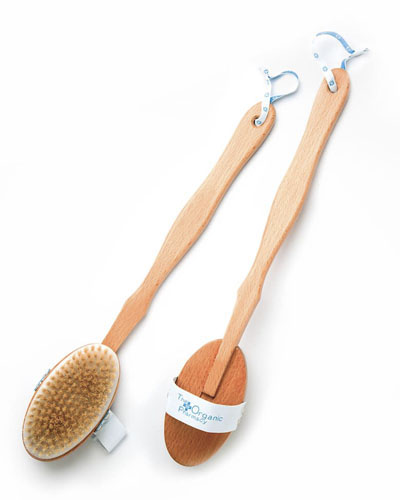 10. Organization for your work-from-home "office"
Of course, you don't need to have a full-fledged office at home (ain't nobody got space for that), especially if you don't usually WFH, but try to create some extra space so you don't have to move all your paperwork from the kitchen table whenever you eat a meal. Keep yourself motivated with organizational methods that work best for your space, and invest in key pieces to keep your posture aligned or help you feel your best while sitting through a long workday at home.
11. Sustainable food storage
Prepare healthy meals for your busiest weekdays with reusable (and environmentally-friendly!) food storage. Whether it's chopped veggies, the other half of an avocado, or leftover chickpea pasta, try preparing extra food to save leftovers for the days where you don't have time to cook. Get ready to break up with Ziploc bags and aluminum foil for a much more sustainable (and chic!) option.
12. Books for meditative journaling or reading
You likely have some extra time while we're staying at home (the drive to and from the gym really adds up, and I genuinely don't know what to do with myself without Thursday happy hour). Instead of watching Grace & Frankie for the third time all the way through, consider doing some reading that will make you feel inspired, grounded, and peaceful. Whether or not you need something to fill your time, meditative journaling and reading can be added to your morning or evening routine to reduce stress and anxiety.