Rachel Mansfield didn't always plan to be where she is right now: with a popular blog and a brand-new cookbook. But a few years ago, losing her job led her to throw herself into her passion in a new way—as her main job instead of a side hustle. That passion? Developing healthy, yet delicious recipes (like copycat versions of Girl Scout cookies) that everyone can enjoy. For a while, she freelanced for brands while also working to get her site off the ground, but once she realized that she could really make a living doing what she loved most, her attention turned more and more to content creation. Seeing how much followers loved her unique recipes told her she was onto something really good, and from then on, it was full steam ahead.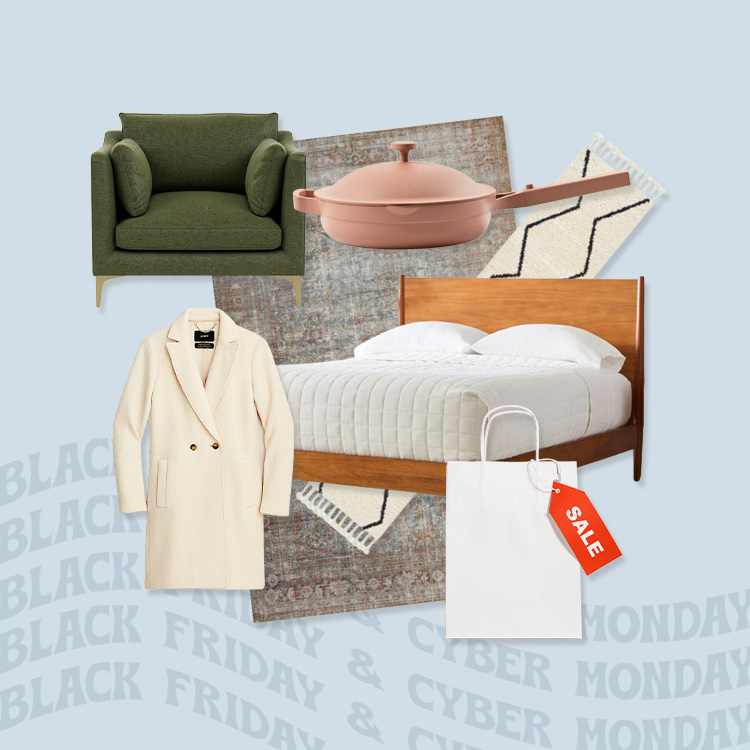 we combed the internet for the best OMG-CANNOT-MISS deals
Whether you adhere to a certain diet or lifestyle or not, Rachel focuses on real food, not labels. Her new book, Just the Good Stuff, is a natural extension of her blog that you can take into your very own kitchen, and features recipes (and stories about her life to accompany them) for any time of the day or night—whether you're looking for a quick breakfast on your way out the door to work or a late-night snack to accompany a Netflix binge.
We talked to Rachel about launching her healthy cooking empire, writing her cookbook, and her best advice for you if you too want to take on a big work goal—and then rounded up 10 of her swoon-worthy dessert recipes, including the chocolate lava cakes recipe from her brand-new book.
You're publishing your very first cookbook, "Just the Good Stuff." Congratulations! What was the process of writing a cookbook like? How did you know that now was the right time?
The process itself was kind of crazy. I was going through infertility treatment at the time and ended up getting pregnant during it. In 2018, I tested 398 total recipes—it was crazy town! I loved making recipes for the book so much—there was no pressure to photograph, and I could test them at 9pm and not worry about the lighting or anything.
The book itself has such unique recipes, like Grain-free Pastry Tarts (like Pop Tarts), an entire chapter called Easy Solo Meal Ideas, another chapter for homemade snacks called Netflix + Chill, and then Comfort Foods Made Healthy. It has so much goodness in it and the entire book is set up so differently than your usual cookbook. The chapters each share a story from my life and the recipes that go along with it. It is the perfect mix of sweet and savory throughout.
I have to ask the dreaded question, what's your favorite recipe in the book?
HA! So I can't pick just one, but I do love the Vegan Cinnamon Rolls with Coconut Glaze, Vegan Animal-Style French Fries, Spaghetti Squash Pizza Crust, and Layered Chocolate Chip Cookie Cake with Avocado Cacao Cream Frosting—to name a few!
What are your best tips for someone who wants to tackle a BIG professional goal (like writing a book)?
DO IT! Put yourself out there. The worst that could happen is it doesn't turn out how you wanted, but you'll never know until you try.
10 Delicious Desserts You Won't Believe Are Healthy
1. Extra-Chocolatey Chocolate Lava Cakes
Makes 8 cakes
Ingredients
3 tablespoons liquid coconut oil, plus more for greasing the pan
1⁄3 cup cacao powder, plus more for dusting the pan
¾ cup unsweetened nondairy milk, at room temperature
1 teaspoon apple cider vinegar
1 cup dairy-free dark chocolate chips
¾ teaspoon pure vanilla extract
½ cup coconut sugar
¾ cup unsweetened applesauce
1 cup gluten-free oat flour
¾ teaspoon baking powder
8 (1-ounce) squares dairy-free dark chocolate (Hu's Salty Dark Chocolate is my fave)
Instructions
Preheat the oven to 350°F. Grease 8 cups of a 12-cup muffin pan with a bit of coconut oil and then dust them with cacao powder.
In a large bowl, combine the nondairy milk and apple cider vinegar. Let the mixture sit for about 5 minutes.
In a small saucepan, melt the chocolate chips over medium-low heat. Stir until completely melted. Remove from the heat.
Add the coconut oil, vanilla, coconut sugar, and applesauce to the milk and vinegar, and mix well with a whisk or electric hand mixer. Add the cacao powder, oat flour, and baking powder and mix again until there are no lumps. Stir in about half of the melted chocolate.
Fill each prepared muffin cup with ¼ cup of the batter and place a square of chocolate in the middle of each cup, gently pushing it down into the batter. Top with the rest of the batter, making sure the chocolate squares are covered.
Bake until a toothpick inserted in the side of a cake comes out clean (inserting it in the center will not work since the toothpick will prick the melted chocolate square), 15 to 17 minutes. Let the cakes sit for about 5 minutes. Invert a large baking sheet over the muffin pan, carefully flip the pan over, and lift it off to release. Top with the remaining melted chocolate and serve immediately.
Leftover lava cakes will keep in the fridge for 5 days. Reheat them in the microwave in 15-second increments.
Reprinted from Just The Good Stuff. Copyright © 2020 by Rachel Mansfield Photographs copyright © 2020 by Aubrie Pick. Published by Clarkson Potter, an imprint of Penguin Random House, LLC.