There's a scene in When Harry Met Sally that feels like a personal jab everytime I watch it. Sally is proclaiming to Harry that she is mostly certainly not high maintenance, and Harry swiftly shatters this notion by pointing out that she is actually the worst sort of all: a high-maintenance person who thinks they're low maintenance.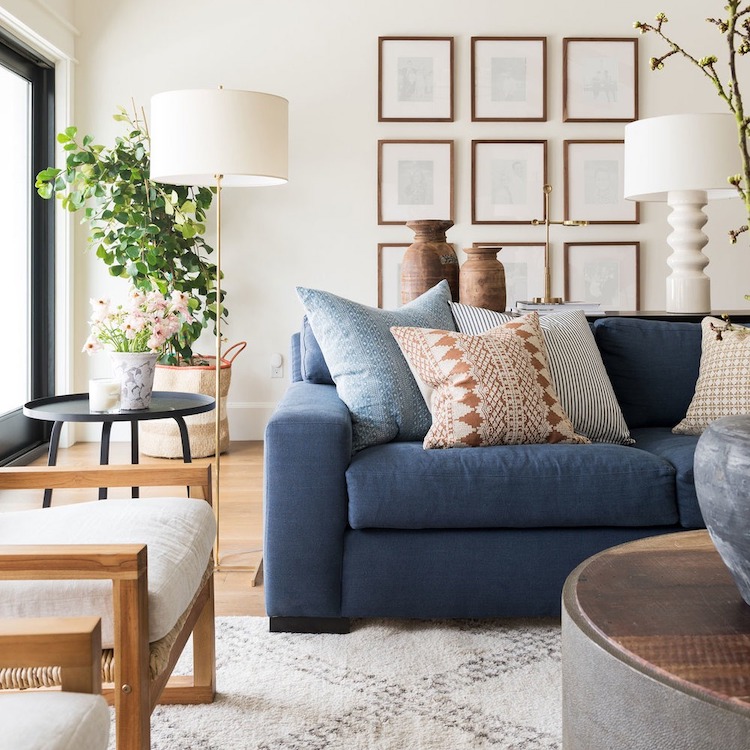 don't make the same mistakes I did
I think, possibly, this is me. At least when it comes to my home.
Look, I'm not the kind of gal who prioritizes high-end finishes and the latest upgrades (if I was, renting would be a mighty big challenge), but, as Sally so eloquently put it, "I just want it the way I want it." Meaning, while I don't need things to be fancy, I am not the sort to suffer in silence with blue and yellow kitchen cabinets (an actual problem I am currently facing).
All that said, I'm also not the sort who can afford to say goodbye to her security deposit. If you've found yourself in a similar boat, welcome. It is not so nice here but we are going to get through it.
Ahead, I'm sharing six rental hacks that will vastly improve your space without any protests from your landlord.
1. Add plug-in wall sconces
Gone are the days when sophisticated lighting options were only available for homeowners. Plug-in sconces instantly elevate any room and allow you to infuse a luxe detail without any electric complications, so you can add them above your bedroom nightstands, an office nook, dining space, and just about any other corner that strikes your fancy.
2. Infuse color with window treatments
If painting your walls sounds like a little too much manual labor (or if you have a particularly uncooperative landlord), opt to bring in color with window treatments instead. The upgrade from standard apartment blinds will quickly make the entire space feel more pulled together.
3. Cover dated countertops or cabinets with contact paper
Let's call a spade a spade: most rental kitchens are the pits. The good news? Contact paper is a magical invention that can transform even the worst of them. While the application process isn't exactly speedy, the time and elbow grease will be well worth the glow up. Just make sure to choose a paper that specifically advertises itself as "removable" and test an inconspicuous part of your cabinet or countertop to ensure there's no lasting damage.
4. Swap out old light fixtures
Some people scoff when I tell them I always like to change the light fixtures of my rental homes, but I stand by this being one of the most savvy rental hacks out there. Not only can you seamlessly swap your former light fixture back in when you move out (make sure to call in an electrician if you're not comfortable switching the light yourself), but you can also take your new fixture with you when you leave, making it a worthwhile investment for the long haul.
5. Add architectural interest with shelving
One of my biggest gripes with rental homes is that they often lack character and interest. Most landlords aren't spending the big bucks on charming built-ins or cabinetry. Still, you can achieve a similar effect with wall-to-wall shelving that adds dimension, while also giving you ample space to display all of your most prized possessions. Pro tip: Add extra height to the top of the shelves with plants or art, allowing them to feel extra grand.
6. Upgrade dated hardware
While dated hardware can quickly make a space feel old and dingy, it's one of the easiest and most effective swaps you can make in a rental. Whether you're tackling your bathroom vanity knobs or your kitchen cabinets, this quick upgrade offers tons of instant gratification (my favorite), and can be an incredibly cost-effective way to breathe new life into a dated kitchen or rental bath in just a few minutes.