With extremely thick 4C hair, blow-drying is never a fun process. Growing up, I dreaded when my mom said it was time to wash my hair because it was always such a long all-day event. First, she had to take out whatever braids my hair was styled in at the time and comb out my hair. Then, I would put my head under the kitchen sink as she shampooed and conditioned my hair. I've always had a lot of hair, so just washing my hair took about 30 minutes. Then, my mom would towel dry my hair before dividing it into sections to blow dry, which actually would take about two hours. By the time my mom was styling my hair into plaits with bubbles, I was falling asleep in her lap.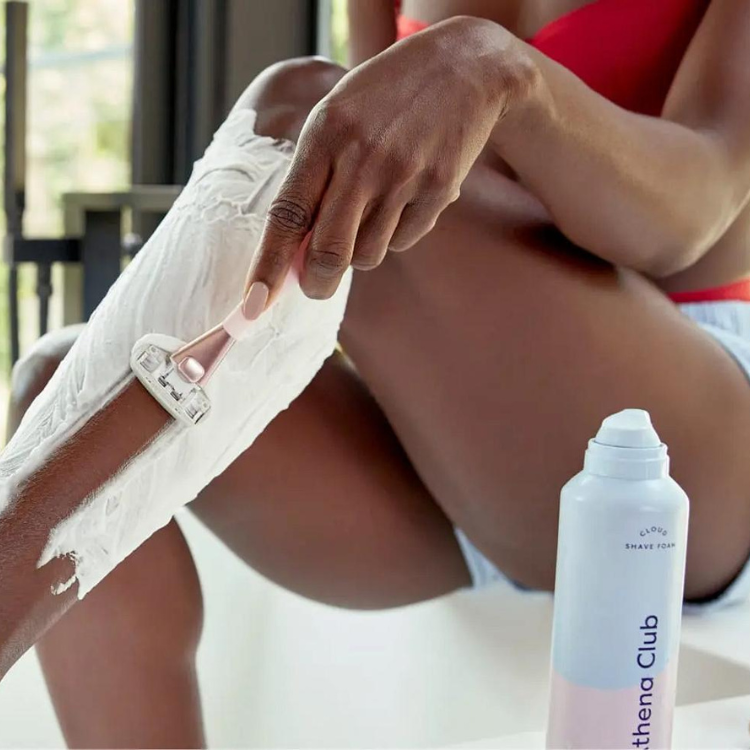 "This razor gave me the silkiest, smoothest shave I've ever had! I never get any cuts or scrapes, even on those hard-to-shave places."
Since I was a kid, I've always used blow dryers with brush and comb attachments to help with detangling and overall drying time. As an adult, I still dread washing my hair because of all the steps involved and avoided blow drying my hair unless I absolutely had to. My hair is past shoulder length but thick AF, so blow drying takes me a little over an hour.
A few months ago, one of my friends told me about this new blow dryer from Revlon she swore by. I checked it out on Amazon, and it had amazing reviews (specifically from women with 4C hair), so I decided to try it out.
My Routine
After washing out my conditioner in the shower, I immediately add my leave-in conditioner while my hair is soaking wet. Then, I'll wrap a microfiber towel around my hair while I'm drying off and getting dressed. For blow-drying, I always divide my hair into eight sections and start with one in the back. I use a wide-toothed comb to detangle my hair then use the blow-dryer brush from the bottom up to the top. I pass through my hair slowly until my hair is about 95 percent dry. I don't completely dry the hair at the back because I'll be brushing the blow dryer through it more times as I dry the rest of my hair. I repeat this process all over my hair, then add in a moisturizer. Right now, I'm loving Mielle Organics's Avocado Moisturizing Hair Milk. After moisturizing, I'll brush the blow dryer through my hair a few more times, and then I'm all set.
Here's why I'll never go back to another blow dryer:
1. It cut my blow-drying time in half
I kid you not when I say it takes me less than 30 minutes to blow dry my hair. I divide my hair into sections and then run the blow dryer brush through each section until it's dry. Since the paddle is so big, it covers a large section of hair at once. With other hairdryers, I would be struggling with the blow dryer in one hand and a brush or comb in the other while my arms were wrapped around my head. Now, I only have to use one tool and get an even better result, which is so much simpler.
2. You don't have to worry about attachments falling off or breaking
The blow dryers that have the brush and comb attachments that slide on and off would always get stuck in my thick hair and slide off or break. It was super annoying and just got in the way while blow-drying. Since the air is literally coming out of the brush, attachments are not a problem.
3.

It's great for different hair types

I have 4c hair and have tried the paddle-brush style because that's what works well with my hair. Revlon also has a One-Step Hair Dryer And Volumizer Brush that is a round brush style. This is great for women with straight hair who want to add volume and get that blown-out look.
4. It's healthier on my hair
With high, low, and cool settings, it's great if you want to blow dry your hair without applying heat. This blow dryer is just as powerful as other blow dryers, but because it takes half the time, you're exposing your hair to less heat, making it a lot healthier on your hair.