There are the kinds of holiday decorations that are classic — green and red, mistletoe, holly, Christmas lights; and then there are the kinds of holiday decorations that are in Rhiannon Lawson's home — timeless but stylish, comfortable and boho, unique and laidback. Her decorations go well beyond your typical green and red garlands, resulting in one of the coziest, coolest homes we've ever see.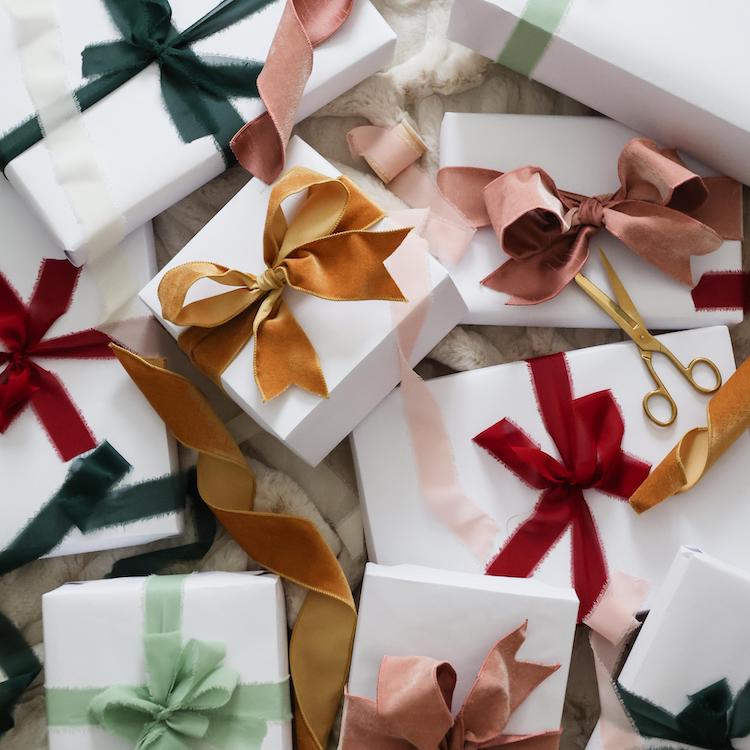 the perfect gifts for everyone—and we mean everyone—on your list
Her bohemian farmhouse holiday style is achieved through warm colors, pretty greenery, and lots and lots of cozy accents — all of which totally make us want to cuddle up with some hot cocoa.
We talked to Rhiannon about where she shops for holiday decor, how she spends Christmas morning, and what the holidays means to her (hint: it'll make you feel all the feels). Read on for some home inspo and major Christmas cheer:
Name: Rhiannon Lawson
Location: Spotsylvania, VA
Sq. Ft: 1,900
When do you start decorating for the holidays?
We are typically early decorators! I would say the week before Thanksgiving is pretty standard for us, however I do always wait to do exterior lights and decorations until Black Friday.
Tell us about your holiday decorating process.
I usually start brainstorming on Pinterest in October and get a game plan for a theme or goal. I tend to start off small and adding little tweaks to our open shelving — like a holiday mug, or a snowy stem. Then when it's reached an acceptable timeframe on the calendar, the trees come out. I try to get our main tree done all at once, but tweaking and adding if I come across things is pretty normal.
After that, I try to complete room by room. The living room is always priority, followed my entryway and kitchen, and lastly our bedroom. I always blast Christmas music and try to have as much fun with it as possible. I think so many people put too much pressure on it and don't enjoy it enough, I find it so much easier if you're having fun doing it and just let the creativity flow.
How do you budget when it comes to decorating seasonally? (Things can get expensive for such a short time of the year!).
This is never easy, especially when you love Christmas as much as I do. We have a budget in place for "fun money" year round, so this time of year holiday decor falls into that. We buy all seasonal items when they go on sales or are on promotion — which often means way ahead of the season or after. Some of my favorite finds have been on clearance shelves post holiday! However, I also make sure that I'm buying things I'll love for years to come rather than just the current year. That way, you're able to build a solid collection, and the expense will become less each year.
Where do you shop for holiday decor?
World Market, Target, Hobby Lobby, and Anthropologie are my go-to's.
Do you have any holiday traditions that are special to you?
We have a secret family cookie recipe that the women in my family have made for generations. They are very anticipated each year and I enjoy carrying on the torch and making them for all our friends and family each season. My mom's Christmas morning baked french toast is a must, so is New Year's Eve Santa hat drinks, driving around and looking at lights, and leaving the tree up until New Year's Day.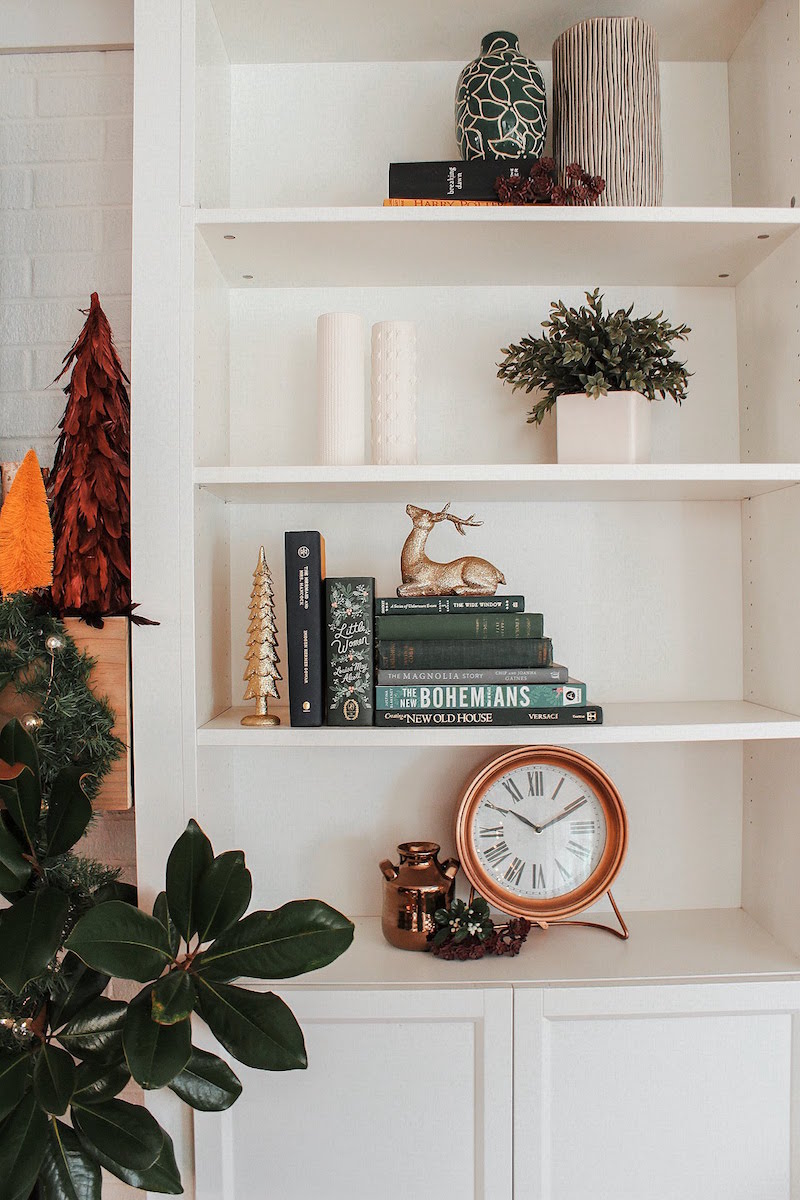 Do you have any tips for readers who may live in smaller apartments (and who are on a budget) who might not be able to decorate to their heart's desire?
Affordable, battery-operated twinkle lights! You can buy them for $5 and they make any space instantly festive and cozy. Also buy a tree! Even if it's a tiny one for a desk or table, wrap some lights around it and make it cozy. Even little items like our bottle brush trees were only a few dollars a piece on sale, and make everything feel more fun!
What was your childhood home decorated like at the holidays, compared to your own as an adult? Did you take any influence from your childhood when putting your own together?
I would describe it as traditional, elegant, whimsical, and unique. I definitely get my love of Christmas and decorating from my mom. She always has really special stockings, hand-painted ornaments, and one-of-a-kind knick knacks, nutcrackers, dolls, and houses. I always strive for the uniqueness she always creates, but I think I have a little bit more of a laid-back approach in my choices.
How has decorating for the holidays evolved over the years for you?
This year in particular, I wanted to do less traditional and instead complement my home's year-round aesthetic. I used to feel like I had to put all of my everyday things away and make room for Christmas decor. I wanted to keep the things I loved on display this year and find ways to incorporate a holiday vibe in addition. Especially when you're working with things like printed curtains or pillows, it can get a little tricky, and traditional red and green everywhere can clash a little. So, we approached this year differently and I think this is going to be our new normal.
Have you slowly been collecting your holiday decor over the years, or did you purchase it all at once?
All over the years! Bobby and I have had five Christmases on our own, and each year I get a little bit more and I finally feel like I'm getting a good collection. It takes time though! I cannot imagine trying to buy it all at once. Plus it's more fun to let it grow and evolve, and to pull things from certain moments in your life and reflect.
Do you have a favorite ornament on your tree?
I think the wooden electrical lineman ornament, because I bought it for my husband and I love how much he loves it. There's tons of fun and funky ones I ADORE, but that's the one with the most sentimental value. (He's a lineman for a living, in case this doesn't make sense).
What's your favorite piece of holiday decor that you own?
Does a collection count? My growing collection of small Christmas trees are my favorite! The entire table of bottle brush, ceramic, fabric, and wooden trees might be my favorite part this year.
Overall, what's your favorite thing about celebrating in your home?
The feeling it creates it your home. Christmas in my mind is just the purest form of happiness and love. Everything glows, everything's happy and cozy — it's about embracing all the important things in life.
What does your Christmas morning look like?
We don't have children yet, and I have a very little brother, so we tend to run to my parent's house pretty early to open presents there, and then to my in-law's.
Do you have any holiday traditions you haven't started yet, but are planning to?
Once we do have children, I look forward to waking up early and opening all the presents here in our home and carrying on all the traditions I had as a child for them. Making my mom's french toast Christmas morning, gift wrapping, driving around and looking at lights, and opening one gift on Christmas eve with Christmas pj's! Bobby and I are terrible about waiting until Christmas to exchange gifts and always end up opening them early, but once we have babies we're going to commit!
Rhiannon is The Everygirl…
Hot chocolate or hot cider?
Hot Chocolate
Favorite Christmas song?
Rockin' Around The Christmas Tree
Favorite Christmas movie?
The Family Stone
Favorite Starbucks holiday drink?
Salted Caramel Mocha
Gift at the top of your wishlist?
A Smeg Coffee Maker
The great debate: when do you start listening to Christmas music?
Please don't judge, but after Halloween..