Chicago blogger Anna Jane Wisniewski (known as See Anna Jane) knows a thing or two about decorating for Christmas. She starts out with real garland, wreaths, and Christmas trees — which combined with her traditional decorations, make her home look festive from top to bottom. She took inspiration from her childhood home's decor, but evolved it into something completely her own.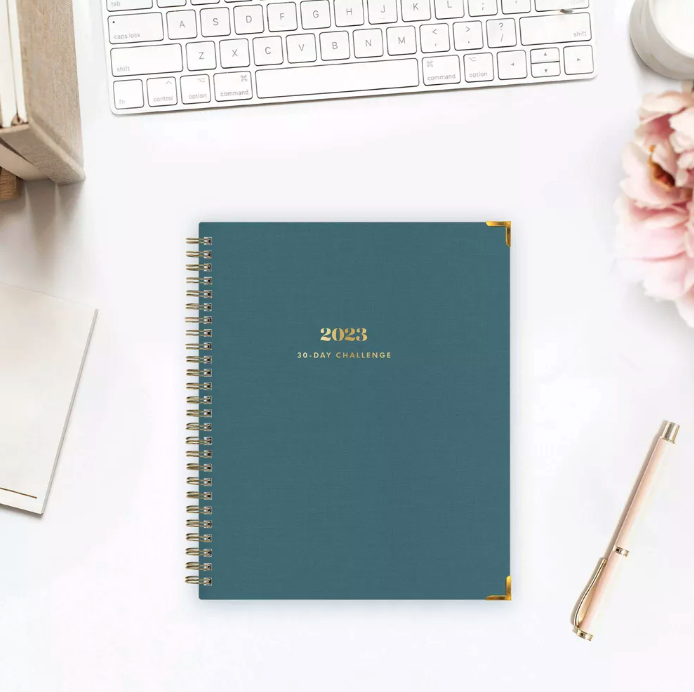 We may be biased, but this is the ultimate planner for the motivated goal-getter. Schedule your days, track your habits, and set new goals every month.
Anna talked to us about what she thinks the most important piece of holiday decor is, how her decorating has evolved over the years, and what holiday tradition she's hoping to start.
Name: Anna Jane Wisniewski
Location: Winnetka, IL
When do you start decorating for the holidays?
Either the weekend after Thanksgiving or the first weekend of December.
Tell us about your holiday decorating process.
I start by finding the fresh elements — all the garlands, wreaths, and the tree are real. Once I get those into place, I put up the decor. This is our first year in our home and we actually have some room to decorate!
How do you budget when it comes to decorating seasonally? Things can get expensive for such a short time of the year!
Definitely reuse and repurpose items year after year — you could even start with holiday collectibles from your family and build upon that. I have no interest in starting from scratch year after year, but I think it's totally acceptable to add new or subtract elements from your holiday decor each year.
Where do you shop for holiday decor? Anyway!
Target is always a great place for cute, inexpensive pieces and actually, Michaels and Home Goods are my secret weapons, but you have to be willing to search and use your imagination as they aren't as merchandised. Crate + Barrel and Pottery Barn have gorgeous holiday decor, too. For this year, I teamed up with Havenly to help me with my mantel and tablescape, and much of it comes from the places I mentioned so it's a great mix of price points.
Do you have any holiday traditions that are special to you?
Baking cookies with Christmas music blasting. My mom always did that with my sisters and me, and we'd love sneaking the cookies and treats for breakfast throughout the holiday season.
Do you have any tips for readers who may live in smaller apartments (and who are on a budget) who might not be able to decorate to their heart's desire?
Start with the tree — whether it's tiny and on a table or an 8-foot spruce, putting up a tree makes your space instantly exude the holiday spirit. Plus, you can start collecting ornaments to save and cherish year after year. Once you start the tradition of putting up a tree, you can start sprinkling in new elements (maybe buy 1-2 pieces a year to add!).
What was your childhood home decorated like at the holidays, compared to your own as an adult?
It was traditional — lots of wreaths, holly, a huge tree, twinkling lights, and holiday-esque trinkets along with a vintage nativity scene on the mantel. My mom also incorporated old ornaments from her and my dad's childhood, which I always loved. Our tree was never "styled" — it was donned with ornaments, both vintage and handmade (yep, even the popsicle stick ornaments). Looking back, I definitely have taken cues from my house growing up with lots of traditional forest greens, pops of red, a focus on trees and winter, and a little sparkle (and lots of ornaments on the tree with sentiment).
How has decorating for the holidays evolved over the years for you?
I started small with a little tree in our condo, and since we moved I finally have some room to incorporate the bigger things I love — like wreaths, a 7-foot tree, and garlands everywhere! It's a little more intentional and styled than past years, but I still let things like the tree be filled with kids and gifted ornaments from over the years.
Have you slowly been collecting your holiday decor over the years, or did you purchase it all at once?
This year, I bought a lot more than years past because I have the room, but prior to this year, it was just a few pieces here and there each season.
Do you have a favorite ornament on your tree?
My parents had a gold-plated baby ornament for each of the kids with our name engraved on it. I bought the same ones for my two boys and it has their names, birthday, birth weight, and time of birth. It was probably $12, but I love it so much because it has so much meaning, and once they have their own tree I will give them theirs.
What's your favorite piece of holiday decor that you own?
Hand-me-down ornaments from my family — they all have a story and I remember them from childhood.
Overall, what's your favorite thing about celebrating in your home?
Knowing that I helped make the space special and that my kids will have memories of the holiday decor when they're all grown up.
What does your Christmas morning look like?
This will be the first year at our own house, but I'm planning on a cinnamon roll breakfast with coffee and bacon, and we'll sit under the tree and open presents (one person at a time so the kids learn how to be patient and grateful). I can't wait!
Do you have any holiday traditions you haven't started yet, but are planning to?
Staying home for Christmas! This is the first year we aren't traveling for the holidays and I'm really excited for our kids to be able to wake up and run to their own tree.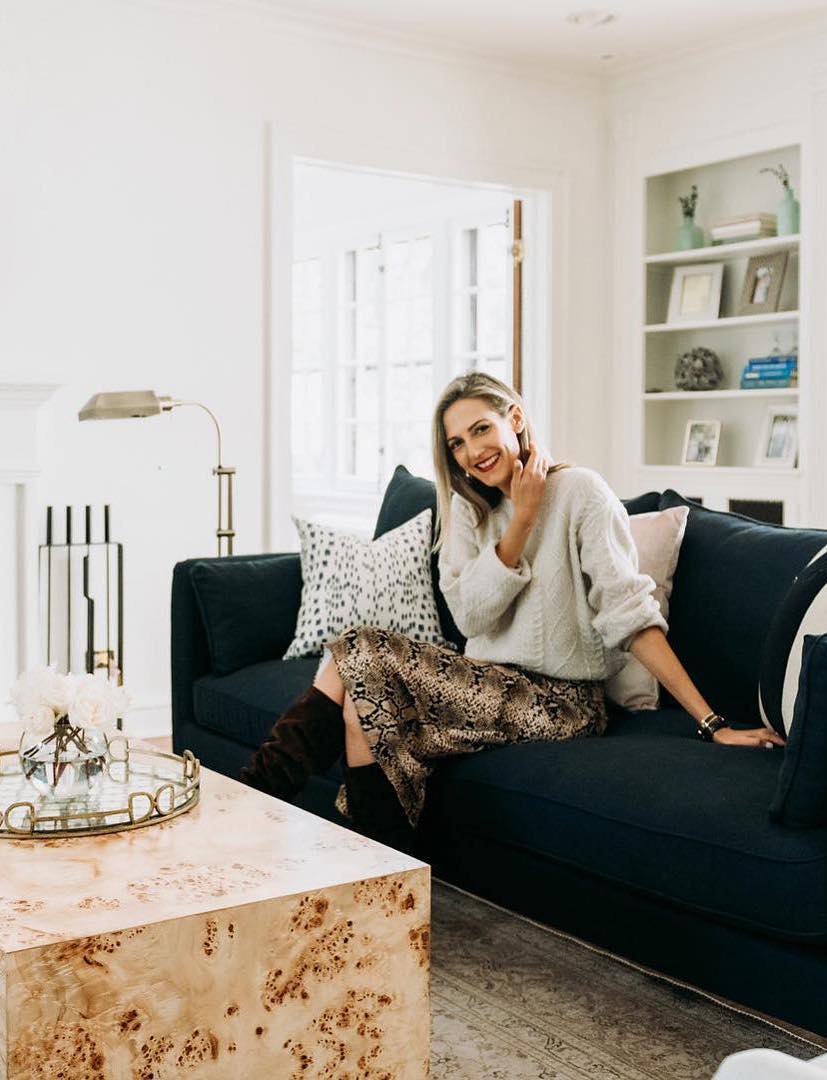 Anna Jane Wisniewski is The Everygirl…
Hot chocolate or hot cider? Cider
Favorite Christmas song? Traditional: Hark the Herald Angels Sing / Pop: Do They Know It's Christmas?
Favorite Christmas movie? I don't think I can pick one! But The Holiday is up there.
Favorite Starbucks holiday drink? Chai latte
The best gift you've ever given? A little blue ceramic bunny for my mom when I was in grade school (I'm sure it was no more than $10). She loved it so much she started collecting bunnies from there on out.
Gift at the top of your list this year? A warm weekend getaway with my husband — we've had a lot going on this year and would love to just relax on a beach somewhere with him!
The great debate: when do you start listening to Christmas music? Right after Thanksgiving 🙂