As a self-proclaimed beauty addict, minimizing my beauty routine (and then writing about it) feels like I'm going against my core. But to be quite honest, it's the peak of summer and I just can't stomach my hard work melting off my face as soon as I walk out the door. And don't even get me started on the ~ havoc ~ that is blow drying your when it's 90 degrees outside, so you morph into a sweat-drenched mess BEFORE you step outside and become a sweat-drenched mess with the rest of the public.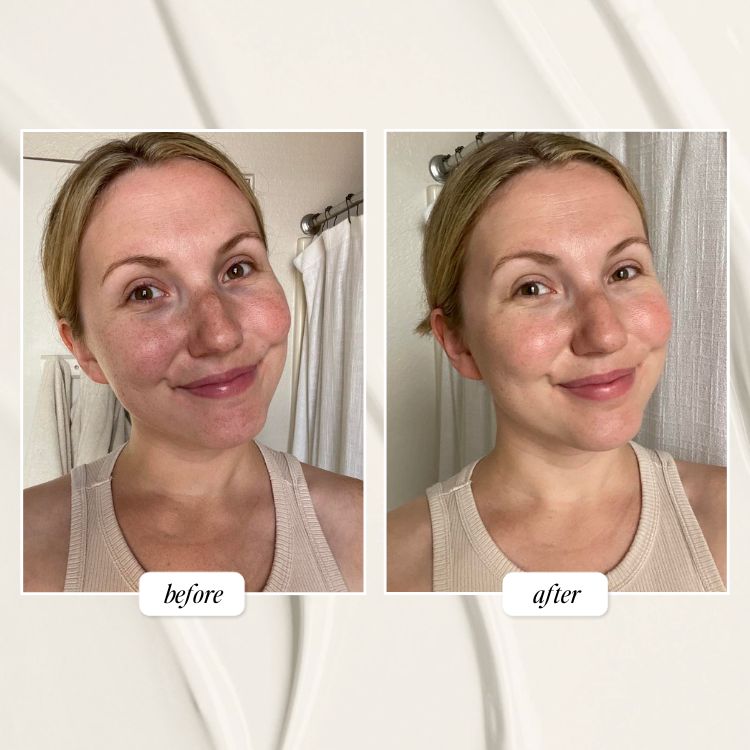 So I've traded in my extensive beat for something much more simple — opting for products that can do multiple jobs with a single application. And you know what? I kind of love it. But no matter how hot it is or how little time I have to get ready, there are a few essentials I just can't let go of.
The best part? You can pick them all up on your next Sephora run. We all know Sephora as the beauty lover's idea of paradise, but shopping at the Disney World of glam has benefits that go past just their cult-approved selection. Not only does Sephora make it easy to test new products while stocking up on your favorites, there are tons of rewards and perks with their Beauty Insider Program. Take advantage of free products, exclusive services, special promotions, free shipping, and more — just for signing up.
Keep scrolling to see the 12 products I always find a place for in my routine, and let us know if you snag one on your next Sephora trip.
Drunk Elephant
This new formula from Drunk Elephant is a moisture savior. Infused with African oils, it helps replenish barrier support and is safe for even the most sensitive skin. Use daily with your skincare routine or when you feel your skin is dry. I love to use it as a skin savior when traveling to dry climates or a hazardous night of falling asleep with makeup still on.
LANEIGE
With over 5,000 five-star reviews on Sephora, everyone can agree that this is the lip moisturizer to end all lip products. I keep one on my nightstand and a mini in my purse because it's REALLY that good
— and you cannot beat the affordable price. Get ready to abandon all those partially-used chapsticks you've got floating around.
Summer Fridays
Yes, the aqua tube you see all over instagram truly is worth the hype. This hydrating mask is noncomedogenic and filled with vitamins that will brighten your skin texture, boost moisture, and help rid your skin of free radicals. I prefer to use it as a heavy nighttime moisturizer (usually while sleeping).
Shiseido
Do you ever use a sheet mask and wonder afterward if it really did anything? We've all been there. That's what drew me to these eye masks the first time I used them. After just a few minutes, you notice a significant difference in your under-eye area. They are a little pricey, so I only use them when I am looking particularly haggard. Think of them like an instant eye lift.
GrandeLASH
Minimizing my routine means I'm constantly looking for ways to do less. I always feel if my eyelashes are on point, then I appear awake and revitalized even without makeup. Because I can't afford the co$$$t of keeping eyelash extensions up, this is the next best thing. You'll begin to see results after a few weeks, but after three months you'll never want to live without this.
Dior
I recently switched from a favorite mascara I've been using for a few years — not because there was anything wrong with it, but because I wanted to see what other formulas were out there. Another one of the many reasons I'm an avid Sephora shopper is because they offer a hassle-free and no-questions-asked return policy — meaning if you don't like a product within 90 days, you can bring it back and swap it for something else. You never want to be stuck with a full tube of something that wasn't right for you, and thanks to Sephora you never have to. Diorshow is what I am currently rotating through and it has not disappointed. It gives my lashes a bold, full look that makes my eyes pop with little to no eyeshadow.
Living Proof
Being able to extend a wash and style has been crucial in lowering the amount of time I'm spending getting ready. Take it from someone who has tried every dry shampoo out there, this one truly reigns supreme. A few spritzes and you'll think your hair was just washed. It's one of my desert island products.
OUAI
I never thought I would love a hairspray as much as I love this one — I even keep an extra under the sink at all times. Not only does this spray hold your waves in place, it also adds texture, absorbs oil, and provides volume which means it does the job of three products in one.
This post was in partnership with Sephora, but all of the opinions within are those of The Everygirl editorial board.