Last year, a hybrid piece of clothing came onto the scene and completely stole our hearts (and become the focal point of many of our outfits). Yes, the shacket—that's a combo of a shirt and jacket—is a fall staple worthy of wearing any day of the week.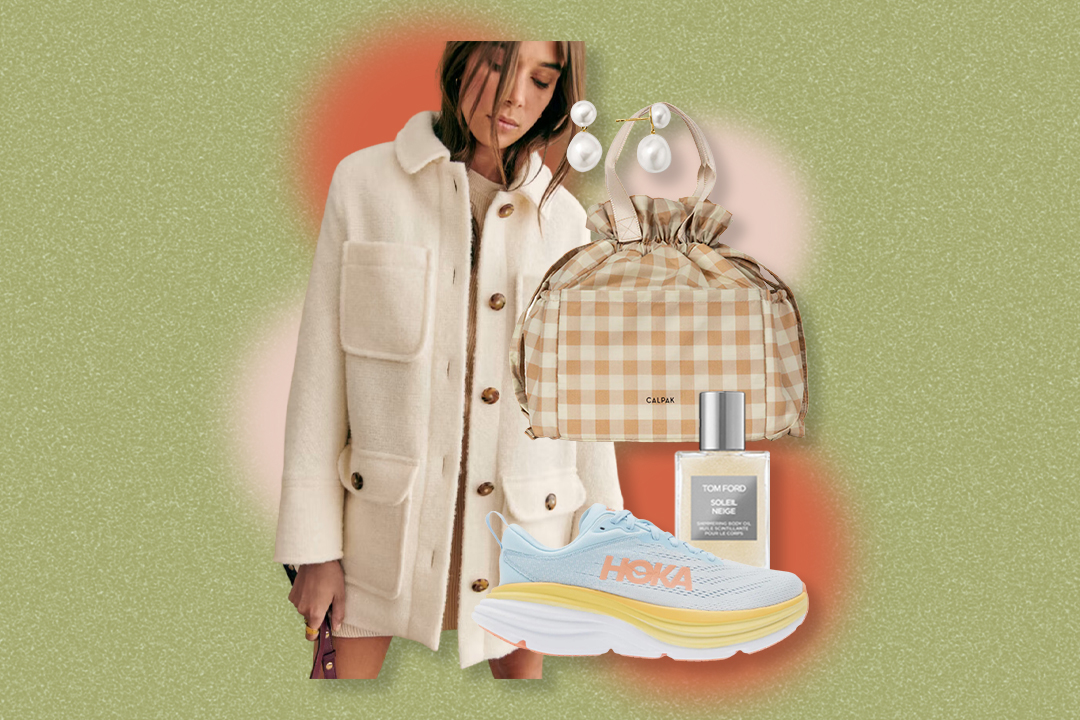 Since they're more lightweight than a typical coat, a shacket is the perfect partner to navigate transitional weather with, and since they're so versatile, there are countless ways to switch it up and make it feel your own.
Ready to make the most of your shackets this season? We've broken down seven different looks that you can turn to every time you reach for yours—and we have a feeling you'll be wearing them on repeat.
1. With a dress and knee-high boots
Shackets are great for adding texture and pattern to your OOTD. They can either be dressed up with heels or dressed down with flat, knee-high boots and a T-shirt dress. If you're looking for an outfit that doesn't scream "just rolled out of bed" but still feels just as casual, this easy, throw-on-and-go look is for you.
2. With a sweater and distressed jeans
We've all been rocking sweater and jean outfits since we could dress ourselves. It's a safe, go-to look that can be thrown together even on the laziest of days. But, if you're visiting somewhere extra chilly or wanting to go the extra mile, you could layer a shacket for an elevated, cozy vibe.
3. With a white tee and jeans
Take advantage of the long shacket trend that's everywhere this season and pair it with the ultimate basic combo: jeans, sneakers, and a white tee. The extra length of the shacket will give the outfit a totally different feel than a short one, and it will keep you warm on chilly days.
5. With a matching skirt and boots
Whatever the weather, you can find a way to incorporate a shacket into your everyday wardrobe, and this look is perfect for those warm fall days that are bound to happen throughout November and December. If it's a crisp, 60-degree day, opt for a shacket-skirt situation for an ideal fall fashion look. Better yet, find a matching shacket and skirt for a main character moment.
6. With full-length trousers and sneakers
Get extra styling points by pairing your shacket with another one of the season's biggest trends: full-length trousers. Paired with the shacket, the trousers will feel more like dressed-down cool girl than office wear, which is exactly what we're going for.
6. With wide-leg jeans and sandals
Even if you live in a warm climate, a good shacket can help you feel like it's fall, even when the weather doesn't agree. Opt for one in a bright color (like this purple number) and pair it over jeans and sandals for when it's a little chillier than usual, but still not cold where you live.
7. With trousers and flats
For a look that can take you to the office and after-work drinks, pairing a shacket with your go-to trousers and a pair of ballet flats hits the nail on the head of feeling both polished and trendy. For bonus points, make your base layer monochrome, and use your shacket as a pop of color.
Shackets We Love
Banana Republic
4 colors available
abercrombie & fitch
4 colors available
abercrombie & fitch
3 colors available
Aritzia
10+ colors available
Aritzia
6 colors available
Thread & Supply
5 colors available
aritzia
4 colors available