If you're as obsessed with the One Room Challenge as we are, you're going to love Shannon Claire Smith. The D.C.-based designer redid her bedroom in six weeks – and it looks AMAZING. She shared with us her best tips for decorating on a budget, for finding constant inspiration, and for mastering the art of the perfect Spotify playlist.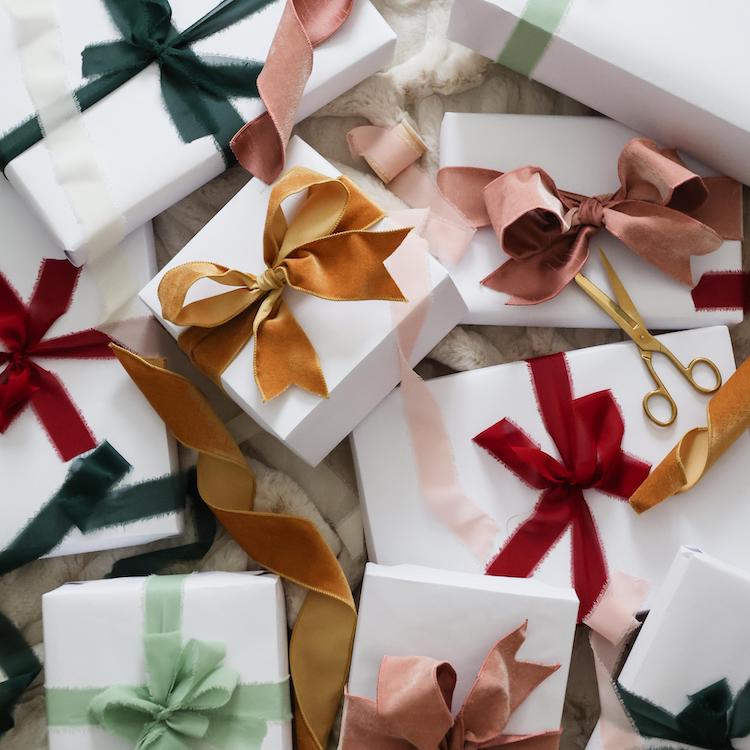 the perfect gifts for everyone—and we mean everyone—on your list
Name: Shannon Claire Smith
Title: Designer, Owner Shannon Claire Interiors
Age: 30
Square Footage: 750
Rent or Own: Own
City, State: Washington, DC
How did you discover your interest in interior design, and what made you pursue it?
I have always had an interest in interior design and decorating, ever since I was a little girl and my mom let me choose the paint colors for my stenciled border in my bedroom. When I was in college, I spent all of my extra dollars at discount stores on decorative items (think: faux ivy above the cabinets, permanent placemats on the table, etc.) When I got married and purchased our first fixer-upper, I wanted to document the process for friends and family. I pulled furniture out of dumpsters, painted entire walls with chalkboard paint, ripped up carpet, installed my own countertops, and documented it all on my blog, Burlap and Lace. I started gaining readership, and people started asking if they could hire me. Soon, what I had only previously thought was a hobby turned into a viable business.
Before
Did having your design blog, Burlap and Lace, help you transition into creating your design company? If so, how?
Yes, it was absolutely the driving force behind starting my design business, Shannon Claire Interiors! I started my blog when I was in college, studying English Literature. I knew that I loved school and I loved Literature and I just assumed that I would stay in school until I got my Ph.D. and became a professor. But life has a funny way of revealing itself to you, especially when you're 23. Even when I first started the blog, it didn't even enter my mind to create a business out of it.  It wasn't until people started asking if they could hire me for design jobs that it occurred to me that I could turn this into a business. I studied and learned about entrepreneurship and bookkeeping and design trade and established an LLC.
You've been featured by well-known companies that include BuzzFeed and The Washington Post. How has this recognition impacted you and your company?
I remember the first time that a blogger I looked up to replied to me on Twitter- I felt like the biggest celebrity in the world had noticed me! Since then, I've been lucky enough to be featured in HGTV Magazine, House Beautiful, House and Home Magazine, Better Homes & Gardens, Buzzfeed, The Washington Post, and many others. Each feature is still just as exciting to me as that first reply on Twitter – and I never want to forget that feeling!
A blog post that I wrote YEARS ago about choosing the correct rug size was featured in a Buzzfeed article that went viral. I look back at that post and cringe at the way I used to write or the gifs I used in that blog post, but it still gets me so much traffic and several e-mails a week about design help. The Washington Post feature was invaluable for my business because it has gotten me several great local clients. It's gotten me recognized on the street and at Ikea. And for my poor husband, who has gotten several "aren't you that guy from that article?" questions since it was published. Sorry, boy!
After

How would you describe your personal decorating style? How does it differ from other designers?
My personal decorating style is definitely unique- I have an affinity for traditional architecture and pieces, but only in juxtaposition with modern pieces. I tend to lean towards the feminine (I have a blush pink ceiling in my entry), but always try to include masculine pieces to balance it out (leather chairs, for example). I love weird old oil paintings of random people I don't know. I have an addiction to pottery, particularly of the misshapen variety. Black marble makes me weak at the knees. I love dark, moody paint colors that some people might describe as "cave-like" or "depressing". If it's unique, there's a pretty good possibility that I'll like it. I contain multitudes.

How did you get involved with the One Room Challenge?
Linda, the creator of the One Room Challenge and blogger behind Calling It Home asked me to be one of the 20 featured designer participants for the Fall 2016 ORC. I had participated several times before as a linking participant, but never as a featured designer. I made over my living room, dining room, entry area, and I knew that it was only a matter of time before my bedroom got the same treatment!
It's amazing that you designed a room in a month and a half – what was your approach to finishing this task and the obstacles you came across? How did you overcome them?
Thank you! The One Room Challenge is amazing and frustrating in that way. It's incredible that this tight deadline forces you to finish a space that might have dragged on for months, and for that, I'm grateful. But, you definitely encounter some obstacles along the way. Since I live in a one-bedroom apartment in a building with 30 other units, I have to be respectful of other people's time and feelings – which means, no sawing wood or using the nail gun at odd hours of the night. We did all of the work ourselves in this room, and it required that we use the saw a lot – we cut and hung all of the wall molding, my husband built a radiator cover from scratch, etc.- so our weekends during the ORC were pretty much reserved for construction time. And like any other project, there are shipping delays and it seems like everything came together in the last week.
What do you love most about this room you designed?
It's my personal philosophy that the size of your space shouldn't dictate the level of your design. Living in a one-bedroom apartment has taught me to edit (and organize!) like never before, but I actually embrace it and try to incorporate it into my design. My favorite part about this room is the "dipped" look on the walls- so many people thought I was crazy for painting such a small space a dark color, but I'm in love with it. The "dipped" look is fun and unique, and keeps it from feeling too heavy-handed. I also love how the color ("Railings" by Farrow & Ball) changes throughout the day depending on the light – it starts off as a charcoal-y black in the morning and turns into a deep navy by the end of the day.
I also love the gorgeous floral art print by Ashley Woodson Bailey from Citizen Atelier above my bed​- it was the inspiration and the jumping off point for the entire room.


What is your one piece of advice to anyone who is trying to design a room on a time crunch?
Make decisions as soon as possible! The earlier you know what you want, the earlier you can make it or order it. You don't want to be left with a week or two until your deadline and you haven't made any large decisions yet- that's where you compromise and choose things that you don't really love. Choose what you want as early as possible and stick with it.
What's your advice for those decorating on a budget? Tell us some of your favorite places to find affordable items.
I think that every space should have a mix of high and low. It's really easy to find beautiful and inexpensive accessories that can elevate a design, and you can save the budget for the larger staple pieces. Make sure to dedicate the majority of your budget to the pieces you use most – sofa, bed, dining table, etc. – no one wants to replace a cheap sofa every two years. Then, you can fill in the holes with inexpensive decorative items, pillows, and accents. If you're looking for places to save money, there are lots of places to get beautiful rugs and pillows, like Rugs USA or Etsy. For decorative items, I obviously love HomeGoods, but another sleeper that most people forget about it H&M Home!
What advice would you give to your 21-year-old self?
It's okay to not get a Ph. D., gurl. It's okay to start a business out of a passion. Go easy on yourself. Also, wear sunscreen.