Thao Nguyen always knew she wanted to own a business one day, but discovering what that business would be took some time. It wasn't until she moved halfway across the country to San Francisco that she realized what her true dream was. There Thao began her career as a distribution analyst for Gap and quickly discovered that spreadsheets and sales figures just weren't her thing. Like so many other women straight out of college, she knew what she didn't like but was still trying to figure out her passion. After browsing the local boutique scene in San Francisco every weekend, Thao realized she wanted to open her own shop – one that carried unique, affordable items and that also showcased local talent. And after plenty of hard work she did just that, moving back to Minneapolis and opening Parc Boutique in 2008.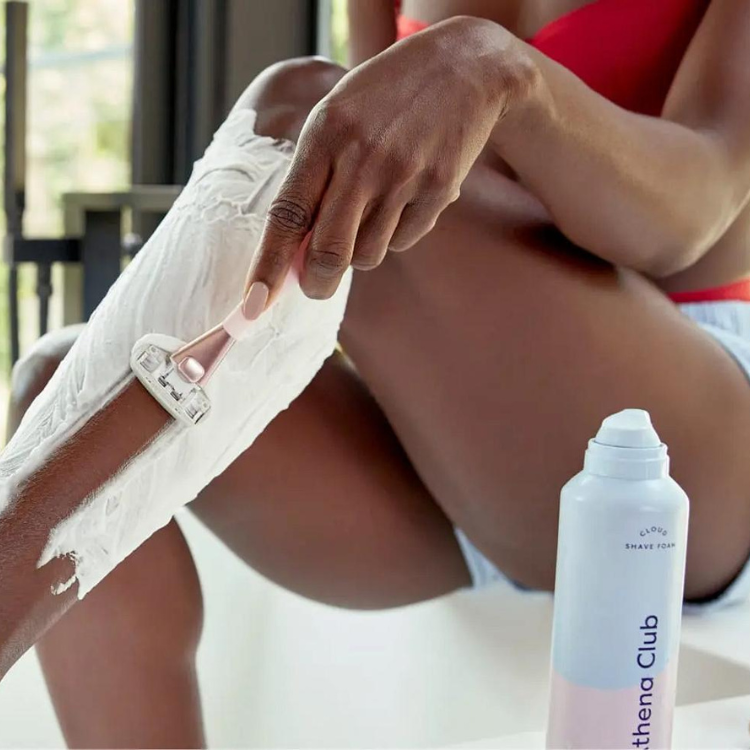 "This razor gave me the silkiest, smoothest shave I've ever had! I never get any cuts or scrapes, even on those hard-to-shave places."
More than five years later, Thao continues to maintain a loyal following in Minneapolis and beyond. Her creativity, eye for detail and willingness to try new things are what sets her apart from the rest. Thao regularly hosts events at the shop, including Sip & Shop happy hours every Friday afternoon. Wine and shopping to kick off the weekend? Count us in. Thao also creates beautifully styled seasonal lookbooks to showcase her favorite pieces and inspire her customers. She does all of this while running Parc, taking care of her 2-year-old daughter Josephine and somehow managing to get 8-10 hours of sleep each night. Needless to say, we're pretty impressed.
Read on to find out how Thao found and followed her dream, and how she's made Parc Boutique a thriving business in Minneapolis to this day.
Full Name: Thao Nguyen
Age: 30
Current Title/Company: Owner, Parc Boutique
Educational Background: B.S. Retail Merchandising, minor Business Management – University of Minnesota, Twin Cites
What was your first job out of college and how did you land it?
My first real job out of college was for Gap, Inc in San Francisco. A college friend landed the position after graduation and referred me. A couple flights back and forth for interviews and the next thing I knew, I was SF bound.
What were your responsibilities in your position at Gap?
Distribution Analyst – I managed inventory and made sure all the stores were fully stocked.
How did you make the decision to leave San Francisco, move back to Minneapolis and open Parc Boutique?
I've always envisioned owning a business, even as a young child. I grew up watching and helping my dad run his own business and knew I wanted the same for myself… I just didn't know what that would be yet. While at Gap, I spent my days behind a computer and my weekends exploring the city. I instantly fell in love with the local boutique scene and knew that's what I wanted to do! I started plotting my plan to move back home to Minneapolis and start my own boutique.
From writing a business plan, finding investors, obtaining a business loan, managing employees, and operating the day-to-day aspects of the store, running your own business is hard work! How did you learn the ins and outs of opening and operating Parc Boutique?
I did a lot of networking and learning from other successful business owners. My boyfriend at the time (now husband) and dad are entrepreneurs and small business owners so I guess you could say it's in my blood to take risks and dream big. I remember having to write up a business plan in one of my college classes and that definitely paid off! I wrote up a business plan and presented it to a bank to obtain a business loan. I can't lie though, I remember googling everything from "how to open up your own boutique" to "how to negotiate a retail lease." It definitely wasn't easy; a lot of learning the ins and outs of running and operating Parc came from making mistakes and learning from them. You bet I never made the same mistake twice.
Finding the right employees was really hard to do! I was so used to doing everything on my own, and it was really hard for me to let go and let someone else manage the ins and outs of the shop. I'm proud to say I have a really amazing team right now, and having Gina (our store manager) run the shop has been so very helpful. I'm able to spend more time on larger projects and extra time with my lil one.
What was your mission for the store?
Parc Boutique was born from my love of all things stylish and chic. I wanted to create a space that had a local vibe with affordable quality products and unique merchandise with an appreciation for local handmade artisans. I hope to bring this vision to my clients in a way that is uniquely Parc Boutique.
What was the most challenging aspect of opening your own store?
Wearing multiple hats. I was the shop gal, manager, buyer, accountant, janitor and owner all at the same time for the first few years of business. I still am all of the above but I do have a great team beside me.
The most rewarding?
Being my own boss! I now have a very active toddler so being able to spend time with her on my own time and run a business is more than I could ever ask for.
What advice do you have for Everygirls looking to start their own business?
No matter what industry you're in, network network network! I've met so many creative and inspirational people over the years and wouldn't trade that for anything.
We love the style you curate in the store. The pieces in Parc Boutique can carry a woman from the office to a night out to a casual weekend and everything in between. Where does the inspiration for the Parc Boutique style come from? How do you determine what to buy for the store?
Our inspiration comes from what we see trending for the season on the runways, on fashion blogs and even on pinterest, but our buying comes down to our customer. When I'm at market buying for the store, I personally hand pick everything for the "Parc gal." They are young 20-30 somethings and want items they can wear during the day that will transition easily into the night for happy hour or a night out. I'm at the store interacting with my customers directly so I really get to know their lifestyle; where they live and work, their favorite hangout, and what they like to do on weekends. I take all of that information when I go to market and I definitely buy for them….and sometimes I can't resist and I'll sneak personal favorites into the mix and hope that they sell.
Parc Boutique has quite the following in Minneapolis and beyond! How did you initially market Parc to draw people into the store? How has your marketing strategy evolved?
We started with the run-of-the-mill store events but I was lacking a personal creative outlet and I started to think outside of the box. I tested out Happy Hours for shopping (instead of dining) and created events that got our customers really involved. Just last year, we hosted our first social media party where we invited our customers (near and far) to interact with us socially via Twitter, Facebook and Instagram. It was a huge success and we just hosted our second party last month. Our social media parties are extra unique because we invite all of our fans to join in online and participate there. Hey, if you tweet at us, tag us, or post at us we will respond and make sure you're a part of the conversation! We're also known for our weekly Sip & Shop Happy Hours that happen every Friday. Because let's face it, there's nothing better than some vino and retail therapy after a long week.
And to keep my creative juices flowing and keep our merchandise looking fresh and new, I like to tap into my creative side and art direct and style our seasonal lookbooks alongside Wing of Canary Grey Photography. These lookbooks are meant to inspire our customers and the Parc Boutique brand. For lookbooks, we like to create a point of view that our fans can relate to but also something creative and new. We then tie our products in based on if they fit well with that particular theme or season. We style lookbooks in a way that inspires our customers to shop and to look to us for style inspiration.
What is a typical work day like for you?
I'm up at 7:30am to get my 2-year-old daughter Josephine ready for the day and drop her off at daycare. I often do business meetings over coffee and then I'll either head to the store or work from my home office. I spend a majority of the afternoon writing emails and taking care of finances, and when I need a break from paperwork, I love being at the shop and helping customers one on one. Once a week I'm in our studio taking photos with Wing of Canary Grey Photography for our website. And the best part is being able to travel every season. I'm off to either the west or east coast market buying for the shop.
What do you see in the future for Parc Boutique? How do you hope to grow the brand?
I'd love to open another store in the Twin Cities and I'm working on growing our online brand presence outside of Minneapolis and beyond. A girl can dream!
Best moment of your career so far?
Celebrating our fifth year in business last spring. Five is a huge number (especially in retail). But most of all, the best moments are the friendships that have formed throughout the years with my team and customers. Those are priceless.
What advice would you give to your 23-year-old self?
Be confident in yourself, don't be afraid to ask A LOT of questions, and ask for what you want. Getting a "no" in life is good for you; it'll make you work harder. Also, start wearing eye cream stat!
Thao Nguyen is The Everygirl…
Morning or night?
I'm a morning person; I go to sleep at an embarrassingly early time at night because I try to get in 8-10 hours of sleep (crazy I know).
Best advice you've ever received?
Stay curious – discover new passions in yourself and find beauty and inspiration in the wonders of our world.
Perfect Sunday?
Starting my day off with a cup of coffee while flipping through the latest mags and blogs all while in my pjs and slippers (while the husband and baby are still sleeping).
If you could have lunch with any woman, who would it be and what would you order?
I'm a goof at heart and if I had the chance, I'd lunch with Tina Fey and Amy Poehler. I'd start with a glass of red wine to calm my nerves and order finger food off the appetizer menu so we could casually chat and laugh hysterically like old pals.
Aidan or Big?
Aidan – some gals like the dating scene and the chase but I like the happily ever after.