Since middle school, one of my resolutions every single year was to have clear skin. Now that I'm in my mid-20s, I understand a few things. First of all, that is not trackable and not in my control, so that is an impossible goal to make. But I also realize that I've been hoping and dreaming for clear skin for years, and this year, it's just not my top priority.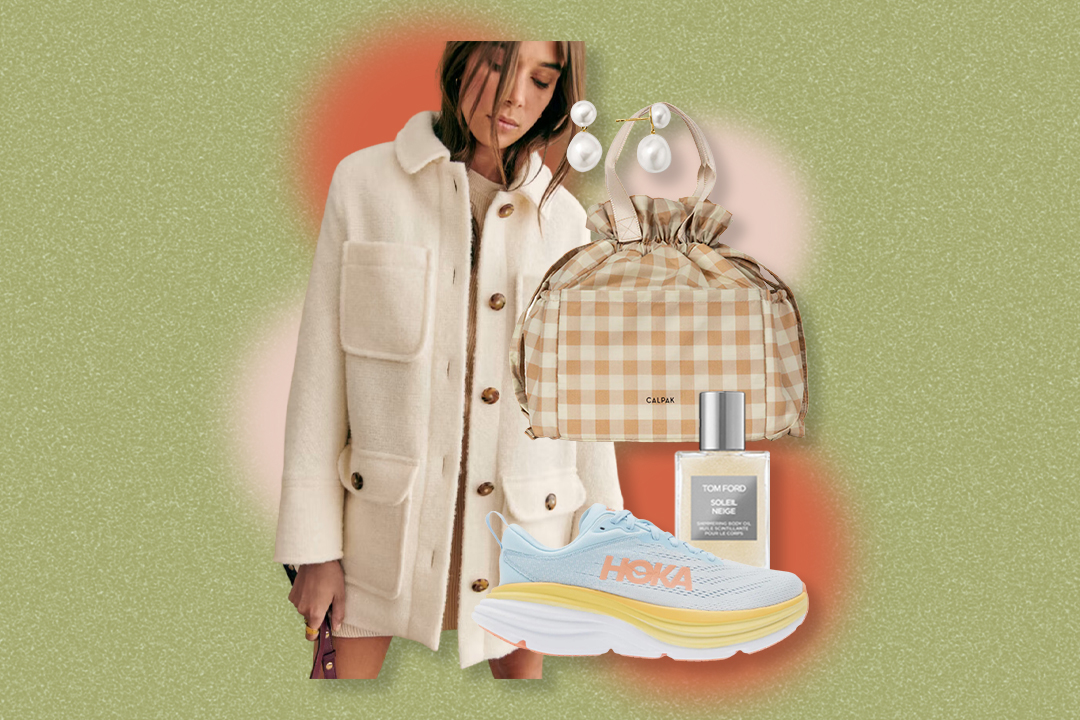 Don't get me wrong, every time I wake up with a new zit, I get a bit frustrated. But overall, I'd rather have really healthy skin than just focus all of my energy on getting rid of acne. Instead, I'm focusing on my skin as a whole, including my scalp and body, by experimenting with new products and incorporating hacks that will make my routine the most successful.
As annoying as they are, resolutions are all about making us better—so it makes sense to incorporate a few of them if bright, glowing, healthy skin is on your 2022 wishlist. TBH, I think these are the resolutions I'm most likely to keep.
1. Take everything down my neck
2021 was the year I started noticing the effects of constantly looking down at my computer and phone, particularly on my neck. At the ripe age of 25, my neck has creases that I'm not so fond of, and I'm vowing to do what I can to cap them where they are. For the time being, I'm not investing in any specific neck creams, but I'm making sure to take all of my daily skincare down my neck (except for retinol, which is too harsh for me). I have a habit of hoarding and savoring every last drop of my beauty products, so I've avoided using pretty much anything on my neck until recently. This year, I'm going full steam ahead.
2. Remove my makeup after dinner
The utmost important part of your skincare routine is consistency. You could use the most expensive, dermatologist-approved products, but if you're not using them on a consistent basis, you won't see results. For the most part, going to bed with my makeup on is a habit I nipped in the bud in 2021, but there are some random nights when sleep calls to me more than my skincare routine. And if there's one thing that requires consistency from me, it's makeup removal.
Let me tell you that when I don't remove my makeup, my skin hates me. I wake up with cystic, deep pimples that take weeks to go away. So if I can avoid that, I will. A recent hack that I'm hoping to continue through this year is taking my makeup off immediately after I eat dinner. I won't always do my full routine then, but at least having a clean face before I get caught up in a TV show or book and can't peel myself out of bed will make a difference.
3. Experiment with new ingredients
Obviously, we know and love our favorites: hyaluronic acid, retinol, AHAs. But what about everything else? Last year, I really focused on simplifying my skincare routine and balancing my skin. Now, I'm finally ready to experiment with new products and add a few steps into my routine here and there.
If you're adding new products, always add them in one at a time so you can track progress and make note of any adverse reactions (The worst feeling is trying to figure out which of your brand new lovely serums is the one breaking you out.).
Mara Beauty
This multitasking oil combines fermented green tea (a big skincare ingredient trend we're predicting for this year), evening primrose oil, and retinol to promote cell turnover while nourishing skin.
Wldkat
Don't let the word "tonic" fool you. This toner/serum hybrid leaves skin bouncy, hydrated, and bright without irritation, thanks to kombucha and ginger root extract.
Herbivore Botanicals
If you hate the sticky feeling hyaluronic acid serums leave on your face like me, meet Tremella mushroom: an alternative that feels lightweight on skin but has major plumping and hydrating potential.
4. Put as much emphasis on my body as I do my face
Especially when we're all bundled up, it's easy to forget about the skin on your body. But you only get one, so it's just as important to keep your body moisturized and healthy as your face. Taking the time to give my body some extra love is also an act of self-care that I'd like to incorporate into my wellness routine going forward.
A really good body wash, a non-tacky body lotion, and an exfoliator round out my list, but as I continue to make it a habit, I'm willing to invest in products that will achieve good results. Soft skin and shorts season, here I come.
Bioderma
Trust me, a cleansing body oil will change your life, making your skin soft as hell in one shower alone. It completely rinses clean and removes all the dirt, oil, and grime.
Soft Services
Just like you use a chemical exfoliator on your face, it's also a great option for your body to get rid of texture, breakouts, dark spots, and more. I love this one because it's super gentle and has given me great results on my dark spots.
Kiehl's
Everyone needs a good moisturizer, ideally one they'll use every day. Keep this by your shower and apply as soon as you get out. We promise it won't leave you sticky.
5. Incorporate toner
For a very long time, I used toner and had no idea what it was doing. So when I simplified my skincare, I took out that step. Why use something that feels like it's doing nothing? Since then, I've discovered there are toners out there for my skin type and goals that can help improve moisture levels and add glow.
Versed
This unique product not only removes makeup, but it also leaves skin ultra-hydrated and removes that icky post-washing hard water residue on your skin.
Elta MD
For the days you think your skin couldn't possibly get any drier, reach for this. It's gentle and hydrating, containing three amino acids that help build peptides and proteins to promote healthy skin.
Rosen
If you're not using other acids in your routine, this is ideal for boosting glow while exfoliating and renewing skin.
6. Schedule my skincare
When you're using a full nighttime routine, it can get frustrating to figure out when to do your treatments. When do I add my AHA/BHA mask if I use retinol every day? When should I use my clay mask? Can I use this product with this product with this product? It's beyond confusing. This year, I'm putting a schedule into place for when I use my products. Whether it's scheduling doing a facial steam and clay mask in my planner or following a MWF / TuTh scenario, I'm making sure I use my products without compromising my skin's health and moisture.
Be sure to look into which products to avoid combining, and follow the correct order for ultimate skincare effectiveness.
7. Treat my scalp like skin
After a few months of dousing my hair in dry shampoo a few days a week, my scalp is crying for help. Not to mention the effects the cold, winter air is already having on my hair, I'm experiencing dryness, itchiness, dandruff, breakouts, and more all along my hairline and scalp. Instead of focusing so much on my split ends this year and the style of my hair, I'm putting health at the forefront, starting with my scalp. I'm putting just as much effort into my scalp as I do my skin this year, including incorporating a full routine with just a few products that target dryness and irritation.
Briogeo
This treatment reduces irritation and leaves scalp feeling soothed and moisturized, thanks to tea tree oil and witch hazel. You can use it as a pre-shampoo treatment or after you shower as a leave-in.
Lazartigue
For hair that won't break or split, it starts at your scalp. Apply this serum to your scalp every day, and the results will shock you in three months.
Kristin Ess
After using dry shampoo, leave-in products, and more, your scalp is begging for a detox. This will remove all that build-up and gunk and leave you with tons of volume.