When I find a good item of clothing, I struggle to convince myself to wear anything else. When I bought my American Apparel Disco Pants in high school, I had the same feelings. I wore them once a week (if not more), and I was so inspired and excited to come up with a new outfit every single week to wear with them. I've experienced this with other clothing items as well, such as my first pair of straight-leg jeans two summers ago, the perfect white T-shirt, and my cozy, black sweater I wore almost daily last winter.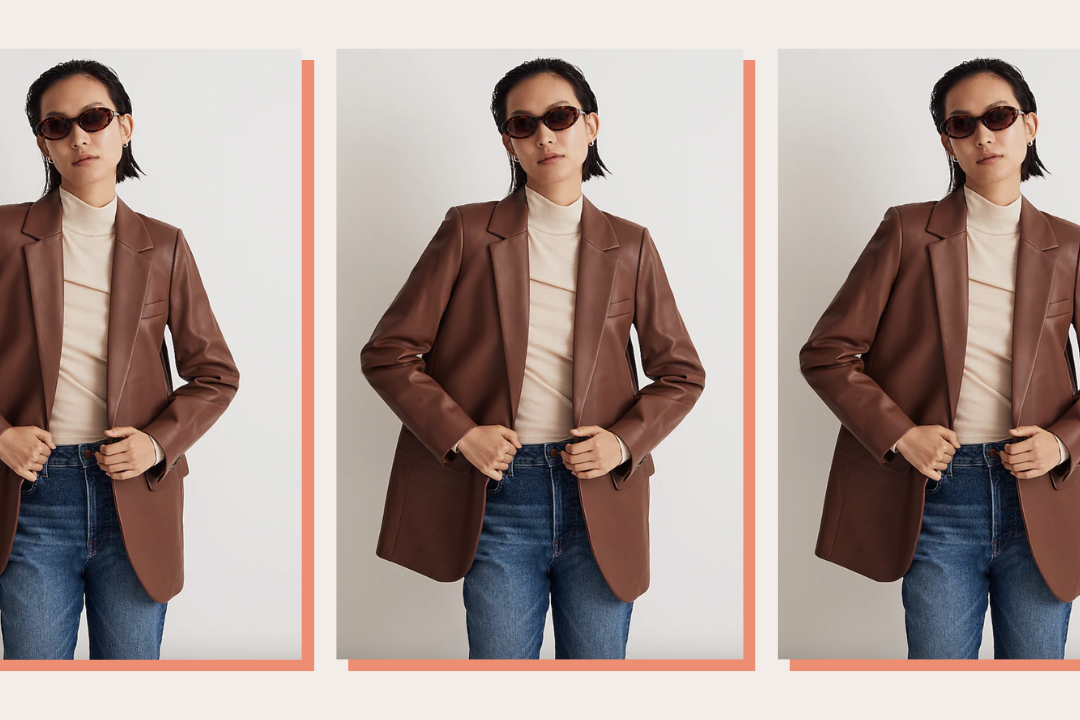 time for your fall wardrobe update!
This year, the only thing my body wants to wear are my Spanx faux leather leggings. I could honestly talk about these leggings for hours — consider this article a love letter to my beloved Spanx leggings. I wore them to a Jonas Brothers concert last weekend, and people stopped me throughout the venue to ask me what pants I was wearing. Every time I wear these, someone compliments how good they look. So, if you don't love praise from strangers, these might not be right for you!
Every time I wear these, I feel like "Strut" by the Cheetah Girls plays in the background of my life. These leggings make every outfit look chicer; I always feel put together in these, regardless of what I'm wearing with them. They look amazing, but they're also the most comfortable pants I own. I've danced the night away in these (and ran to and from the train trying to get to work in the morning), and they feel just as good as my favorite workout leggings instead of leather pants.
While the price of these leggings is definitely high, I justified it because of their versatility. I wear them to work, on errands, for date night, out with my girlfriends, shopping – you name it, and I'm rocking my leather leggings there.
They're also SO FLATTERING. When I put these on and see them on other people, I'm like, wow, I understand how the Sisterhood of the Traveling Pants girls felt. Somehow, they hug all your best curves and conceal the areas you're not so fond of. For me, it's my lower stomach and my inner thighs — but on others, I've seen these cinch in their waist and look amazing with more cropped items. When I first got my pair, I was terrified to wear anything that didn't cover my crotch. As I've become a little more comfortable wearing them, I'm less concerned with that. They're leather leggings; they're not going to make me look like a Barbie doll if you catch what I'm saying.
Because I'm so obsessed with these leggings, I wanted to share all my favorite ways to wear them (and also some outfits I plan to wear this fall and winter — someone ask me on a date, pls).
1. At the airport
T-shirt / sneakers / tote / army jacket
To be fair, I've been to an airport like four times in my entire existence, so I don't exactly know what ~perfect airport attire~ looks like. However, this is exactly what I wore the last time I went, and I felt amazing walking onto my flight!
2. At the apple orchard
blazer / black booties / chunky sweater / wool beret / beige bag
Not into apples? NBD — wear this outfit to any of your fall activities. I'm pumped to rock this look at every pumpkin patch within a 20 mile radius of Chicago!
3. At the movies
mini Ugg boots / sweater / Slip scrunchies / mini backpack
There are so many movies coming out this fall and winter, and I am pumped. I wore this look for many errand-running days last fall, and it is both insanely comfortable but also cute. It's like the stylish equivalent to wearing Christian Louboutins with a pair of distressed jeans. High and low dressing is what we're all about. Also, Uggs are life.
4. For work
white blouse / loafers / leather tote / Chanel lip color / earrings
This is a little PSA that you CAN wear these to work! Try to opt for something flowy on top that covers your butt, and I'd say you're totally dress code compliant. Also, you don't have to go with a Chanel lipstick — but think about what a boss a*s b*tch you'll feel like pulling the classic Chanel "Boy" lipstick out of your bag before the meeting? I rest my case, your honor.
5. Date night
black turtleneck / black heels / snakeskin clutch / gold hoops
Hello, this is me begging someone to ask me out so I can wear this outfit. You could opt for shorter heels if that's more your style (I am a clutz, so me), or go for a pair of knee-high booties like these.