Spring is FINALLY here and the thing I'm most excited about is obviously the new season of Game of Thrones but also clothes! I recently went wild for storage and bought like four clear boxes to put all my chunky, winter sweaters in and now I'm on a closet clear out binge and ready to welcome some new energy (read: pretty, floaty tops, sneaks, Jon Snow) into my life.
1. The Midi Skirt
Remember how when skinny jeans first came out and everyone was like "well I can't wear skinny jeans because I have thighs"? That's how I used to feel about midi skirts. Like if I tried to wear one it would look less "chic" and more "Laura Ingalls Wilder cosplay". But! PLOT TWIST. I have done a complete 180 on these bad boys and now I want a midi skirt in every color, situation, and pattern. Cover me in midi skirts. Anyways, they are perfect for spring okay bye.
Budget
Invest
Splurge
Style It
Sweater / Midi Skirt / Crossbody / Slide Sandal / Sunnies
2. The Sneakers
There is something undeniably cool and sK8terBoi about a good white sneaker. Even if they are pretty much a basic meme by now. Grab your board and your Tony Hawk energy drink (is this it? am I doing skater?) and hit the town in your new kicks.
Budget
Invest
Splurge
Style It
Sweater / Light Wash Jeans / Sneakers / Pop of Color Bag / Sunnies
3. The Straight Leg Ankle Jean
I was recently in Ireland with my sister in law and amidst the velvety hills and lush green stretching in every direction, she goes "Why is everyone here wearing floods?" Lol, but truly the straight leg ankle crop jean is the trendiest trend to trend right now. Jump in on the action.
Budget
Invest
Splurge
Style It
Graphic Tee / Straight Leg Jean / High Tops / Crossbody
4. The Boilersuit
Coveralls are a Big Deal for spring and I'm on board, even though the first time I saw my favorite fashion blogger whip one out I was… perplexed. That's fashun for ya, amiright. I feel like the key to mastering the trend is to go less "coal miner" and more "Glossier uniform".
Budget
Invest
Splurge
Style It
Gold Hoops / Denim Jumpsuit / Heels / Suede Bag
5. The Loafers
Never stop stopping for a classic loafer. For spring, I wear them in lighter colors and fabrics — think canvas, suede, denim, etc.
Budget
Invest
Splurge
Style It
Suede Jacket / Printed Dress / Loafers / Gold Hoops
6. The Ribbed Top
More elevated than a basic tee but still just as comfy. A great layering piece because what is spring except piling on layers and saying "wow this weather!" at least five times a day.
Style It
Ribbed Top / Tie-Waist Trousers / Heels / Pearl Studs / Tote
7. The "All You Need is a Light Jacket!" Jacket
Miss Rhode Island approved.
Budget
Invest
Splurge
Style It
Light Jacket / Striped Top / Ripped Jeans / Espadrilles / Sunnies
8. The Mini Dress
Time to unleash your legs! But first, use this.
Budget
Invest
Splurge
Style It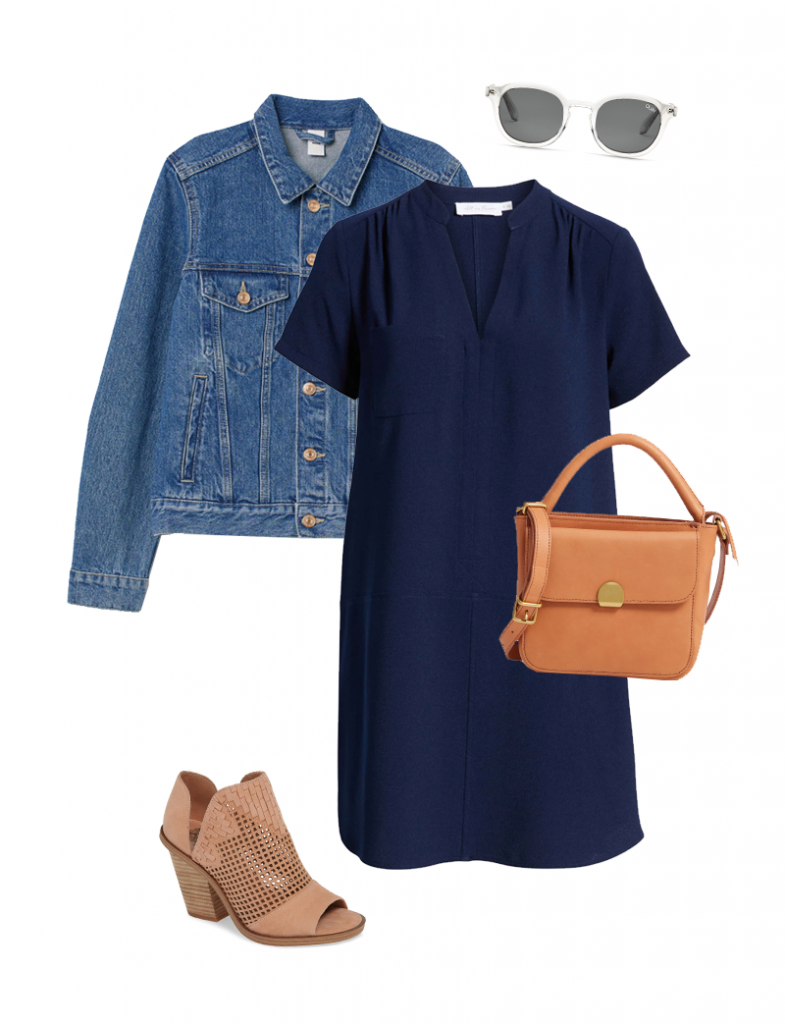 Clear Sunnies / Denim Jacket / Mini Dress / Heeled Sandals / Leather Bag
9. The Classic Button Down
When I was little, I used to browse the J.Crew catalog and dream of the days when I could wear a pencil skirt and a turtleneck and a blazer and a ginormous chunky necklace whilst saying things like: "gather the meeting!," "spreadsheets look awesome!," "retirement!". This early conditioning means that nothing feels more "adult off duty" than a dark wash pair of jeans and a classic white button down. Mmmm.
Budget
Invest
Splurge
Style It
Button Down / Jeans / Suede Flats / Crossbody / Pearl Studs
10. The Tiny Bag
I loooove a tiny bag. It's like minimalism to go. Because all you really need is a lip balm and your phone. And maybe a credit card. The detritus of 8 million old receipts, random business cards, Nature Valley wrappers (why do I buy these?! they are so terrible), three pairs of sunglasses, and a single, dusty mint can stay at home.
Budget
Invest
Splurge
Style It
Denim Jacket / Wide Leg Pants / Tee / Slide Sandals / Tiny Bag / Earrings