So we've been doing this whole stay-at-home thing for over a year now, which means leggings are now a crucial piece of our work uniforms, loungewear, and workout wardrobe (and by "workout," I mean laying on the living room floor). Maybe you regularly splurged on new activewear just for something to look forward to (guilty) over the months spent at home (my activewear wardrobe has officially surpassed my going-out-in-public clothes).
your one-way ticket to your cool, calm, and collected era
Whether you have an impressive activewear collection or just a dependency on spandex material, good news: your sports bras, bike shorts, and sweatpants aren't just for the gym (or, you know, that living room floor). Your favorite sporty pieces can be reworked into Insta-worthy OOTDs or dressed up for any occasion. Next time you're staring at your closet thinking, WTF do I wear?, take a clue from your activewear collection–your yoga uniform has never looked better. Read on for 10 trendy, non-boring ways to style your activewear for spring:
1. With chunky boots
Forget sneakers: your go-to leggings and sports bras pair perfectly with the it-boot of the season. Chunky lug boots and a chic jacket transform your spin class uniform into a standout OOTD. Doesn't a basic workout set look instantly cooler with an unexpected pair of boots? As for outerwear, a blazer is a perfect way to balance edginess and athletic wear, but a button-up, shacket, or any spring jacket work too.
2. With a pastel sweater
News flash: tennis dresses are in. That's right, the activewear dress your mom used to wear when playing tennis in the '90s is not only cool for exercise, but cool for street style too. Channel your inner Serena Williams and rock the pretty, sporty style for spring with pastel sweaters and accessories. (PS, if tennis dresses aren't your thing, tennis skirts work too.)
3. Under a trench coat
When it comes to fashion, opposites always attract. The I-Woke-Up-Like-This style of a sweatsuit (2020's favorite OOTD) is the perfect counterpart to a piece as timeless, classic, and structured as a trench. Not only will you stay warm through the changing weather (and dry from all those spring showers), but you'll look effortlessly chic while being comfortable.
4. With a knotted graphic tee
Graphic tees make every outfit cooler, and your activewear is no exception. Whether it's a pop of color, your favorite band tee, or a shirt that makes a statement, replace a boring T-shirt or workout tank with an eye-catching alternative. To make it even more Insta-worthy, knot the front to DIY a more cropped, fitted, and trendy top. Your sweats have never looked better.
5. With a blazer
The pairing that no one was expecting to go together like PB&J: athletic wear and work blazers. Whether you're rocking leggings and a sports bra or a pair of athletic shorts and a pullover, an oversized blazer makes the outfit perfect for every occasion, from brunch to running errands. Don't forget the chunky dad sneakers and baseball hat; a blazer makes anything more stylish.
6. Under a cropped teddy coat
Still cold outside, but you're ready to get out your bike shorts? A teddy coat is not just for winter weather; it's the perfect addition to a workout outfit for spring when you're still staying warm. Go for a cropped version to show off the sporty silhouette and wear it with white sneakers for an outfit so cool that no one will know whether you're coming from yoga class or a photoshoot.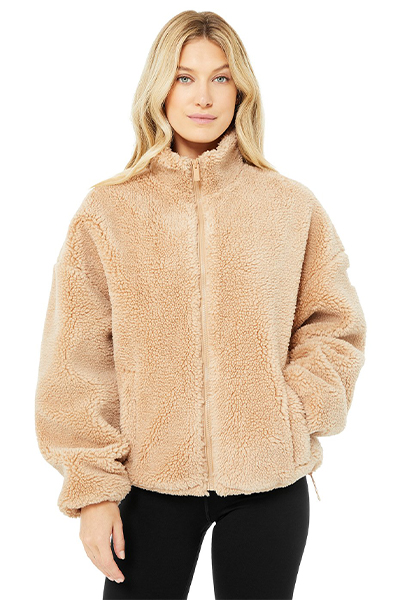 7. With a baguette bag
Forget oversized work totes or crossbody bags: the it-bag of 2021 is the same style you wore with jelly sandals and butterfly clips in fourth grade. Due to the high demand, you can find a baguette bag in just about any pattern, color, and style this season, so why not use the on-trend accessory to level up a basic workout set? For a fool-proof look, stick to neutral colors and keep details simple. Now that's much less boring than a gym bag.
8. Under a lightweight duster
The perfect spring outerwear isn't reserved just for midi dresses or high-waisted jeans (although those work too); lightweight dusters upgrade athletic wear effortlessly. Not only will you stay warm, but you'll be ready for whatever the schedule has to offer (brunch, anyone?) while looking more stylish than a basic sweatshirt or jacket. Opt for neutrals or find similar hues for a trendier option.
GAP
2 colors available, 50% off
J.Crew
3 colors available, 30% off
9. Monochrome
One of the best-kept secrets in fashion: monochrome makes anything chicer. The basic sweat set you've lounged in for months can look high-fashion when paired with outerwear and accessories of the same color. The key is tailored outerwear to contradict baggier sweats and classic accessories like a structured handbag, bold gold hoops, and chic sunglasses that scream, "I'm ready for my close-up."
Club Monaco
2 colors available, 60% off
10. With jeans
And if you're ready to break up with your leggings or sweatpants, you still don't have to forego all the best pieces that activewear has to offer. Your favorite pair of jeans will transform the sneakers and pullover you wore to the gym into an OOTD-ready outfit for any occasion.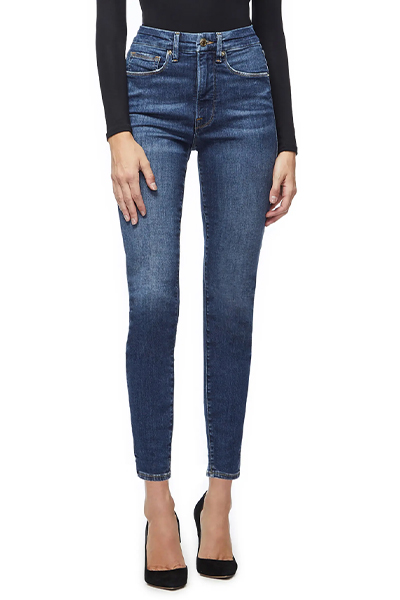 What's your favorite way to style your activewear?