There is something about a new season that gives me a pep in my step, but this is especially true in the spring. When the weather starts to promise sunnier mornings and warmer days, I get the motivation to update my wardrobe (check), clean my house (check), adopt new wellness routines (check), and of course, upgrade my look (next up!). And I'm willing to bet that your checklist looks pretty close to mine. As we get ready to take on the hair refresh that we all love to do at the beginning of each season, it's fun to dive into what's trending—among celebrities, influencers, and regular gals (like me!) alike. After talking to a hair artist and master colorist to learn what's in for the season, I am both excited and surprised by the spring hair colors that are making an appearance, and I think you'll feel the same.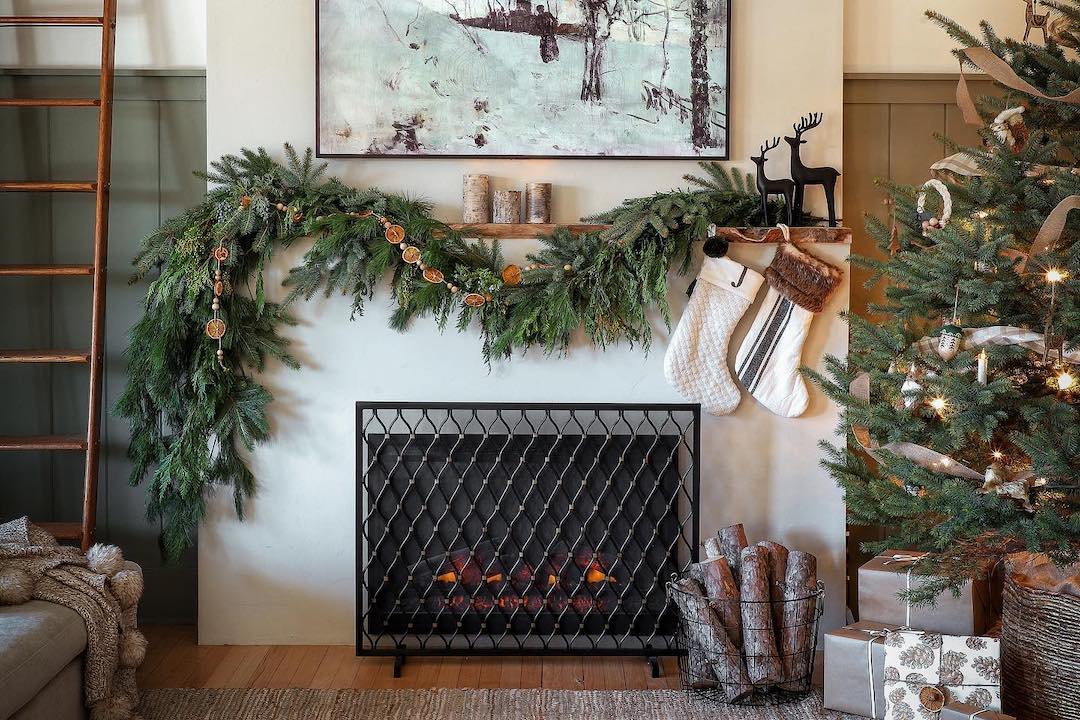 there's still time to deck your halls
Whether a little lightness around your face will make you feel like you just had your very own adult spring break or you're ready to look like a whole new you, spring's hottest hair colors have you in mind. Get ready for trendy tones, bold colors, and low-maintenance options.
1. Bright Blonde Highlights
"Lived in color will always be in style, but this spring, it's all about high-maintenance blonde," says Lauren Paglionico, master colorist and founder of LRN Beauty. Ask your colorist for blonde that is bright on top and at the root. "With this color, you will frequent the salon more often, but it will definitely be worth it," added Paglionico. Purple shampoo can help your blonde from becoming too brassy or yellow, so add one to your shower lineup to keep your blonde bright and fresh all season.
2. Brunette Balayage
Balayage is a low-maintenance option that gets better as time goes on, but right now, everyone is loving a barely-there take on the style. This spring, Paglionico says to go for a "dark chocolate base with milk chocolate ends." The gradual fade is subtle while still making a statement, and it is especially great for brunettes who have never dyed their hair before and want to try something easy.
3. Almond
Sydney Sweeney does this shade so well, so naturally, everyone is asking for it this spring. Paglionico says that this almond shade will go with any skin tone, so don't shy away from it if it's not what you would usually go for. To keep up with the color, make sure you are using a color-safe shampoo and conditioner.
4. Blonde Money Pieces
"Money pieces are a great way to start the transition [into spring] if you are going a bit lighter for the season or need more time to get ready to commit fully," says Gina Rivera, hair artist and founder of Phenix Salon Suites. Ask your colorist for face-framing highlights or lowlights in any color you desire, but we are seeing money pieces in bright blonde, caramel, and shades of red most often this season.
5. Caramel Highlights
Brunettes, we're looking at you to take this color to the next level. Adding caramel highlights throughout, as a balayage, or as money pieces will, without a doubt, turn heads this spring. The tone of the caramel shade mixed with your natural hair color will make you look like your hair got sun-kissed on spring break in Barbados, and honestly, what more could you ask for?
6. Cherry Cola
We know, we know, darker shades are usually reserved for fall and winter, but guess what? There are no rules. Cherry cola is in for spring, and we aren't asking questions. While this color requires some maintenance (visits to the salon for glosses, root touchups, and extra hydration due to the color treatment), it's gorgeous every time and one that we expect to see on celebs this season.
7. Strawberry Blonde
If you are naturally strawberry blonde, I envy you. (Looking at you, Amy Adams and Isla Fisher.) IMO, you shouldn't touch your hair at all this season. But if you're not and have been wanting to give this gorgeous shade a try, now is the time, especially if you have fair skin since this shade will compliment your complexion. To keep your shade in pristine condition all season, make sure to use color-safe products and hair masks. Otherwise, you'll run the risk of losing the depth, tone, and shine of your new 'do.
8. Copper
If you couldn't already tell, shades of red are heating up this season, and copper hair is here to make an appearance. Ask your colorist what shade of copper will best suit your skin tone (and not wreak havoc on your strands), whether that be a dark penny-like shade or a softer tone with highlights and lowlights mixed throughout. To keep your color from fading, go as long as you can in between washes with the help of a trusty dry shampoo.
9. Soft Black
With the return of Y2K and grunge, this goth shade is becoming highly requested. Celebs and influencers are asking for black but in a tone that is a little softer than we are used to seeing. Don't get it twisted though, it's still dark as hell. It's just not as… scary? This shade of black, as opposed to the flat and stark shade we saw on The Veronicas circa 2005, requires less upkeep, so when the color fades, it looks even more lived-in and natural.