The day that Starbucks holiday drinks become available might as well be a national holiday at this point. It's always extremely big news on The Everygirl team, and we all share our thoughts on any new drinks they've added, the iconic red cups, secret menu concoctions, and what everyone's getting as their first holiday drink of the year.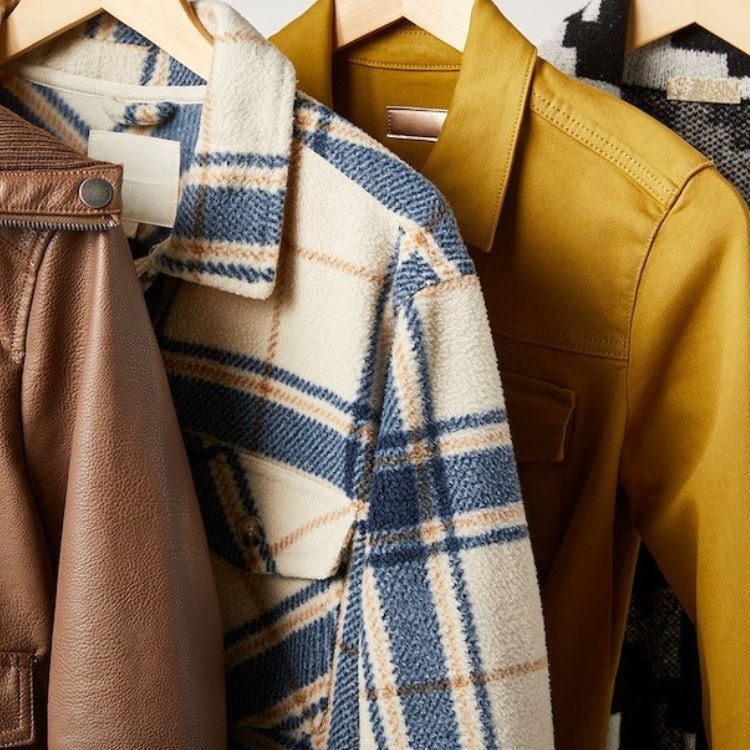 ...and it's wallet-friendly
When the Starbucks fall drinks were released last year, we decided to take it up a notch and share our comprehensive ranking of every drink. You all loved it and we loved doing it, so of course, we had to make it an official series.
Over the course of this series, we've learned a few valuable lessons and have made some minor modifications to the ranking process. First and foremost, we decided to forego trekking through the streets of Chicago in the cold with more than 10 drinks in hand in favor of getting them delivered. (Don't worry, they package them all up neatly in a bag to make the job easier for delivery drivers.)
We ordered every drink exactly as it appears on the menu so that we could get the true experience of how the drinks were intended to be made (apart from a couple of "secret menu" drinks, which you'll see below). This round, we had six official taste-testers who scored each drink on a scale of 1-5 in the categories of "overall taste" and "likelihood to get again," adding up to a total of 10 possible points per drink from each taste-tester. Thus, each drink has a maximum of 60 possible points.
So here is—drumroll please—The Everygirl's official ranking of every holiday drink at Starbucks, from worst to best:
13. Irish Cream Cold Brew
Official score: 14/60
Let me start by saying this is the second year in a row that I have been the sole person fighting for this cold brew to not be dead last. I actually enjoyed it, but my fellow taste-testers unfortunately did not. Thus, I lost the battle and it ended up at spot #13. If you like coffee with Bailey's, you will like this drink. However, the main reason the majority disliked it was: "If I'm drinking something that tastes like alcohol, it should have alcohol in it." Fair point, I suppose.
12. Secret Menu Drink: Iced Chai Tea Latte with Peppermint
Official score: 21/60
Because a secret menu chai latte earned the top spot in our fall ranking, we had to try a holiday version. We'll be the first to admit it: This was a poor decision. The chai and peppermint flavors simply do not work well together. Some of the descriptions from our taste-testers include: "It tastes like the dentist," "This should not exist," and "It tastes like liquid cinnamon gum."
11. Iced Sugar Cookie Almondmilk Latte
Official score: 22/60
As an addition to the Starbucks holiday menu that just came out last year, we're still trying to give this one a chance. Here's the thing about this: It's good, but in order to make it something that's actually enjoyable, you have to modify it. We all thought it was much too sweet with the default four pumps of Sugar Cookie Syrup in a Grande (and that was especially noticeable in the iced version). We would recommend switching to two or even one. We also all agreed that this one has a bit of a strange aftertaste.
10. Caramel Brulée Latte
Official score: 24/60
OK, this latte is not bad by any means. It's just that in a world of holiday drinks, this was the least festive of the bunch. It pretty much just tastes like a normal caramel latte, which you can get at any time of the year. The words used to describe it during the taste test were "boring" and "forgettable"—which is honestly so mean, and I am sorry to this latte!
9. Peppermint Mocha Frappuccino
Official score: 25/60
The main reason this frap ranked fairly low is that it just wasn't very flavorful. In the words of one of our taste-testers, "It just tastes like an Andes mint blended with ice." For some reason, when a Peppermint Mocha is made into a Frappuccino, it loses that coffee-meets-chocolate flavor that we all know and love.
8. Iced Chestnut Praline Latte
Official score: 27/60
Because we loved the hot Chestnut Praline Latte so much last year (it was #1), we wanted to add the iced version to this year's taste test. As made evident by its eighth place ranking, it just didn't measure up. You lose some of the festiveness and overall flavor when this is not hot, and a couple of our taste-testers even said that it had an unpleasant "woody" taste.
7. Toasted White Mocha
Official score: 31/60
A White Chocolate Mocha is one of my favorite treat-yourself drinks at Starbucks, no matter the time of year, so I was super excited to try this one. The difference between this "toasted" version and the regular is the syrup they use—this one is described as a "caramelized white chocolate" flavor. We all liked this and agreed that it was a lovely special treat for the holiday season, but we weren't blown away, which is how it earned its rightful spot in the middle.
6. Iced Peppermint White Chocolate Mocha
Official score: 33/60
This drink is pretty classic and a solid choice. If you want an iced coffee that still feels festive, this could be a great option for you. It tastes fairly similar to all of the other peppermint drinks we tried, so it's not really standing out amongst the pack. The flavor is pretty strong, however, so opting for fewer flavor pumps could be a good move.
5. Peppermint Mocha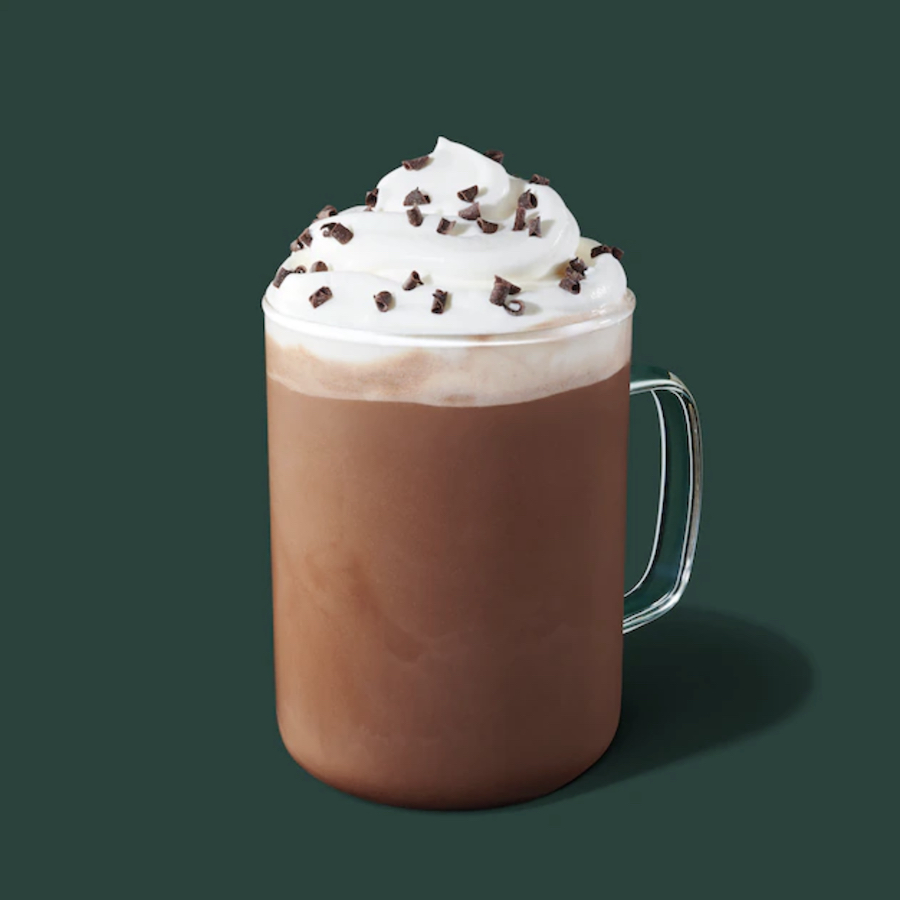 Official score: 39/60
The #1 reason this drink earned a spot so high is because of pure nostalgia. There's just something about taking a sip of a Peppermint Mocha in a Starbucks red cup that makes you feel all warm and fuzzy inside. It's a true classic, and we all agreed that we like to have at least one per year. Starbucks hack: One of our taste-testers suggests getting your favorite regular latte with peppermint syrup if you like the peppermint flavor but not mocha.
4. Hot Sugar Cookie Almondmilk Latte
Official score: 41/60
For some reason, there was a group consensus that the hot version of the Sugar Cookie Almondmilk Latte was superior to the iced version—so much so that it's ranked a whole seven spots ahead. It has the perfect balance of a special holiday treat that is also subtle enough to replace your usual Starbucks order. But again, if you're not a big fan of super sweet coffees, you might want to modify this one slightly to have fewer pumps of syrup. One of our taste-testers even said that she would "have one of these every day if she could."
3. Sugar Cookie Almondmilk Frappuccino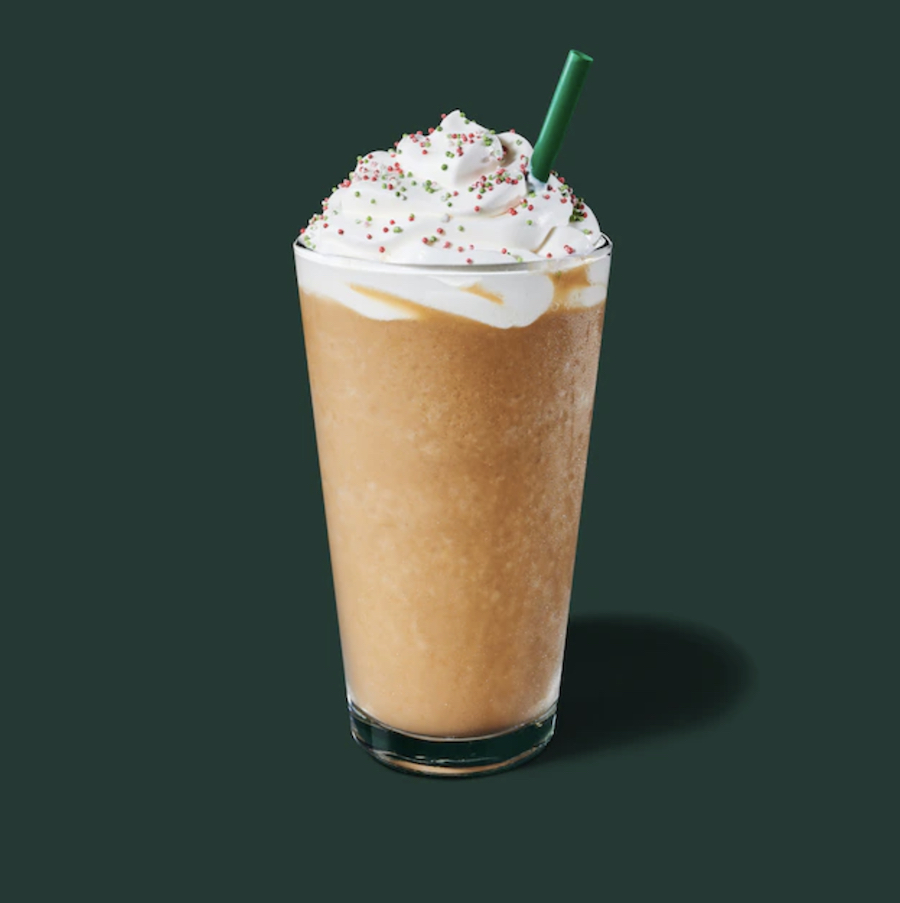 Official score: 43/60
Once again, a Frappuccino makes its way into the top three. This drink is definitely sweet, but there was just something so good about it—we couldn't stop talking about it and needed to rank it this high. Although you're probably not ordering this every time you go to Starbucks, it's the perfect festive holiday treat. It even earned this comment from a taste-tester: "I would have it every day if it wasn't a literal milkshake."
2. Hot Chestnut Praline Latte
Official score: 50/60
If there was ever a drink that tasted exactly like Christmas, it's the Chestnut Praline Latte. One taste-tester described it as tasting "exactly like those roasted nuts you can get in Central Park," so if that doesn't convince you to try it, I don't know what will. It tastes extremely festive, but it's not too sweet like some of the other options. You could definitely make this your go-to Starbucks order during the season versus a one-time special treat.
1. Secret Menu Drink: Vanilla Sweet Cream Cold Brew with Peppermint and White Chocolate Mocha Sauce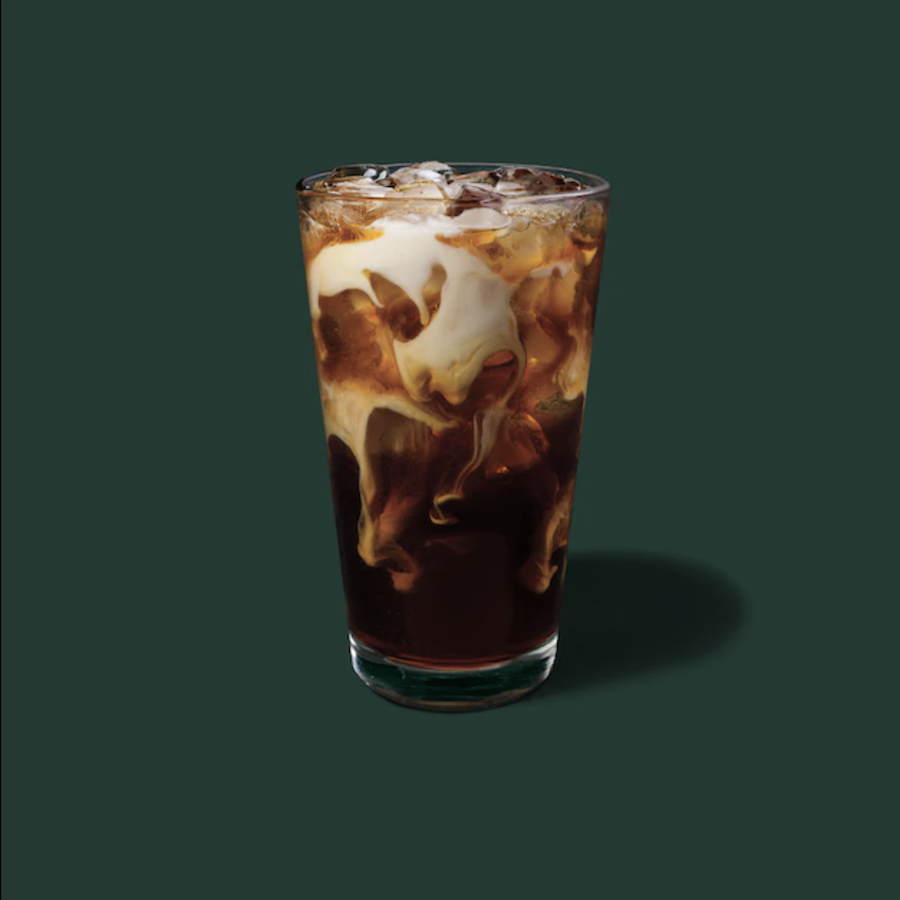 Official score: 54/60
After seeing a few versions of this drink on TikTok, we knew we needed to add it to the list for this year's taste test. As you can tell by its #1 spot, we are happy we did. To order this, you start with a Vanilla Sweet Cream Cold Brew, then add two pumps of White Chocolate Mocha sauce and one pump of Peppermint syrup. You might think this would make the price super high, but at around $5 for a Grande, this is one of the more budget-friendly drinks on the list. The combination of flavors makes this an absolutely perfect festive drink. It's sweet but not too sweet, and the Vanilla Sweet Cream makes it very smooth. We tried this one first, and everything we tasted after was a disappointment.