I'm pretty much a one-trick pony when it comes to holiday decor. Give me red and green or give me death. That is, until I saw Stephanie Sterjovski Jolly's monochromatic winter wonderland. And now I barely recognize my holiday maximalist self.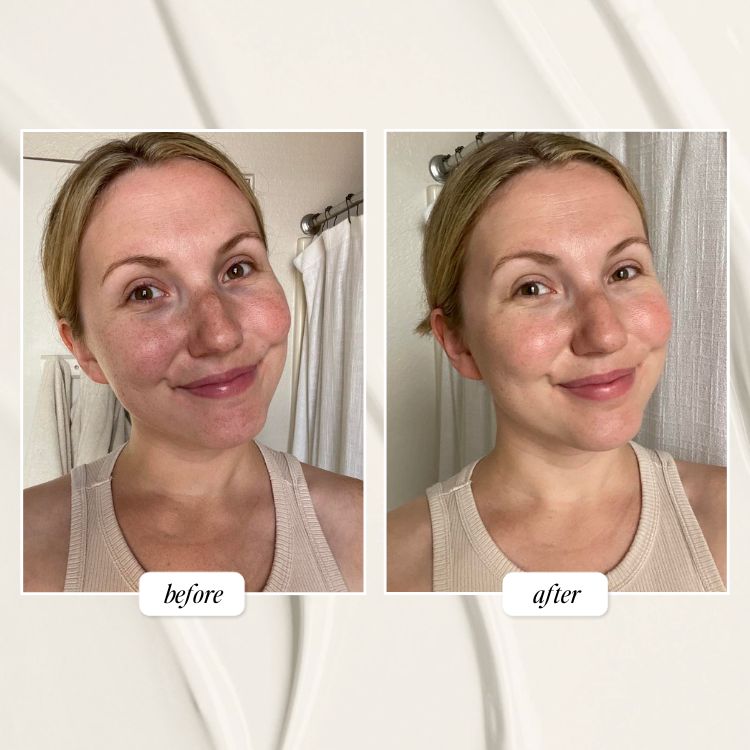 Today, Steph is sharing how her childhood holiday home has influenced her own, the traditions she looks forward to most, and where she has picked up her favorite seasonal décor pieces to date.
Name: Stephanie Sterjovski Jolly
Age: 26
Location: Toronto, Ontario
Current Title/Company: Life + Style Blogger & Online Stationery Shop Owner
Education: Communications, York University
Your place is so cozy. How long have you been in your current home?
Thank you! We love cozy. My husband and I moved into our condo earlier this year.
I admit that one of the first things I think about when seeing a potential home is a good spot for the Christmas tree! Did you have any non-negotiables when looking for your own place?
We bought our Christmas tree last year not even thinking about the condo! We just trusted we would find a place for it to fit. We had two places in mind – in our living room (which thankfully it fit) or in the kitchen. I love that it fit in our living room because it makes it extra cozy when we entertain or watch Christmas movies!
What was your childhood home decorated like at the holidays, compared to your own as an adult? Did you take any influence from your childhood when putting your own together?
My dad was—and still is—HUGE on Christmas! He'd let us decorate any way we wanted; we'd go to the dollar store and find cheesy decorations, along with Costco and a lot of ornaments that were passed down to my mom from my grandmother. There was so much heart and color, and nothing really matched but that's what made it so fun! Our holiday décor is now completely opposite of that; we like a modern, monochromatic feel. We'll definitely incorporate more colors when we have kids one day, but for now we like this updated, mature take on the décor! I love that my parents let us do whatever we wanted and I want to pass that down to my kids one day. I always think back to that Fresh Prince episode where they have a fancy decorator come in and Will Smith takes them to go get colorful, kid-friendly décor!!
How has decorating for the holidays evolved over the years?
This year was really exciting because this is our first Christmas living together. We moved in together after we got married, which I know is very traditional but we've loved it! We wanted décor that was reflective of our current place, and since we live in a modern condo and space is limited, the minimalist vibe works really well. We didn't want to over-do the decorations, as we still want our space to look and feel open.
If you had to downsize to a smaller apartment, which holiday decor items would you prioritize to make it feel cozy and festive? We have so many readers in tiny studios who still want to feel like they can celebrate the season!
We have 800 square feet, so we feel like our place is pretty small. The ceilings are 10 ft high and thankfully we have a lot of natural light from all of the windows. Again, we stuck to a more monochromatic palette and didn't try to stick too many things around the house. We let the tree really stand out and added little touches to our bookshelf, kitchen, etc. that were festive. For example, we love having fresh red roses or seasonal greenery that really brings the holidays to life in your home. I'd invest in a really nice Christmas tree (if you're going the fake route) that had lights already in it for easy install and no mess/fuss. Growing up, we always had real trees, but I love how ours is flocked so it looks like there's snow on it.
Do you have a holiday decor budget that you try to stick to each year, or do you take it as it comes?
A few things we spent a little more on this year were a nice faux fur tree skirt (which we'll have for years to come), our tree (though we found it on-sale at the end of season last year before we moved in), and pretty faux fur stockings! These are items we'll bring back out every year so we wanted them to be classic. We also found some great deals on Etsy, Nordstrom Black Friday sales, etc. These are great ways to save money on your décor for the year ahead.
Where have most of your holiday decor items come from? Did you gather them slowly over the years or did you purchase all at once?
We have a mix of Anthropologie (we love their seasonal candles), West Elm (they do the best modern pieces), and HomeSense (same thing as HomeGoods in the U.S.). We were more particular over the ornaments; I'd like to collect some special ones over the years. We found cheaper fillers in the meantime, but when we move into a house one day and get a bigger tree it'll be nice to have sentimental ones to hang. We got some custom ones done with Etsy to commemorate our first Christmas as Mr. & Mrs.!
Whats your go-to way to entertain during the holidays? Do you prefer a more formal sit-down gathering or is it typically more of a casual get together?
We just had our first Christmas party over the weekend and since our space is small we kept it pretty casual. We had a bunch of appetizers and drinks, and then catered dinner (we went for cute paper plates and napkins from HomeSense) and served it buffet style. Guests ate at our dining table, pulled up bar stools to our counter and in our living room, which spread everyone out. I'd love to have a formal sit-down dinner one day, but for now this worked with our friends and it eased us into hosting a larger group.
What holiday tradition do you most look forward to?
I love Christmas Eve service at our church—we sing worship and Christmas carols and the sermon is always really heartfelt. I love that this season really emphasizes on giving back, which I feel like we should do year-round, but it makes me really happy to see everyone getting involved in the community. We love pitching in to the efforts and spreading God's love with others.
Do you have a favorite ornament on your tree?
Both Neal and I love our little church cloche ornament we found this year shopping in the city.
Stephanie Sterjovski is The Everygirl…
Holiday movie you never tire of?
HOME ALONE! It's ridiculous how much I still laugh when the robbers get hurt.
Hot Chocolate or Hot Cider?
This is so tough. CHOCOLATE!
Favorite Christmas song?
Silent Night. We hum it every Christmas at our church service and it gives me goosebumps!
Go-to gift idea?
Fresh-baked cookies, a bottle of wine, and flowers!
If you could have lunch with any woman, who would it be and why?
Mother Teresa. She lived out love; a lot of people talk and preach, but the best thing you can do is live it out. I would just think being in her presence would be the biggest blessing and I would learn so much.
Product Sources
Tree, Canadian Tire
Christmas Star, Canadian Tire
Faux Fur Tree Skirt, Restoration Hardware
Ornaments, Etsy, Canadian Tire, Hudson's Bay, HomeSense, West Elm
Cashmere Throw, Caitlin Wilson
Mercury Candles, Anthropologie (Vanilla & Fig, Fireside, Balsam & Cedar)
Faux Fur Stockings, Chapters Indigo
LED Church Decor, Nordstrom (sold out, similar here)
Felt Sparkle Wreath, West Elm
Gingerbread House Mug Topper, William Sonoma
Hot Chocolate, William Sonoma
Plaid Wool Throw, William Sonoma
Mini Burlap Pine Tree, Anthropologie (identical here)
Faux Fur Pom Throw Blanket, Nordstrom
JOLLY Marquee Lights, Michaels (similar here)
Diptyque Candle, Nordstrom
Drip Cake, Le Dolci Toronto
Christmas House Cloche, HomeSense
Napkins, HomeSense
Christmas Morning Candle, HomeSense
Gift Tags, SS PRINT SHOP
Nutcrackers, Meri Meri