"Cabin Fever" has taken on a whole new meaning these days.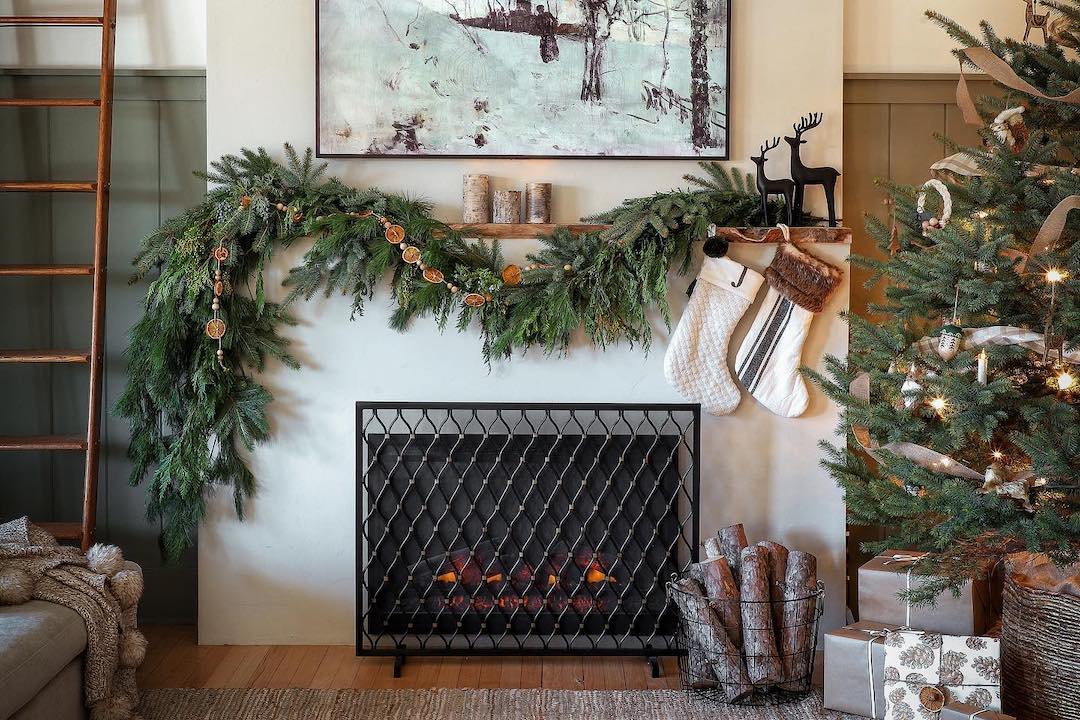 there's still time to deck your halls
It's tough when the thing you once did to let yourself escape during a difficult time has also become one of the most intimidating. As countries around the world are still feeling the effects of the novel coronavirus, it has become a bit complicated, to say the least, to figure out if it's possible (or even appropriate) to take part in travel anywhere. I'll admit that watching movies and reading books set in exciting locales have helped fill the void to some degree, but it would be nice to finally extend my weekly leisure car rides past their usual seven-mile radius and feel the refreshing effects of a new setting.
The travel landscape is changing quite a bit nowadays. While it's still not considered wise to board a plane and fly across an ocean or continent, there are alternatives arising for those of you itching to get out and explore someplace new. The good news is, many states are slowly starting to phase into lowering some restrictions for public areas, and road trips are making a huge comeback. They'll likely be our go-to form of transport for a while, until all of the dust settles and other means slowly become safer for nonessential travel.
Without having to go too far, you can still experience new environments—whether they be state and national parks, beaches, small towns, natural landmarks, scenic byways, and more! So without further ado, here is your guide to state-by-state road trips you can take this summer:
NOTE: Remember to check the state's current health and visitor guidelines to make sure you are in accordance with them before you embark on your trip, and stay informed on each area's alerts and changing regulations. It's important to make sure to exercise your best judgement, as these spots might be fully or partially open to the public now, but they can still get overcrowded and become unsafe. If you're planning to visit any of the small towns, please be mindful of their tourism advice, and check their official sites to ensure that they have the proper healthcare resources available.
Alabama
Alaska
Arizona
Arkansas
Pinnacle Mountain State Park:

Lying west of Little Rock, this park includes hiking and biking trails around Pinnacle Mountain, the Big and Little Maumelle Rivers, and the Arkansas Arboretum.

Cosmic Cavern:

Located in northwest Arkansas, walk through this natural cavern with incredible formations in the Ozarks (that maintains a steady 64-degree temperature).

Eagle Rock Loop:

This lengthy looped trail offers various levels of hiking in the southwestern stretch of the Ouachita National Forest, and features several mountain passes, river crossings, and waterfalls along the way.
California
Temecula Valley:

Lo

cated in Southern California, this lush valley features rolling hills of wineries that are currently offering "

Sip at Home

" experiences. Be sure to check out the

Santa Rosa Plateau Ecological Reserve

in this area as well!
Cleveland National Forest:

This Southern California forest offers a wide range of recreational activities, but is best known for its

several trails

(varying from mild to strenuous) to explore. One of the highlighted ones is the

Pacific Crest Trail

, which is ideal for beginners.

Highway One:

Drive along one of the most scenic routes in the world, and stop at the must-see sights such as

Carmel-By-The-Sea

, various wine production areas, the

Big Sur coastline

, and so many more. Keep an eye out for wildlife, such as elephant seals, sea lions, and whales.

Napa Valley's Silverado Trail:

Drive along this serene and scenic route in the heart of wine country.

Redwoods National Park:

Take in the unique scenery from hiking trails, go on scenic drives (such as Coastal Drive and Bald Hills Road), and visit Freshwater Beach.

Joshua Tree:

hike, camp, and stargaze at this one-of-a-kind desert national park.
Colorado
Connecticut
Delaware
Cape Henlopen State Park:

This park has been part of the country's first "public lands" since the late 1600s, and has a huge historical significance (as does the Henlopen Lighthouse!). Its beaches, the Delaware River, and several trails provide for many types of recreational activities you can enjoy.

Bombay Hook National Wildlife Refuge:

Take in the amazing wildlife (especially several varieties of birds) along the coast of Delaware.
Florida
Georgia
Hawaii
Idaho
Craters of the Moon:

Drive along and explore this "weird and scenic landscape" that was shaped by volcanic activity.

Shoshone Falls:

Located on the Snake River in southern Idaho, these waterfalls are some of the largest and tallest in the country (with their depths exceeding even that of Niagara Falls).

Mesa Falls Scenic Byway:

Cruise along this super scenic route into the lush Targhee National Forest.
Illinois
Indiana
Brown County State Park:

Melting waters from ice-age glaciers helped form the steep and narrow slopes and hills, dubbing this park the "Little Smokies." Some must-do's at this park include viewing the sunrise or sunset, taking in views from the 90-foot tall Fire Tower, and visiting the Yellowwood Tree on Trail 5.

Indiana Dunes National Park:

With 15 miles of Lake Michigan shoreline, this spot is great for picnics, swimming, fishing, and more.
Iowa
Pikes Peak State Park:

This park is full of rich Native American history and heritage, as members of the Woodland Culture (800 to 1200 A.D.) carved out animal-shaped "effigy mounds" in this region to symbolize the harmony between them and the earth. You can still see many of these monuments today.

Ledges State Park:

This park home to many wonderful hiking trails (some of which lead to amazing views of Pea's Creek "canyon" and scenic bluffs), and unique stone architecture from the 1930s. During the European settlement, this region was home to the Sauk, Fox (Mesqwakie), and Sioux tribes, and many of their artifacts can still be found in the area today.

Lake Macbride State Park:

With various recreational lake activities and its lush green plains, this spot is a perfect way to spend a warm afternoon.
Kansas
Monument Rocks and Chalk Pyramids:

Standing at 70 feet tall, these sedimentary structures are the result of erosion of a sea that formed during the Cretaceous Period.

Flint Hills Nature Trail:

117 miles long (and originally built on a railroad corridor), this trail is full of stunning views and is one of the world's last remaining tallgrass prairie ecosystems.

Little Jerusalem Badlands State Park:

Allegedly named due to its resemblance to Jerusalem's landscape, these badlands are home to many amphibians, reptiles, and birds, and also the biggest population of Great Plains wild buckwheat.
Kentucky
Louisiana
Maine
Maryland
Swallow Falls State Park:

With the

Youghiogheny River flowing along this park and Muddy Creek Falls as its main attraction, it's perfect for hiking, biking, and enjoying the natural scenery.

Assateague Island:

Known for its sandy beaches, salt marshes, and coastal bays, this national seashore is ideal for enjoying the outdoors.

Brookside Gardens:

Featuring 50 acres of botanical gardens and conservatories you can visit, this is a lovely way to spend an afternoon with your family.
Massachusetts
Cape Cod National Seashore:

Take in magnificent views of the lighthouses, sandy beaches, marshes, wild cranberry bogs, and more at this diverse and historic seashore.

Provincetown:

Explore small-town gems like Race Point Beach, charming shops, at this small beach town that sits 60 miles out to sea.
Buzzards Bay:

Full of small beaches, hiking trails, and recreational activities, this is a great place to explore the outdoors.

Marblehead:

Teeming with small-town charm, this town is best known for its ports that played a huge role in its formerly affluent fishing industry and naval/seafaring history.
Michigan
Minnesota
Mississippi
Red Bluff:

Drive and/or hike around this vivid red geologic formation, dubbed the "Little Grand Canyon," located near Foxworth.

Homochitto National Forest:

Spend hours hiking, biking, kayaking, and more in this woodland, and explore the nearby Mississippi River town of

Natchez

.

Ocean Springs:

Visit this charming town on the Gulf Coast, and take advantage of the amazing beaches, like East Beach and Lake Mars.
Missouri
Ste. Genevieve:

In the wine country of Missouri, this is almost like a hidden Napa Valley in the Midwest. The small town (founded in 1735) has lots of history and some great European-inspired architecture to take in.

Elephant Rocks State Park:

Explore this unique park named after the boulders—formed from 1.5-billion-year-old granite— that are shaped like a train of elephants.

Ha Ha Tonka State Park:

This park features a natural bridge, sinkholes, springs, caves, and more, with its most interesting feature being the ruins of a stone castle, which shows off beautiful views of the Lake of the Ozarks.
Montana
Beartooth Highway:

This drive offers a true wilderness retreat through several national forests with elevations reaching up to 10,350 feet (in Montana, it gets even higher in Wyoming!). Take in views of cascading mountains, alpine meadows, glittering streams, diverse wildlife, and more.

Lewis & Clark Caverns State Park:

Tour one of the largest limestone caverns in the Northwest and enjoy all the recreational activities this geologically diverse park has to offer.

Virginia City:

"Where History Lives" is the tagline to this Old-West ghost town that used to be a Victorian mining hub and continues to represent that era.

Flathead Valley:

The quaint towns, majestic mountains, and crystal clear lakes will make you want to permanently relocate to this breathtaking destination.
Nebraska
Sandhills Scenic Byway:

Take in views of the rolling sand dunes and Nebraska National Forest, stop along the way in some charming small towns, and stargaze at night on this incredible rural route.

Chimney Rock:

Located in Scott's Bluff, this is one of the most recognizable landmarks in the region. A geologic structure formed by erosion, the thin 325-foot-tall spire (atop a large conical base) overlooks the North Platte River Valley.

Fort Robinson State Park:

This park surrounds a fort that operated from the beginnings of the Old West to after World War II, and is perfect for all of your favorite outdoor activities.
Nevada
New Hampshire
Kancamagus Highway:

Drive along this White Mountains scenic byway and take advantage of the hiking paths and natural water slides! Don't forget to check out all of the

amazing waterfalls

, like Sabbaday Falls.

Meredith:

Visit this small town sitting among several large lakes (most notably, Lake Winnipesaukee and Lake Winnisquam) that is surrounded by the picturesque White Mountains.

Conway Scenic Railroad:

Take in all the panoramic views of nature as you enjoy an old-fashioned train ride through valleys and mountains, and participate in additional (optional) excursions.

Portsmouth:

This small town located right on Piscataqua River oozes historical charm. It's full of New England art and architecture, culture, shopping, parks, beaches, and more.

White Mountains National Forest:

Explore the most breathtaking mountain vistas, streams, and lakes in eastern New Hampshire via your favorite outdoor recreation activities.
New Jersey
Clinton:

Step back in time as you wander through this small, quaint town located on the Raritan River. It's full of great dining, boutiques, and sights, like the prominent Red Mill Museum.

Frenchtown:

This serene town, with hills and riverbanks, is perfect for spending a relaxed afternoon.

The Palisades:

12 miles long and half a mile wide, this park is made up of cliffs, uplands, and the shore of the Hudson River. Drive, hike, fish, and boat to your heart's content.
New Mexico
Bisti/De-Na-Zin Wilderness Area:

When you visit this "rolling landscape of badlands," you'll feel like you've stepped foot into a sci-fi movie, as it's chock-full of unusual scenery (best seen in its weathered rock formations). Given its proximity to nearby tribal lands, it's extra important to follow their special guidelines regarding interaction with their geologic features, group limits, and trespassing.

Chaco Culture National Historical Park:

Walk and explore along the several trails of this park that preserves that served as a hub for ancient Puebloan culture dating between 850 and 1250 CE. Be sure not to miss the

Pueblo Bonito

, the most important site in Chaco Canyon. It was the heart of the diverse Chacoan culture, which influenced the region for over three centuries. In addition, this park is quite remote and offers some excellent stargazing opportunities.
New York
North Carolina
Cape Hatteras:

Visit this National Seashore, located in the

Outer Banks

of North Carolina. Full of long stretches of sand dunes, beaches, marshes, forests, and lighthouses—all right along the ocean—this is an ideal summertime spot.

Wine Trails:

Explore wine trails throughout the state, whether you're looking for something in the mountain, Piedmont, or coast regions. The lush vineyards and rolling hills make for some of the most scenic drives.

Chimney Rock State Park:

Featuring trails for all levels of hikers, this park is perfect for the whole family. The views from the Chimney Rock spire are definitely not to be missed.
North Dakota
Theodore Roosevelt National Park:

Lying in the western part of the state, this park is full of wildlife (like bison and elk), rugged badlands, backcountry to camp in, and more.

Medora:

This historic town (located in the badlands, just south of

Theodore Roosevelt National Park

) offers up amazing scenery, overlooks, and outdoor activities along with old-timey sights and architecture.

International Peace Garden:

Explore the grounds of these lush, colorful gardens adorned with the most beautiful flowers, and walk or bike around the

2,400 acres

of nature in which you'll pass lakes, ponds, and amazing views of the Turtle Mountain area.
Ohio
Cuyahoga Valley National Park:

A short drive from urban areas of Cleveland and Akron, this park offers a nature escape full of winding rivers, rolling hills, and more. Be sure to check out the Brandywine Falls if you can!

Marblehead:

Sitting right on Lake Erie, this small town is full of quaint beaches, parks, and a lighthouse that can't be missed.

Waynesville:

Shop, eat, and explore this charming town that is known as the "Antiques Capital of the Midwest" and is also famous for its annual sauerkraut festival.
Oklahoma
Broken Bow:

Sitting right between the Kiamichi and Ouachita Mountains, this southeast Oklahoma town is perfect for outdoor adventurers and city fans alike. With

Beavers Bend State Park

right around the corner,

agritourism opportunities

,

antiquing

, and so much more, there's something for everyone here.

Grove:

Located on Grand Lake O' the Cherokees in the northeastern part of the state, this small town is full of outdoor activities, gardens to explore, and more.

Talimena National Scenic Byway:

This drive stretches 54 miles and will take you through the Ouachita National Forest. You can spend an entire day here if you stop along the various overlooks and historical attractions along the way.
Oregon
Silver Falls State Park:

Walk behind waterfalls, hike trails winding through canyons and forests, and enjoy other outdoor activities at what's considered the "crown jewel" of the Oregon State Parks system.

Cannon Beach:

This is one of the most iconic towns along the picturesque

Oregon Coast

. Be sure to enjoy the sandy beaches, hike the scenic trails, spot the tufted puffins, and visit Haystack Rock.

Hood River:

Enjoy outdoor activities in the town known as the "

windsurfing capital of the world

," sail along the Columbia River Gorge, and travel along the

Fruit Loop

: a 35-mile scenic drive full of fruit orchards, farms, wineries, and more.

Sisters:

Named after its nearby trio of mountain peaks, this cute and quirky town really makes you feel like you've stepped into the old west, while still being able to enjoy the timelessness of nature, with its 19th-century arts and architecture juxtaposed next to its breathtaking scenery.
Pennsylvania
Presque Isle State Park:

This peninsula (stretching into Lake Erie) is full of incredible sandy coastline with all the best recreational activities.

Jim Thorpe:

Located in the Lehigh Gorge, this adorable town is full of Victorian-style architecture and plenty of history. Stroll around their walkable downtown, take an old-fashioned train ride, go whitewater rafting, and more.

Cherry Springs State Park:

The remote location of this northern Pennsylvania park makes it an excellent spot for stargazing (and even spotting the Milky Way!). It's surrounded by the dense, 265,000-acre

Susquehannock State Forest

.
Puerto Rico
El Yunque National Forest: The only rainforest in the national forest system, El Yunque is a must-visit. The forest is still recovering from hurricane damage, so camping is not currently permitted. However, you can hike, explore gorgeous waterfalls, and take in plenty of scenic views.
La Ruta Panorámica Luis Muñoz Marín: This scenic drive takes you clear across the island. The 167-mile route cuts through the Central Mountain Range and can be as quick or meandering as you'd like, based on how many times you want to stop along the way. The two-lane roads along the route feature sharp turns and steep drop-offs, so drive carefully.
Fajardo: Located on the eastern side of the island, the beach town of Fajardo is a great spot for those looking to explore nearby islands, check out one of Puerto Rico's three bioluminescent bays, visit El Faro de Fajardo and see other sites in the Cabezas de San Juan Nature Reserve, and more.
Rhode Island
Narragansett:

Travel on Ocean Road through this scenic beach town, explore sights like Towers of Narragansett and Port of Galilee, and enjoy the delicious seafood.

Middletown:

This town is full of sandy beaches, nature preserves, the historic

Boyd's Mill

, vineyards, and more. It makes for a perfect day trip from either Providence or Newport.
South Carolina
South Dakota
Black Hills:

The Black Hills and Badlands are full of millions of acres of mountains and forests, and are home to several monumental places. The most notable of these are

Mount Rushmore

,

Devil's Tower

, and the

Crazy Horse Memorial

.

Custer State Park:

Also located in the Black Hills, this park offers up incredible views that you can take in while swimming and paddling in the clear mountain waters, biking, hiking, and more.

Pierre:

Although this is the capital of the state, it's actually the

second-smallest capital city in the country

, and boasts plenty of small-town charm. Full of outdoor activities and a quaint, historic downtown, it's a great little getaway.
Tennessee
Gatlinburg:

Serving as a gateway to the Smoky Mountains, this town has 360-degree views of rolling hills, valleys, waterfalls, rapids, and more. Enjoy the outdoor recreation and explore the city's walkable downtown (including its breweries, distilleries, and wineries).

Auto-Touring/Loop Roads:

The Great Smoky Mountains National Park

is known for its scenic one-way loop drives, like the

Roaring Fork

and

Cades Cove

, which offer dramatic views of falls, valleys, and more, along with the opportunity to stop and explore them deeper.

Rock Island State Park:

Full of winding rivers and streams, this park features dramatic waterfalls as its centerpiece. It's teeming with opportunities for kayaking, swimming, hiking, birdwatching, and more.
Texas
Utah
Bryce Canyon National Park:

Take part in your favorite outdoor activities at this park, full of endless views of red rocks, pink cliffs, and the visually captivating hoodoos, defined as "irregularly eroded spires of rocks." It also offers clear views of the night sky, making it perfect for stargazing.

Bonneville Salt Flats:

You'll feel like you've stepped foot on another planet when you visit these flats. They're 30,000 acres of white salt crust and their vast flatness makes it seem like you can see the Earth's curvature. Fun fact: about 90 percent of these salt flats are made up of common table salt.

Monument Valley Tribal Park:

This Navajo Nation park is full of iconic sandstone marvels at heights from 400 to 1,000 feet above the ground.
Vermont
Camel's Hump State Park:

Located in the Green Mountains, this park is a perfect day trip to hike with the family.

Stowe:

Sitting just under Mt. Mansfield, this picture-perfect town is composed of hilly views and gorgeous natural scenery. It's also not far from the

Trapp Family Lodge

(yes, of

the

von Trapp family), which inspired the story for

The Sound of Music

.

Mad River Valley:

Visit quaint towns such as Waitsfield and Warren in this scenic valley, swim in Warren Falls, cruise along the Mad River Byway, explore the covered bridges, spend time at the many swimming holes, and more.
Virginia
Washington
West Virginia
Appalachian Trail Conservancy:

Although West Virginia's portion of this trail is one of the shorter ones, it's pretty well-known: It goes right through the center of Harper Ferry National Historical Park (known for the Civil War battles that occurred there).

Summersville Lake:

More than 28,000 acres of water and 60 miles of shoreline make this the state's largest lake, with the pristine waters providing for all sorts of recreation opportunities (especially whitewater rafting). The city of Summersville has a lovely little downtown worth exploring as well.

New River Gorge National River

: This whitewater river flows north through the Appalachian Plateau and is surrounded by incredible hilly views. It's perfect for rafting, tubing, kayaking, and hiking.
Wisconsin
Governor Dodge State Park:

A great day-trip from Madison, this park is the perfect nature getaway for hiking trails, horseback riding, and enjoying the lake.

Door County:

A peninsula surrounded by Green Bay and Lake Michigan, this area is full of small towns (like

Fish Creek

and

Sister Bay

) with plenty of beaches, hiking trails, gorgeous state parks, art galleries, good food, charming shops, and more.

Devils Lake:

Whether you spend an hour or a whole day here, you'll be left satisfied and refreshed. With its several hiking trails, beaches, scenic rocks, and more, it's a great place to spend some time in nature.
Wyoming
Grand Teton National Park:

Enjoy the outdoors and take in awe-inspiring views of the alpine terrain, wildlife, and shimmering lakes here. Notable areas to visit here include the

Jenny Lake District

,

Signal Mountain

, the

42-Mile Scenic Loop Drive

, and

Colter Bay

.

Cody:

Step into the Wild West the second you enter this town, which is located a short drive away from the east and northeast entrances of

Yellowstone National Park

. It's full of wildlife, natural beauty, and history.

Sinks Canyon State Park:

Located in west-central Wyoming, the Popo Agie River flows into the Wind River Mountains here, and the canyon and provides for tons of outdoor recreation.